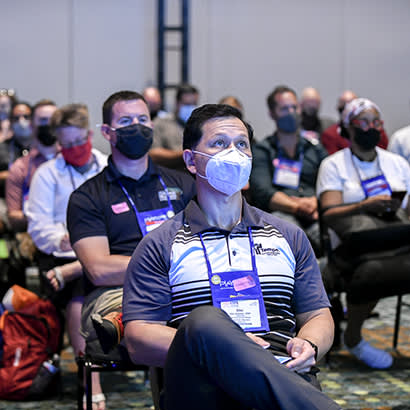 For an enhanced digital experience, read this story in the ezine.
Park and recreation professionals gather in person and virtually
On September 21-23, NRPA hosted nearly 4,000 attendees in Nashville, Tennessee, and welcomed more than 1,700 attendees — who logged in from their desktops, laptops and other smart devices — to experience the 2021 NRPA Annual Conference. This first-ever hybrid event featured general sessions, education programming, coffee talks and special events, as well as an exhibit hall showcasing the latest products and services from leading companies. Here are some highlights from this year's conference.
General Sessions Hit the Right Notes
Among the much-anticipated events at this year's conference were the general sessions. On day one of the conference, NRPA President and CEO Kristine Stratton unveiled NRPA's new visual and verbal identity — a new brand that reflects our values and where park and recreation professionals and their essential work are recognized by all. She also shared NRPA's impact statements, which are based on research and data-driven facts and serve as a key resource for NRPA members.
After delivering her remarks, Stratton introduced U.S. Department of the Interior Secretary Deb Haaland, who delivered virtual remarks on the state of our country. "Today, I want to speak to you about the growing threats that nature faces, how the Biden-Harris administration is investing in solutions, and how we can work together for the benefit of the generations who will follow us," she says. "If we take care of our land, water and wildlife, we can create millions of new jobs and generate millions of dollars in economic returns in the years to come."
Secretary Haaland was followed by a keynote presentation by Jad Abumrad, MacArthur fellow and host of the Peabody Award-winning radio show, Radiolab. Abumrad discussed the challenges that people encounter when trying to understand the language around science. As he puts it, "Science is its own language island, but there's a particular way that people talk in a lab that is unique to that space."
The day two opening general session kicked off with a keynote presentation by Mitchell Silver, principal and vice president of urban planning at McAdams and former park commissioner for the New York City Department of Parks and Recreation. Silver shared his insights about the profession and offered some words of wisdom and encouragement to other park and recreation professionals. "We have to underscore that parks are for people," says Silver about park and recreation professionals who ask him about park equity. "Diversity, equity and inclusion is not something you do, it's who you are." He adds that these values must be part of your DNA.
Wednesday's general session concluded with a fireside chat with Dr. Ayana Elizabeth Johnson, co-founder of the nonprofit think tank Urban Ocean Lab, co-founder of the climate initiative The All We Can Save Project, and co-creator of the podcast How to Save a Planet. Victor Dover, co-founder of Dover, Kohl & Partners Town Planning and NRPA board member, interviewed Dr. Johnson to learn more about her thoughts on climate change and conservation as it relates to protecting our oceans.
The day three opening general session welcomed Kwame Alexander, poet, educator and author, who recited our community poem, called "Everything Around You." Alexander constructed the final poem from multiple poems submitted by members of our park and recreation community.
The poem recitation was followed by the keynote panel, "A Fair and Just Future for Youth Sports," with opening remarks by Kim Turner, director, gender equity initiative at Coaching Corps. Rachel Banner, NRPA's director of park access, moderated the discussion that featured panelists Chris Mosier, Team USA athlete and transgender activist; Diahann Billings-Burford, CEO of RISE; and Jose Corona, vice president, programs and partnerships at Eat. Learn. Play. Foundation. During this lively discussion, panelists addressed the historic role of sports in championing racial and social justice as well as inequities and discrimination in youth sports.
Education Sessions Offered Live and Virtually
At this year's conference, education was aplenty with one-hour sessions and speed sessions.
Working Toward Racial Equity
"As part of our next century conservation plan, back in 2015 — or even earlier than that — our vision for change, equity and inclusion were key goals for the Forest Preserves [of Cook County, Illinois]…. We recognized that the people of Cook County, the diverse Cook County residents, were not coming to the preserves in the same numbers, and we recognized that was not okay," says Arnold Randall, general superintendent of the Forest Preserves of Cook County and NRPA board member, in his education session, titled "Working Toward Racial Equity."
Randall continued the session by describing a 2018 event involving a hate crime that occurred in a Forest Preserves of Cook County park, which prompted department staff to take their commitment to equity to the next level. "The question we asked was, 'How can we operationalize [our value that] everyone is welcome in the preserves?' I can say it and my boss can say it and our leaders can say it, but how do we make sure that it is actually happening at every level in the organization?" says Randall.
He then described the steps agency staff took to "create a long-term structure for ongoing change" — including the formation of a Racial, Equity, Diversity and Inclusion Committee and formal adoption of a position paper that outlines a strategy to move the agency toward racial equity. "When it comes to equity and inclusion, we know we do not have all the answers — not by a long shot," says Randall, concluding the session. "And, we also know our work is far from done."
Supporting Healthy Aging Among LGBTQIA+ Adults
Tiff Cunin (they/them), senior program manager for health at NRPA, live streamed this one-hour session, whereby they articulated key constructs and concepts associated with health among LGBTQIA+ adults and explained common barriers to engagement in park and recreation programming for LGBTQIA+ older adults. In addition, Cunin talked about how marginalization serves as a social determinant to health, as well as how parks have the power to create health equity.
To offer more context, Cunin engaged the audience with a Mapping Social Identity activity, in which they asked three questions: What part of your identity do you think people first notice about you?; For what part of your identity do you feel you face oppression most often?; and For what part of your identity do you feel you receive privilege for most often?
"The reason we do this activity is because, sometimes, it's hard to understand what intersectionality and marginalization mean unless we really reflect on our own lived experiences, our own health outcomes, [and] our own social outcomes," Cunin explains.
Children's Outdoor Bill of Rights: A Lever for Action
Monica Lopez Magee, senior vice president of cities and community engagement at Children & Nature Network; Daniele Lyman-Torres,
commissioner for the City of Rochester, New York; and Jesús Aguirre, superintendent for Seattle Parks and Recreation, presented this important advocacy-focused session. The three thought leaders addressed how the potential for a campaign around Children's Outdoor Bill of Rights can serve as a means for policy action and equitable access to parks and green spaces. They also explained the concepts and purpose behind this initiative and offered audience members advocacy strategies for effectively supporting more equitable access for children and youth to parks.
In City of Rochester, "we built a strategy that started with the Children's Outdoor Bill of Rights," but it needs to be part of a broader strategy, says Lyman-Torres. She points out, however, it's a linchpin whereby "having this formative document that can be adopted by your whole community [and] formalized keeps us accountable to it."
Coffee Talks and Recreation Round Tables
Back by popular demand, Coffee Talks made their return to the conference. Cort Jones, NRPA's manager of strategic communications, went one-on-one with field experts. Among the highlighted topics were "Finding Purpose Through Fox Valley Special Recreation," "The Park and Recreation Movement in Mexico and Beyond" and "Equity at the Center: A Year Later With NRPA's Autumn Saxton-
Ross." What's more, attendees also had a chance to participate in live Recreation Round Tables that touched on health and wellness, equity, and conservation.
Celebrating Excellence in Parks and Recreation
On Monday, September 20, Jane Adams, executive director of the American Academy for Park and Recreation Administration (AAPRA), presented the 2021 Grand Plaque honors in the 2021 National Gold Medal Awards Program. This annual awards program is administered by AAPRA in partnership with NRPA and is sponsored by Musco Lighting, LLC. From a pool of 28 finalists, seven agencies earned the coveted Grand Plaque.
The following finalist agencies received the Grand Plaque award:
Class I (population 400,001 and over): Cleveland MetroParks, Cleveland, Ohio
Class II (population 150,001 – 400,000): City of Tampa Parks and Recreation, Tampa, Florida
Class III (population 75,001 – 150,000): Provo Parks and Recreation, Provo, Utah
Class IV (population 30,001 – 75,000): Coppell Parks and Recreation, Coppell, Texas
Class V (population 30,000 or less): Vernon Hills Park District, Vernon Hills, Illinois
Armed Forces Recreation: Naval Base Coronado, San Diego, California
State Parks: Delaware State Parks, Dover, Delaware
On Wednesday, September 22, Neelay Bhatt, vice president and principal of PROS Consulting Inc., emceed the Best of the Best ceremony, recognizing excellence in the park and recreation field. Bhatt was joined by presenters Jen Basham, director of City of Burleson (Texas) Parks and Recreation and chair of the NRPA Awards and Scholarship Committee, and Cory Styron, director of communication service at Los Alamos County, New Mexico, and chair of the Commission for Accreditation of Park and Recreation Agencies. These awards honor individuals and agencies for the innovative and essential services and programs they've provided over the past year.
Spotlight Awards
Robert M. Artz Advocate Award – Bruce Rinker, Cleveland Metroparks board of park commissioners, Cleveland Metroparks, Cleveland, Ohio
Robert W. Crawford Young Professional Award – Chris Bass, assistant director, City of Douglasville, Douglasville, Georgia
RWJF-NRPA Award for Health Equity – Emilie Harmeyer, ShreveCorps program director, Shreveport Green, Shreveport, Louisiana
National Distinguished Professional Award – Randy Bina, executive director, Bismarck Parks and Recreation District, Bismarck, North Dakota
Theodore and Franklin Roosevelt Award for Excellence in Recreation and Park Research – Alan Ewert, professor emeritus, Indiana University
Innovation Awards
Innovation in Conservation Award – Ocala Wetland Recharge Park, City of Ocala, Ocala, Florida
Innovation in Health Award – Healthy U: A Series of Conversations, Port St. Lucie Parks and Recreation, Port St. Lucie, Florida
Innovation in Park Design Award – Westwood Hills Nature Center Interpretive Center Building Project, City of St. Louis Park Operations and Recreation, Westwood Hills Nature Center, St. Louis Park, Minnesota
Innovation in Social Equity Award – Re-Connecting Cleveland: Pathways to Opportunity TIGER Grant Project, Cleveland Metroparks, Cleveland, Ohio
2021 Best in Innovation Award – Ocala Wetland Recharge Park, City of Ocala, Ocala, Florida
The Exhibit Hall and Other In-Person Events
Many attendees were elated to step inside a physical exhibit hall this year, as exhibiting companies and their teams happily welcomed park and recreation professionals to their booths to demonstrate their latest wares and host business meetings.
Of course, after a long day at the conference, many attendees looked forward to NRPA's hosted evening events throughout Nashville that gave them a chance to reconnect with longtime friends in the field and network with new colleagues.
Virtual attendees also were treated to a virtual 5K as well as live puppy parties thanks to a puppy cam sponsored by DOGIPOT®.
Put simply, this first-ever hybrid event offered something for everyone.
We look forward to seeing you in Phoenix, Arizona, for the 2022 NRPA Annual Conference!
Vitisia Paynich is Executive Editor and Director, Print and Online Content at NRPA. Lindsay Hogeboom is Associate Editor and Writer of Parks & Recreation magazine.