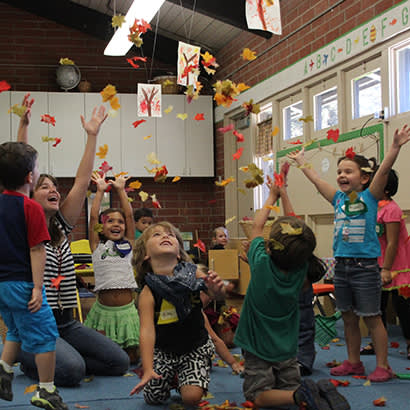 For an enhanced digital experience, read this story in the ezine.
Every day, park and recreation professionals make their communities better places to live, learn, work and play. One of the most ubiquitous park and recreation services is out-of-school time (OST) programs. Four in five park and recreation agencies have OST programs that serve children, ranging from infants to teenagers.
OST programs have a tremendous impact on millions of youth across the nation, providing safe and affordable childcare and needed services. Not only can these programs lead to positive outcomes for the community, but also they can foster a lifelong love for parks and recreation.
In December, NRPA will release the results from its latest survey on OST programs. Below are some of the report's key findings:
Top OST Program Benefits
Nearly two-thirds of park and recreation leaders highlight how providing childcare for working parents and caregivers is a top benefit of their park and recreation agencies' OST programs. Similarly, 55 percent of park and recreation professionals say that these programs provide a safe space for children outside of school. Half of survey respondents place a high value on how their programs promote physical activity.
One in five park and recreation professionals indicate their OST programs include educational support and supplemental learning opportunities.
Diverse OST Programming
Park and recreation agencies deliver diverse programs that range from traditional sports and classes to mentoring services. The vast majority of park and recreation agencies offer opportunities that encourage physical activity. Ninety-four percent of park and recreation agencies have OST programs tied to physical activity — in the form of free play and sports sampling — while 83 percent offer organized sports or fitness classes.
OST offerings also may prepare local youth for the future and expose them to a world beyond that which they already know. Seventy-four percent of agencies offer art, music and/or cultural activities, while 64 percent of park and recreation agencies offer programming focused on science, technology, engineering, arts and mathematics (STEAM). Fifty-
seven percent of agencies' OST offerings encourage mindfulness and stress reduction. Slightly more than one-half of agencies introduce local youth to environmental education as a part of their OST programs, while slightly less than half of agencies expose kids to nutrition/gardening education. Esports has become a component of OST services at three in 10 agencies.
Innovations: A Legacy of the Pandemic
At the start of the pandemic, most agencies canceled their in-person OST offerings, with an exception of providing first responders with childcare. In response, parks and recreation pivoted to deliver youth-
oriented programming virtually. As the country slowly reopened, park and recreation professionals adapted in-person OST programs to meet public health recommendations.
Many of these innovations will continue for years to come. For example, 63 percent of park and recreation agencies will maintain some programming previously held indoors at their current outside locations. Virtual OST program offerings will remain a part of many agencies' portfolios. Further, 45 percent of agencies will continue their partnerships with school districts to provide academic/continued learning support post-pandemic.
The full report explores the challenges facing many of today's youth, the barriers preventing many agencies from fully delivering their OST programs, and the steps many agencies are taking to ensure their OST programs are equitable, inclusive and serve the needs of their communities' youth.
OST programs offered through local park and recreation agencies are essential to thriving, equitable communities. It is imperative that all youth and families have access to these critical services.
Kevin Roth is NRPA Vice President of Research, Evaluation and Technology.