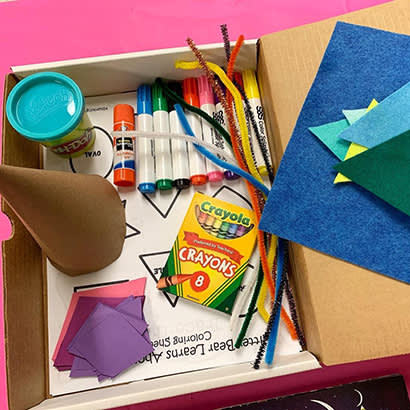 For an enhanced digital experience, read this story in the ezine.
During a summer morning in 2020, I was building a house of cardboard boxes in the "classroom" corner I use to facilitate online programs from home. Across the room sat my laptop where nine little windows showed families building structures of their own. It felt different from what we normally do in person, and yet, there was a sense of community in creating something in unison. This class was part of Creative Minds, the City of Hyattsville, Maryland's program for children ages 1 to 3 and their families. It incorporates multilingual songs, hands-on activities and special events. Like many other organizations, we started offering online programming — calling it Creative Minds at Home — when shelter-in-place orders went into effect at the beginning of the coronavirus (COVID-19) pandemic and continued this offering for more than a year. During this process, the Youth Programs team leveraged the unique tools of online platforms, collaborated with parents, partnered with local artists, and facilitated arts-based, hands-on activities to deliver a meaningful program for the community.
Collaborating With Parents
Creative Minds at Home extends the classroom into the participants' residences and works alongside the adults in the family to deliver significant experiences for children. A parent is a child's first teacher. They are essential to the success of a program, especially in an online learning space. Before the kids connect, their guardians read the instruction emails, log in every week and prepare supplies. Live, they aid the child in following instructions, muting and unmuting microphones, and making the experience as interactive as possible.
Artistic Ingenuity and Community Building
One of the first online experiences we offered was in partnership with Teatro La Bolsa. In April 2020, this theater group premiered a four-show series of interactive, bilingual (English-Spanish) virtual shows for the entire family based on Latin American folklore. One show asked participants to use paper and crayons to make a butterfly as they heard the story of The Hungry Monarca Caterpillar. These performances — which engaged an average of 50 families per show — offered opportunities for community building at a time when we had to be physically distant.
Making, Learning and Playing
Inspired by La Bolsa's use of ordinary objects to make the online experience interactive, we started incorporating live tutorials of hands-on activities into our program. As a result, attendance to our online program tripled. By Fall 2020, we curated supply boxes that included a children's book and art materials. The supply box made it easier for families to engage in the program, but it is not the only way participants could interact. A parent who purchased the box shared that their child "loved having a special box of materials to grab each week." Families, however, had the option to use materials they already have at home and the book always was projected on screen.
Through Creative Minds at Home, we learned that the park and recreation field is uniquely positioned to offer arts programming that develops our collective imagination and creates community, even while physically apart.
Verónica Rivera-Negrón is Youth Programs Coordinator for City of Hyattsville, Maryland.