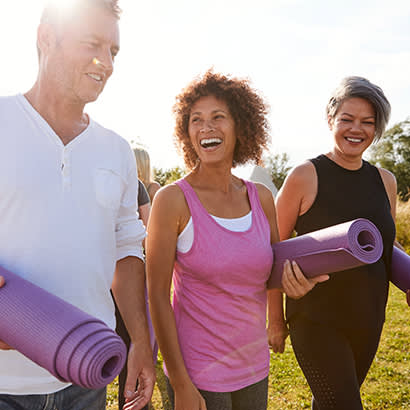 For an enhanced digital experience, read this story in the ezine.
How do you effect the health of your community every day? As park and recreation professionals, your daily interactions, programs, special events, parks, trails and open spaces improve the health of community members in numerous ways.
We know healthcare in the United States is a conundrum. We a have a plethora of resources and an inability to get them to everyone. We have skyrocketing costs. Our system tends to be insurance driven versus person centered. We are spending billions on treating preventable chronic diseases, and, we tend to be reactive with our health solutions. It's time to change that, and parks and recreation is primed to be that catalyst.
Start by looking at how you and your organization define health. Think beyond the World Health Organization's definition of "a state of complete physical, mental and social well-being and not merely the absence of disease." Really get down to what it looks like to have health in your life and in your organization. What are the tangible components that contribute to the seven realms of health (physical, social, emotional, mental, spiritual, environmental and economic)? Do you value activity, healthy food, clean water, green spaces close to home, being welcomed into community centers, feeling a sense of belonging and having a friend to confide in?
Think about who should have access to your wonderful definition of health. I bet you thought "everyone." This is tricky though. Everyone should have access to their definition of health — not something pre-defined by you or your organization. This is where we have a great opportunity to connect with our community members about their health — all realms of it. It's also a place where we can connect to promote health equity in our communities. We must make "efforts to ensure that all people have full and equal access to opportunities that enable them to lead healthy lives." Simply stated, whatever "healthy" looks like to your community members, we can't know until we ask.
Park and recreation folks have more opportunity to ask because we're on the frontlines of interacting with our community members. While the average person visits their physician approximately four times a year, they visit parks more than twice per month.
If we look at spending, the contrast is very apparent. The United States spends an estimated average of $10,000 per person on healthcare annually. In contrast, the average amount spent per person on parks and recreation is $190 per year. By investing in preventative options to improve health from increased physical activity, access to healthy food, access to green spaces, and access to clean water and air through tree canopy development, we can reduce annual healthcare spending. The goal is to turn our current healthcare system on its ear and leverage public health and insurance funding to support partnerships and to provide grants to park and recreation departments with innovative health promotion programs.
What might those opportunities look like when we connect the dots? It could look like community health clinics in your recreation centers, or health kiosks measuring blood pressure and blood sugar next to the workout equipment. It could look like offering immunizations, well-
being checks and nutrition education. It might look like partnering with nursing schools to engage with your older adults or partnering with public health campaigns focused on reducing obesity in kids.
Connecting the dots for health means owning our role in the healthcare continuum as folks provide excellent health promotion and prevention options for our community members. We must partner with public health organizations, schools, community organizations, mental health organizations, nonprofits, public safety organizations, technology firms and more. It means volunteering to be at the table when the health of our communities is being strategically planned and articulating how parks and recreation is contributing. It also means inviting those other sectors to participate with us.
Park and recreation professionals are a critical dot in the picture of health. By engaging with your community members and partnering with others, we can advance the overall health of our communities.
Jo Burns, MS, CTRS, is Chief Connection and Collaboration Officer for Jo Burns Connects, LLC.