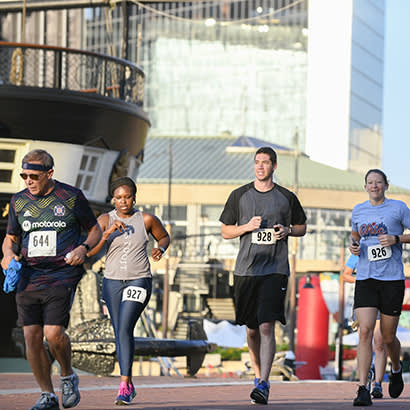 For an enhanced digital experience, read this story in the ezine.
As the largest park and recreation event in the world, it's no surprise that networking continues to be one of the top reasons why people attend NRPA's conference year after year. The 2021 NRPA Annual Conference will be a hybrid event, with more opportunities than ever to learn from inspiring people, reconnect with colleagues and make new meaningful relationships with peers from across the country. Here are just a few of the events you won't want to miss:
Run, Walk or Roll
Join us for the NRPA Annual Conference Virtual 5K! A virtual race is a race you can run, walk or roll at any location and at your own pace. Any point during the week of conference, head to your favorite park or trail, walk in your neighborhood or around your home, race alone or in a group with family, friends or co-workers! After registering online, you will be able to download your race bib and finisher's certificate. You also will receive a special 2021 NRPA Annual Conference Virtual 5K race medal in the mail!
Experience Music City
Attendees joining us in Nashville, Tennessee, will have the opportunity to attend one of the three unique Music City experiences. Learn how to line dance on downtown Nashville's largest dance floor at the world-famous Wildhorse Saloon. Explore the newly opened National Museum of African American Music — the only museum dedicated to preserving and celebrating the many music genres created, influenced and inspired by African Americans. Or, enjoy a concert in the park at Nashville's riverfront, Cumberland Park.
Take a Coffee Break
Whether you like to start your day with a nice cup of joe or enjoy an early afternoon/evening pick-me-up, you won't want to miss our Virtual Coffee Talks at the beginning and end of each day on our virtual platform. Join the host of Open Space Radio, Cort Jones, as he chats with park and recreation professionals, thought leaders and NRPA staff about some of the most pressing issues facing your park and recreation work today.
Bring your favorite coffee or beverage of choice and join us for these insightful conversations — you won't even have to wait in line at the local Starbucks!
Celebrate the Best of the Best
At this virtual ceremony, we will recognize and celebrate the most inspirational people and programs by presenting the 2021 Innovation Awards and Spotlight Awards. The newly CAPRA-accredited and re-accredited park and recreation agencies, Young Professional Fellows, and Diversity and Student Scholarship recipients also will be recognized.
If you don't want to miss out on all of these events, make sure to register for the 2021 NRPA Annual Conference taking place in Nashville and virtually, September 21-23. For more information, visit the NRPA Annual Conference site.