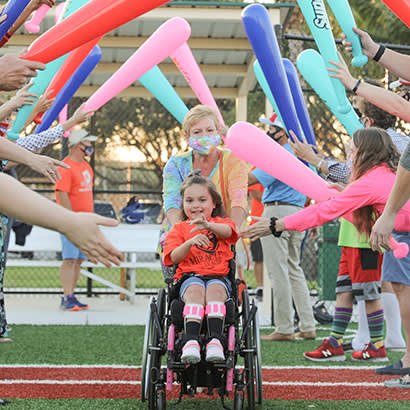 For an enhanced digital experience, read this story in the ezine.
Picture this: The sun is shining, the ballfield is ready, the crowd is cheering, and teams are in place and ready to play! But this is not your average baseball game. Through a homerun of a partnership with the Miracle League of Palm Beach County and the Palm Beach Gardens Recreation Department in Florida, children of all abilities are now able to truly experience their baseball dreams at the new Palm Beach Gardens Miracle League baseball field located at Gardens Park baseball complex.
Several years ago, the Miracle League of Palm Beach County began looking to expand its area of service as interest and participation had rapidly grown due to the tremendous success of their programs. The Miracle League, founded in 2005 by Julia and Jeff Kadel, has long provided baseball and cheerleading opportunities for children with special needs. Meanwhile, in 2018, the City of Palm Beach Gardens was in the process of redeveloping some park space. As mutual interests aligned, conversations to unite the City of Palm Beach Gardens and the Miracle League of Palm Beach County as partners began, noting that the partnership would provide the ability to add new amenities to the city's award-winning park and recreation department.
By April 2020, construction of the project was complete and included two synthetic turf baseball fields with oversized dugouts to accommodate athletes who use walkers, or wheelchairs, or who are visually impaired. After a temporary break in operation due to the coronavirus (COVID-19) pandemic, the Miracle League was finally able to take the field! The inaugural Miracle League Season was played in October 2020, with effective safety protocols in place.
The partnership between the Miracle League of Palm Beach County and the City of Palm Beach Gardens culminated in a Grand Opening celebration on February 25, 2021. The night was highlighted by the unveiling of the "High Five" statue, sculpted by Colorado artist George Lundeen. The statue beautifully represents the Miracle League's mission to serve all children by building a more inclusive community through the game of baseball. Following the dedication ceremony hosted by Palm Beach Gardens Mayor Carl Woods and the rest of the city council, the Miracle League held its first Opening Ceremony. Each participant was announced and celebrated as they took the field, which has become a heartwarming tradition for each game hereafter.
The city is proud to establish partnerships that enhance the lives of local children and families by providing sports facilities that host a variety of inclusive programs. From the beginning, it was clear the Miracle League's mission to enrich, expand and diversify lives clearly aligned with the city's values to offer diverse programming opportunities for all community members.
Partnerships like this not only enrich the community we serve and the children who participate, but also enrich our experience as recreators.
Daniel Prieto, Deputy Leisure Services Administrator, City of Palm Beach Gardens