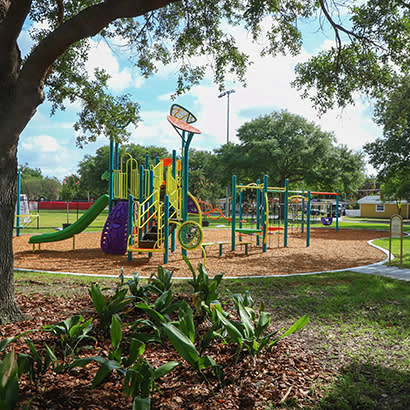 For an enhanced digital experience, read this story in the ezine.
Orlando's Grand Avenue Park is complete
This has been quite a year for all of us, from the coronavirus (COVID-19) quarantine to the business and service shutdowns. Throughout it all, the City of Orlando, Florida, and its partners have been working diligently to complete the renovations of Grand Avenue Park that were initiated pre-COVID-19 — despite the many delays and the future uncertainty. Their hard work and dedication have paid off, and the renovation of the Grand Avenue Park celebrated its grand opening on Saturday, June 5, 2021.
A Great Addition for the Holden Heights Community
Grand Avenue Park is located southeast of Orlando's city center in the Holden Heights neighborhood. The park site and adjacent building were once part of a school that served the area for almost a century. Built in 1926, the Grand Avenue Elementary School is an example of Mediterranean Revival architecture and includes a stucco exterior, tiled roof, columns and arched doorways. Dubbed "The Grand," the building was utilized as a school for 90 years before becoming a community center providing after-school and community programs. Due to its historical significance and unique architecture, the building was placed on the historic register in 1995.
Building renovations (currently in progress) will enhance the community center by providing a full-sized gymnasium, a pottery studio, and a host of after-school and summer programs. In addition to the renovation of the 30,000-square-foot existing structure, new construction of more than 36,000 square feet will expand the community center to better meet the needs of the local neighborhood.
"Redeveloping Grand Avenue is part of our efforts to invest in city neighborhoods by providing residents with amenities and programs that enhance their quality of life. With this location, we can provide multiple services to the neighborhood, such as after-school programs, summer camp programs and athletic programming for Orlando youth," says Orlando Mayor Buddy Dyer. "By providing such youth services in Holden Heights and having a venue for community programs, this facility will strengthen the fabric of the neighborhood and further create an Orlando where every resident is equally valued, equally protected, and has equitable access to opportunities."
NRPA's Parks Build Community Sets the Stage
The adjacent park, known as Grand Avenue Park, was built in 1938 and provided an outdoor play area for generations of school children and area residents. Years have taken their toll, and renovations were desperately needed to update the park and its amenities. The National Recreation and Park Association (NRPA) chose Grand Avenue Park for its Parks Build Community (PBC) program in 2020. The program works to build and revitalize parks across our nation as places for people to gather and build community. Each year, a park is chosen in an area of need near where NRPA's annual conference is held. NRPA works with the local municipalities and industry partners who donate equipment and supplies to complete the park. This private-public partnership works to create a space that provides a positive impact for local communities for years to come.
"Grand Avenue Park was renovated with the help of the National Recreation and Park Association, which chose Orlando for its 10th Parks Build Community project. City staff and partners across all divisions have assisted in bringing this renovation to completion," says a City of Orlando spokesperson. "Generous donors provided playground equipment, game tables, outdoor exercise facilities, musical instruments, lights, picnic tables, trash cans, a movie screen, sports equipment and more. These items will change the lives of nearby residents of all ages who will now have access to free opportunities to get fit and have fun, which is important for the quality of life here in [Orlando]."
Helping Hands Work to Create a Memorable Space
Lending a hand to the park renovation effort is GreenUp Orlando. Created in 1985, the group works to increase the number of trees in the community and improve the overall appearance of the Orlando cityscape. The program encourages the community to beautify their areas through landscape plantings. The group also holds volunteer planting events for individuals and/or community groups to be involved.
For Jody Buyas of GreenUp Orlando, volunteerism is more than a good deed; it's about creating relationships in the Grand Avenue Park area. "We wanted to get the community involved and invested in the new park. People from the neighborhood, city employees, corporations and clubs all came together to plant trees, shrubs, add mulch and install irrigation," she says.
During the recent planting event at Grand Avenue Park, a group that lent a hand was the Central Florida Gator Club. The club "engages University of Florida alumni and fans in supporting the Gator Nation and our communities. We regularly host events and volunteer opportunities, including community cleanups, food drives, scholarships and partnering with local charities," says Erich J. Krzyzak, a city spokesperson. "Gators GreenUp Orlando is a fantastic opportunity to get involved in a way that highlights the importance of nature, community engagement and our shared responsibility to be good caretakers of our environment. Grand Avenue Park is a space focused on connecting the local community and providing a healthy outdoor recreation space Orlandoans of all ages can enjoy."
Investing in the Future
For District 6 City Commissioner Bakari F. Burns, the renovation of Grand Avenue Park is just part of the revitalization he envisions for the larger area. "Orlando is a growing city and matching our growth with great amenities for our residents is vital for a healthy community. I'm proud to represent such a beautiful city and can't wait for the community to experience it.
"The renovation is adding not just new equipment, but [also] new dimensions to the park. Instead of playgrounds and ballfields, space will focus on health and wellness through the items donated. Playgrounds will still be part of the park; the other elements, such as the exercise equipment, will create an atmosphere promoting family health and wellness. The game tables will create a comfortable space for multi-generational play. The music equipment will open a world of art experiences. Baseball amenities mean reviving America's pastime."
The renovation of the park and the adjacent building will provide a much-needed space for the area's youth, community gatherings and events. "The Holden Heights community faces a poverty rate of about 50 percent, and unemployment is very high. While programs at the new Neighborhood Center will help children with an academic and social issue, the building itself will return to being a bedrock of the community, a gathering place [for all ages]," says Burns. "By extension, the park will too. Children and families will gather in the garden in the afternoons, evenings, weekends and summer days, so having this amazing place for them to come is a gift."
For local resident Tiffany Hughes, this project was about investing in Holden Heights and their youth. "I would like to thank the City of Orlando for keeping the concerns and suggestions of the community top of mind in the creation of the community center [and the park's renovations]. There are so many programs for youth on the other side [of town], and the community of Holden Heights was being forgotten. There wasn't a nice, clean space within five minutes walking distance where our children [could] play, get homework help, and otherwise commune with one another in a safe and clean environment. Holden Heights is forever transformed," says Hughes.
Building Community — One Park at a Time
For the NRPA partners that donated to the project, the Grand Avenue Park is yet another example of how park spaces can bring communities together. "The Grand Avenue Park project was special for a lot of reasons," says Jeff Rogers, president of Musco. "It has such a historic foundation with the elementary school at its center, and the community has been really dedicated to revitalizing the entire park as a social and recreational hub for everyone to enjoy. We're just proud to have been involved with all the other great partners."
"Places like Grand Avenue Park bring people together by enriching the lives of children through play," says Fred Wiechmann, vice president of GameTime. "It's a tremendous example of what can be accomplished when partners work together for the greater good."
"It was wonderful that NRPA stood by their commitment to the Grand Avenue Park renovation through such a challenging time…this will benefit the community for years to come," says Anita Rudy, president of DuMor. "[We] appreciate all the work NRPA puts into developing the Parks Build Community projects, and we are grateful to be a part of something so positive. We truly believe that adding more spaces for people to sit, relax, meet friends and take pleasure in nature benefits everyone."
For almost a hundred years, "The Grand" building and its associated park have provided a place for children to learn and explore, as well as a place for the surrounding community to congregate. This new renovation of Grand Avenue Park will again provide a safe, community gathering place for generations to come.
The Grand Avenue Park renovation wouldn't have been possible without the generous support of our donors. A special thank you to:
Musco
GameTime
BCI Burke Playgrounds
Shade Systems
GARED
Greenfields Outdoor Fitness
Poligon
ForeverLawn
Ultrasite
Freenotes Harmony
DuMor
Epic Outdoor Cinema
Most Dependable Fountains, Inc.
Paula M. Jacoby-Garrett is a Freelance Writer based in Las Vegas, Nevada.