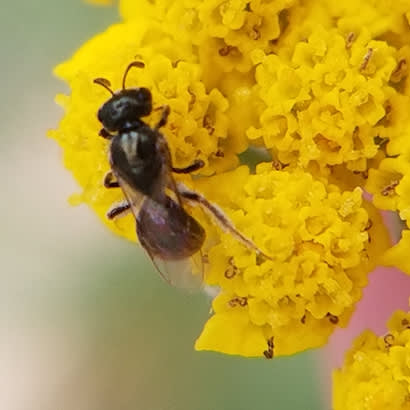 For an enhanced digital experience, read this story in the ezine.
Pollinators are essential to maintaining healthy habitats. The BioBlitz brings community members together to find, identify and document as many pollinator species as possible within a defined area and timeframe. These events can be tailored to fit any environment, from a city pocket park to an expansive rural landscape. Park and recreation professionals from various locations and settings, such as Dallas and Calvert County, Maryland, are hosting BioBlitz events that leverage community science to provide critical pollinator data, enhance environmental education and inform overall conservation efforts.
Dallas BioBlitz Engages Youth With Nature
As an urban center, Dallas Park and Recreation provides a vast array of services to its community, ranging from protecting natural resources to programming and activities, and so much more. The agency's recreation professionals understand the importance of their impact, and when these professionals who are after-school leaders, senior aerobic instructors or league organizers also take on the role of conservation advocates, that displays an impactful message: each of us has an active responsibility for taking care of our parks and open spaces.
Moreover, park and recreation professionals can put their own spin on these efforts to ensure they are meaningful to the communities being served. Anyone can sign up to host an NRPA BioBlitz to receive toolkits with all the resources needed to run the event. In Dallas, what made the experience better was partnering up with a city employee who had advanced knowledge of pollinators. With these tools, Dallas Park and Recreation hosted a campaign using a Pokémon Go theme that resonated with kids and encouraged them to "collect them all" — it featured images of pollinators for the iNaturalist database, rather than Pokémon. Providing youth a creative way to engage with nature with messaging that is familiar was key.
Information collected from the BioBlitz is now helping other Dallas Park and Recreation employees understand the biodiversity within Dallas parks. The city's skyscraper buildings and iconic skyline can be complemented with the integration of green spaces for pollinators and urban wildlife. The community science data will help with efforts to ensure healthy ecosystems are maintained throughout Dallas and advance conservation efforts through education, planning and maintenance.
Calvert County BioBlitz Enhances Meadow Management
Calvert County, Maryland, is a rural county with strong agricultural roots. The Calvert County Parks and Recreation Natural Resources Division oversees more than 1,600 acres of land with the mission to preserve, manage and operate natural resource areas to provide compatible outdoor recreation and educational opportunities for the public.
The staff naturalists work with Calvert Steward volunteers on many community science monitoring projects to understand the ecology of Calvert County. The Calvert Stewards and Calvert County iNaturalist projects are actively documenting the diversity of Calvert County meadows. In 2020, through the NRPA Parks for Pollinators BioBlitz, 131 Calvert County community members made 978 observations of 426 species throughout September.
With this information — as well as other information that agency staff collect from similar community science projects, such as monarch monitoring and the dragonflies and damselflies project — the Natural Resources Division set a goal to develop a meadow management plan. The focus is multi-fold: (1) control the growth of non-native, invasive plants as well as native woody vegetation; (2) enhance the meadows to benefit native pollinators; (3) support grassland species of birds; and (4) provide a living classroom for environmental education and community science projects.
Learn more about hosting a BioBlitz and joining NRPA for the Parks for Pollinators BioBlitz.
Tamara Aquino Cespedes, CPRP, is Supervisor III for City of Dallas Park and Recreation. Karyn Molines is Division Chief for Calvert County Parks and Recreation's Natural Resources Division.