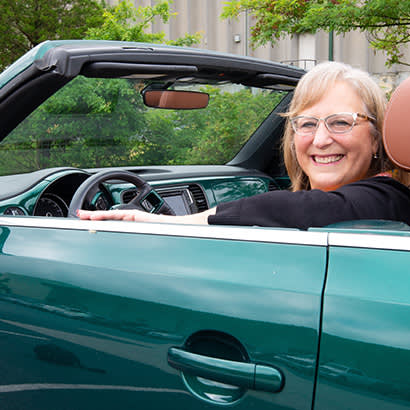 For an enhanced digital experience, read this story in the ezine.
On February 19, 2021, the park and recreation field lost a dedicated professional, Laura Wetherald.
"I have been fortunate to know Laura for almost 40 years. Her love of life, love of her family, love of others and love of our profession are her hallmarks," says Jayne Miller, Certified Park and Recreation Professional (CPRP), vice chair of NRPA's Commission for Accreditation of Park and Recreation Agencies (CAPRA). "Her passion for our profession came through with her commitment to TR [therapeutic recreation], CAPRA, training professionals and always giving back while always having fun."
In 1977, Wetherald graduated from James Madison University, and subsequently received her master's degree in urban and therapeutic recreation from the University of Baltimore. She served as a faculty member at Community College of Baltimore County Catonsville, Frostburg State University and Hood College. Most recently, Wetherald was bureau chief for Howard County (Maryland) Recreation and Parks, a position in which she had served since 1998, and an agency at which she had worked for 34 years. In her role as bureau chief, Wetherald oversaw thousands of programs, as well as 70 full-time employees and hundreds of part-time staff. Lynne Levin, who worked with Wetherald during her time at Howard County Recreation and Parks, writes on her tribute wall, "She was a person who could always be counted on to do the right thing, to do it well and with good humor. Her positive outlook and her wonderful laugh could brighten your whole day. She was an inspiration in so many ways and will be deeply missed."
During her career, Wetherald published a number of articles on therapeutic recreation and was a nationally featured speaker within the field of parks and recreation. Wetherald exemplified her dedication to parks and recreation through her continued active involvement in the field, including as president of the Maryland Recreation and Park Association (MRPA) and as a CAPRA commissioner. "I can't think of anyone more dedicated and passionate about their role with CAPRA," says Troy Houtman, director of park and recreation for City of Wichita, Kansas, and CAPRA Commission vice chair. "Her efforts have a lasting impact on our industry and the future of parks and recreation."
Wetherald was a CPRP and was an engaged member within the NRPA Connect community, an online network of park and recreation professionals. She received many awards for her work, including the MRPA Distinguished Fellow Award, Howard County Employee of the Year and several MRPA Member of the Year Awards, among others. She also was inducted into the American Academy of Park and Recreation Administrators.
"Laura touched so many people's lives as a mentor, teacher, coach and friend," says Cory Styron, CPRP, MBA, director of community services for Los Alamos County (New Mexico) and CAPRA Commission chair. "She was just as passionate about her parks and recreation career...helping organizations reach their potential through the CAPRA standards. We will miss her laughter and commitment to making everyone and everything a little better by knowing her."