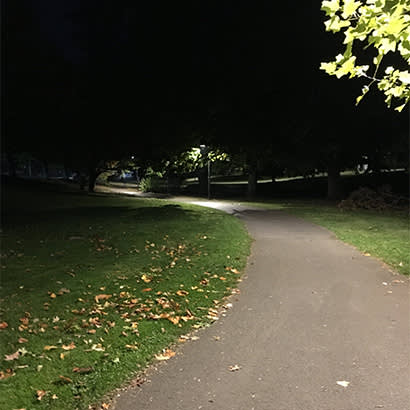 For an enhanced digital experience, read this story in the ezine.
Portland (Oregon) Parks & Recreation recently completed a landmark energy efficiency project to improve lighting at many sites while lowering the agency's costs and maintenance needs. The effort is part of Portland's Climate Action Plan and focuses on environmentally friendly park pathway lighting and improvements. Portland Parks & Recreation addressed nine sites in the endeavor, all of them in North and East Portland, areas that are underserved by parks and green spaces.
"We are proud to continue work on the Climate Action Plan," says Portland Parks Commissioner Carmen Rubio. "All of us on city council recognize that our city and planet are in a climate emergency and investments like this in underserved neighborhoods will help Portland address equity, conservation and efficiency."
As part of Phase I of the project, Portland Parks & Recreation replaced obsolete park pathway lighting at seven parks with LED lights and a new control system. In addition to reducing long-term costs and improving reliability, the new LED fixtures feature no "uplighting" (lighting directed upwards), as that can confuse wildlife and increase light pollution. Portland Parks & Recreation notes that the project is consistent with dark sky practices and is supported by Portland Audubon.
"We see this effort as a way to improve parks for people and wildlife while also reducing expenses," says Portland Parks & Recreation Director Adena Long. "The eco-friendly project is right in line with Portland's values. Portland Parks & Recreation is committed to stewarding our environment and leading by example."
Portland Parks & Recreation expects that the $350,000 pathway lighting retrofit will produce approximately $23,000 per year in energy and maintenance benefits. Additionally, the bureau expects the project to result in more than $20,000 in rebates from Energy Trust of Oregon — funds that will be reinvested in more energy efficiency efforts. Portland Parks & Recreation says it is open to increasing the project scope going forward.
"The new lighting control system gives Portland Parks & Recreation maintenance personnel the ability to see any outage, remotely, in real-time," says Darryl Brooks, Portland Parks & Recreation's mechanical, electric and plumbing manager. "This will help us to fix any issues quickly. We will see if expanding these sorts of efforts make sense. There appear to be many potential benefits!"
"Well-lit parks help our community feel safer in parks," says Vicente Harrison, Portland Parks & Recreation's health, safety and emergency manager. He adds that this project gives their public spaces the ability to be both more secure, appealing and, most importantly, more sustainable for the environment.
City of Portland Procurement and Portland's Bureau of Planning and Sustainability also are project partners. For more project information, please visit the portland.gov webpage.
Mark Ross is Media and Public Relations Officer for Portland Parks and Recreation.
Editor's Note: In a previous version, the agency name "Portland Parks & Recreation" appeared as "Portland Parks and Recreation" in the title and throughout the article.