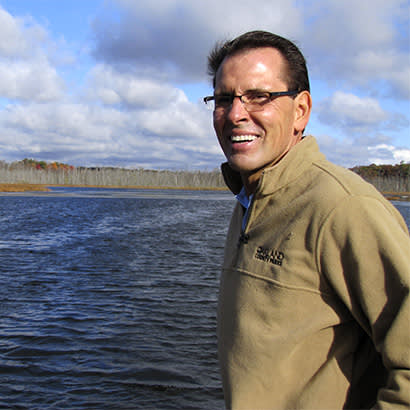 For an enhanced digital experience, read this story in the ezine.
During his long tenure at Oakland County (Michigan) Parks and Recreation (OCPR), Executive Officer Dan Stencil has created recreation experiences for millions of residents. Now, after more than 43 years, he is hanging up his proverbial hiking boots to create leisure time for him and his family.
"It's been a passion-filled career — providing parks, special events, recreation programs and services to visitors of all ages, abilities, diversity and economic backgrounds," Stencil says.
Stencil started at OCPR in 1977 as an assistant park supervisor at Independence Oaks County Park. In 1981, he was promoted to general maintenance mechanic at Springfield Oaks County Park, and in 1982, was promoted to recreation program supervisor. Stencil was promoted to chief of parks in 1987 and to administrator of parks and recreation operations in 1999.
He began his tenure as executive officer in 2006. Over a 15-year period in this role, Stencil oversaw the operation of 14 parks and 7,000 acres, managed an annual budget of $28 million and supervised 75 full-time and 600 seasonal staff.
A History of Accomplishments
Among OCPR's recent accomplishments, under Stencil's leadership, was the opening of Holly Oaks Off-Road-Vehicle (ORV) Park in the fall of 2020. The 106-acre facility in Holly Township and Groveland Township is operated by the park system and owned by the Michigan Department of Natural Resources.
"Recreation officials have been planning that ORV park for the last 25 years. It was on my bucket list to see it open before I retired," Stencil says. "The way people recreate has changed significantly since I started my career. People want rich outdoor experiences, and they enjoy sharing their nostalgic experiences with family. At the ORV Park, campgrounds and golf courses, we have three generations enjoying their leisure time together. I'm thrilled by the recent push to get outdoors and spend time in nature, hiking, fishing and more."
Reflecting on his career, Stencil names some highlights of his time with the park system. These include the acquisition of additional parkland for the county's residents, including Catalpa Oaks County Park in Southfield, Red Oaks Dog Park in Madison Heights, and Independence Oaks-North County Park in Independence Township.
Enhancing accessibility was high on his list of achievements, including the construction of Paradise Peninsula, a universally accessible playground at Waterford Oaks County Park in Waterford; accessible yurts and cabins at two campgrounds; trail access and parking lots; and increased programming and special events for individuals with physical and cognitive disabilities.
Another proud accomplishment was the approval of the 2010 and 2020 parks millages by more than 76 percent, a testament that Oakland County residents value the Oakland County Parks, Stencil says.
Commitment Extended Beyond OCPR
Stencil also has been involved with the park and recreation profession at the local, state and national level. His professional involvement includes years of service to mParks, the Michigan Recreation and Park Association, including the role of mParks president. In 2015, he received the mParks Fellowship Award, the organization's highest honor.
In 2019, he was selected for the American Academy for Park and Recreation Administration and was in the inaugural class for Certified Park and Recreation Executives (CPREs) through NRPA.
He also has served on the Michigan Association of County Parks and Recreation Officials, the Clarkston Area Optimist Club and the National Ski Patrol.