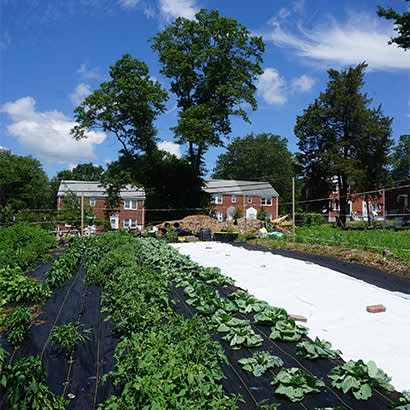 For an enhanced digital experience, read this story in the ezine.
There are more than 260 parks across more than 4,600 acres of parkland in Baltimore, where the population is greater than 600,000 residents. Most of that green space is positioned on the western side of the city. But on the lesser-maintained east side, two years of kindling collected — in the form of resources and support — by pediatric nurse and founder of the nonprofit Backyard Basecamp, Atiya Wells, was recently ignited into a 10-acre land reclamation project known as BLISS Meadows. The acronym stands for Baltimoreans Living in Sustainable Simplicity.
Within the unexpected setting of an urban residential neighborhood, one can now find a Black-led environmental education and justice hub designed to reflect, preserve and celebrate Black, brown and Indigenous perspectives of the human-nature connection. BLISS Meadows is situated in a neighborhood where the five public elementary and middle schools serve 81 percent Black children. The community, as a whole, comprises a 67 percent Black racial demographic and, in turn, the Backyard Basecamp board of directors and staff intentionally represent a 100 percent Black racial demographic. In contrast to the predominantly white environmental education institutions currently in and around Baltimore City, this organizational commitment to supporting Black lives naturally leads to the centering of culturally responsive educational pedagogy into every outdoor experience at BLISS.
To encourage diverse participation in outdoor recreation, we must meet the public with images, language, practices and people who reflect their lived experiences. For example, in the Frankford neighborhood where BLISS Meadows is located, the impact of children learning how to grow food in an urban environment from a young, Black, male farmer with whom they can see immediate commonalities primes them for an entirely different experience than if they were to take a one-day field trip to a dairy farm that is located hours from home. At BLISS Meadows, the staff approaches equitable access to nature by introducing neighbors to restorative outdoor experiences in their own backyards.
To groom BLISS Meadows into becoming the community-serving nature hub it aspires to be, Backyard Basecamp approaches environmental justice through five categories of educational and recreational focus: animal husbandry, community green space, conservation, environmental education and food access. Throughout the two-year journey of building BLISS, Backyard Basecamp staff committed themselves to community-based needs assessments and sought out collaborative feedback and consensus from their neighbors before developing programs or starting major projects. By documenting each step of the land reclamation project, Backyard Basecamp intends to eventually share its story and process with others as an example of equity work within the fields of environmental justice, education and sustainability.
As we move into spring and summer, we at Backyard Basecamp invite you to support Black- and brown-led organizations that create a sense of belonging for groups of people who have been historically excluded from enjoying the benefits of outdoor recreation and parks. Learn more and stay in touch by visiting backyardbasecamp.org.
Dr. Victoria Rose Brusaferro is Environmental Education Programs Specialist for Backyard Basecamp.