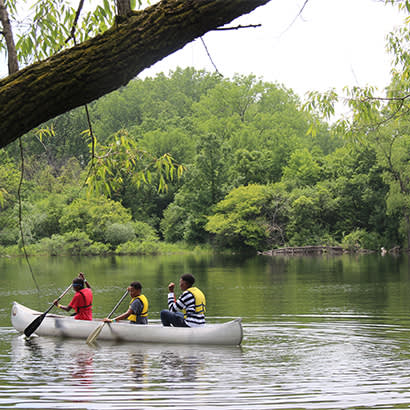 For an enhanced digital experience, read this story in the ezine.
At the end of July, the Board of Commissioners of the Forest Preserves of Cook County, Illinois, approved a position paper nearly two years in the making, Moving Towards Racial Equity in the Forest Preserves of Cook County. Written by the Forest Preserves' Conservation and Policy Council with staff and outside partners, the paper acknowledges that institutionalized racism has impacted the patterns of investment in and stewardship of the preserves, and gives specific recommendations to change its approach to benefit all the people of Cook County, including applying a racial equity lens to all future plans, programs, policies and investments.
The Forest Preserves of Cook County is one of the largest and oldest urban land conservation districts in the nation. It was founded more than 100 years ago and holds nearly 70,000 acres in Chicago and its suburbs, one of the most biodiverse and culturally diverse counties in Illinois.
The Forest Preserves has worked hard to welcome everyone onto our trails, in our nature centers, at our programs, and into our woods, prairies, wetlands and savannahs. Yet, two summers ago, we received a wake-up call that said we need to do more when one of our police officers failed to protect a young Puerto Rican woman during a racist incident at one of our popular preserves, Caldwell Woods. People of color can often feel unsafe and unwelcome in natural outdoor places, and this incident only perpetuated that kind of unease.
Starting the Conversation
To move us forward, we began to have tough conversations with community leaders and staff. We held a Cultural Awareness Forum organized with the U.S. Department of Justice and the Chicago Commission on Human Relations, where staff expressed the need for internal improvements. Alongside community leaders, we partnered on a new annual rally at Caldwell Woods to celebrate diversity, hosted by the Northwest Side Coalition Against Racism and Hate.
The Forest Preserves continues to deepen its engagement with Black, Indigenous and other communities of color through various means, such as a program that fosters ongoing partnerships with local institutions and community groups located around Beaubien Woods on the South Side of Chicago. Body cameras have been purchased for all our police in the field, and we have begun an implicit bias training program in which all Forest Preserves of Cook County employees, starting with our police department, will participate.
In the winter of 2018, we also launched a Racial Equity, Diversity and Inclusion committee (REDI) to begin addressing internal structural issues and to operationalize equity. Our committee starts with the idea that when the system is viewed with an equity lens, the benefits of racial equity extend beyond a targeted group to reach everyone.
REDI first-year projects focused on improving our community engagement outreach, staff training opportunities and human resources processes. Second-year projects will continue to focus on improving human resources processes and training endeavors for staff and volunteers.
Like all of Cook County, the Forest Preserves sits on land that was taken from Indigenous people, specifically the Council of Three Fires — the Ojibwa, Ottawa and Potawatomi tribes. To recognize this fact, we now have a land acknowledgement statement, along with a guide on how to integrate the statement in Forest Preserves events, so people are aware that Native Americans still live and practice their heritage and traditions in Cook County and these are their ancestral homelands.
The Forest Preserves has been fortunate to receive an NRPA Heart Your Park grant. Through this grant, we envisioned engaging local residents to participate in our stewardship days and forest therapy walks. Due to restrictions on gathering in groups due to COVID-19, we've had to rethink this approach.
Our Forest Therapy guide, Dr. Kim Ruffin, author of Black on Earth, came up with the brilliant concept of a forest therapy audio walk with the theme of "belonging" that is inclusive and welcoming to new users, volunteers and staff. We hope the audio will bring healing to those who hear it, remind them that they belong in natural spaces and convey that nature can care for them in their own unique way, whether it is in their local forest preserve, their yard or wherever a wild flower may be found.
At the Forest Preserves of Cook County, we recognize that we certainly don't have all the answers for racial equity at a land management agency, and our work is not done. Many of our goals are ongoing, and we continue to look for opportunities to improve equity inside our organization and in the preserves themselves. We do know that we have the responsibility and are committed to doing the hard work of striving toward racial equity and to providing a natural space where every person truly feels welcome and safe.
Raquel García-Álvarez is the Stewardship Program Coordinator at the Forest Preserves of Cook County.