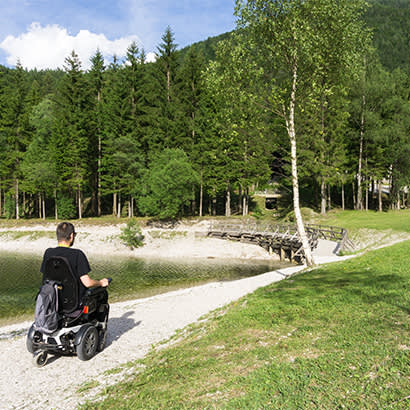 For an enhanced digital experience, read this story in the ezine.
Close your eyes for a moment and imagine a park. What do you see in your mind's eye? What is the landscape? Who are the people there? What activities are they doing? Hopefully, you saw a thriving, lush, green area full of people from all different backgrounds and all ethnicities who were participating in a vast array of recreational activities. You don't even have to imagine this — you often can walk, scoot or roll to a local park and see this for yourself; that is, if you have a park near you.
In many communities where basic infrastructure is not available, local parks provide a meaningful bridge to the many benefits outdoor recreation offers. As we have all experienced throughout the coronavirus (COVID-19) pandemic, physically distanced recreation in the outdoors is vital for our health and wellness. Record numbers of people are experiencing the benefits of local outdoor recreation opportunities, many for the first time. But unfortunately, many communities across our country do not have local access to a quality park. In fact, nearly 1 in 3 people do not have a park or natural area within 10 minutes of their home. This presents an unpleasant reality for many individuals and an equity problem that we cannot ignore any longer. Access to the outdoors is a challenge we must prioritize. While we all dream about hiking in the Grand Canyon or visiting Yellowstone National Park, these experiences simply are not attainable for many Americans. Finding quality opportunities within our own communities is how the benefits of outdoor recreation can reach more people, especially those in underserved communities in both urban and rural areas.
A recent blog post published by the Good Earth Plant Company powerfully captured the importance of parks by stating that "Public parks demonstrate what democracy is all about. They embrace the potential of our human rights: freedom of speech, freedom of association, freedom from fear. Parks are created on the ideal of being accessible to all people, no matter their income, ethnicity or religious beliefs." I couldn't agree with this statement more. That is why at the National Recreation and Park Association, we continue to prioritize ensuring all people have access to the benefits of local parks and recreation. We want to help communities fill the parks gaps in their neighborhoods and to provide them with wonderful, beautiful and highly functioning parks and natural areas.
Our public policy and advocacy team is purposeful in advancing the opportunities to enhance the resources available for our members. Most recently, we achieved a great victory with the passage and signing of the Great American Outdoors Act. This new law will provide historic levels of funding and unprecedented impact. Not only did this legislation have overwhelming support among those of us who are committed to the outdoors, conservation and recreation, but also it was an incredible win for the outdoors. What's more, it represents another example of how policies related to the outdoors bring Republicans and Democrats together.
However, the law's biggest and most important win may be the pathway to equity that it creates. This new law will provide $9.5 billion to reduce the maintenance backlog on federal public lands and $900 million annually for the Land and Water Conservation Fund (LWCF), effectively ending the long and unfair tradition of diverting billions of dollars in funds needed for LWCF to other unrelated programs. LWCF has made significant impacts in helping to build local parks over the years, but as funds were diverted to unrelated programs, communities were shortchanged and access to recreation became unbalanced. The Great American Outdoors Act can finally fix this problem.
While the unprecedented commitment to robust funding has taken center stage in this debate, we cannot ignore the unprecedented access to quality outdoor recreation this law will provide for everyone. The full and permanent LWCF funding will help ensure outdoor recreation can reach all communities and is available to everyone through the stateside assistance grants, which help create quality local parks and access to outdoor recreation in local communities. These funds will eliminate the traditional barriers that restrict many people from accessing quality outdoor experiences, including cost and transportation. The Great American Outdoors Act does many things, but the equity it will help create for all communities is, without question, its greatest impact.
As we look forward to the legislative challenges that lay ahead, we will continue to focus our actions through an equity lens to ensure that inclusiveness is at the center of our policy activities. Our goal is to help increase the positive impact on our communities by advancing an accessible, inclusive, welcoming and memorable parks experience for everyone — an experience that allows people to connect with nature and with one another.
Elvis Cordova is Vice President of Public Policy and Advocacy at NRPA.