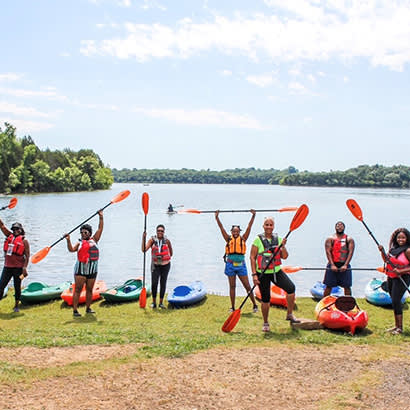 For an enhanced digital experience, read this story in the ezine.
To empower people of color to spend time in nature to inspire wellness, abundant living and connection — that is the mission of Abundant Life Adventure Club. This Nashville, Tennessee-based adventure company is breaking down barriers to the outdoors, so that everyone can enjoy the wellness benefits of parks and open spaces. Founded in 2017 by Claude and Dr. Kim Walker, the club was borne out of the duo's commitment to living healthier. "As health professionals, we knew in order to make our active lifestyles sustainable, we needed to get active outside of the gym, find our tribe and add some fun variety," Dr. Kim says. "Outdoor recreation was the solution and transformed our lives."
Contrary to their current love for outdoor adventures, Claude asserts that they were not always outdoorsy people. "Our exposure to outdoor recreation was once limited to only traditional sports in urban parks." He recognizes that this experience — or lack thereof — is not unique to them. "We know the challenges of trying to figure out where to go, who to go with and how to stay safe. We created Abundant Life Adventure Club to help people of color live an active lifestyle through positive exposure to outdoor recreation with ease."
Not only is the club creating access to nature for people of color, but also it goes a step further to be intentional about cultivating deep relationships with nature for participants by incorporating mindfulness and meditation. "We take a break to stop for meditation in the most scenic part of the adventure, we call 'inspiration point,'" says Dr. Kim. "We want to be transformed, challenged and restored while being immersed in nature's beauty." And, as participants are connecting with nature, they are also building bonds with their co-participants. Claude asserts, "We've created a safe space to talk about our challenges, experiences and perspectives to connect on a deeper level. We get to celebrate, inspire and support one another. It's refreshing to really feel seen, heard and understood."
As guests on a recent episode of NRPA's Open Space Radio podcast, the Walkers discuss their mutually beneficial partnership with the Nashville Parks and Recreation Department that increases the offerings the club can provide while helping the agency expand its audience and participation, specifically to diverse participants. "Anything outside of hiking and biking is outside of our scope of expertise…so we knew we needed help with that," Dr. Kim says. "That's where we rely on Nashville Parks and Recreation the most, because they bring that level of expertise, different activities and access to different places. We basically bring the people."
When asked about how the club is making a difference, Claude tells a story that exemplifies the importance and impact of the program. "Last year, we took our club on a waterfall hike to Burgess Falls. One of our members in her mid-40s, [who] was born and raised in Nashville, had such an amazing and transformative experience. She said she lived in Nashville her whole life and didn't know there were any waterfalls in Tennessee. We encouraged her to take in every moment of this first-time experience. The joy on her face made our hearts smile."
Lindsay Hogeboom is Associate Editor of Parks & Recreation magazine.