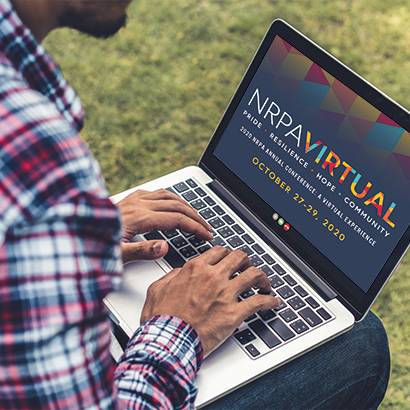 For an enhanced digital experience, read this story in the ezine.
In April 2020, when the full extent of the coronavirus (COVID-19) pandemic and its impacts became profoundly apparent, NRPA made the difficult decision to cancel the 2020 NRPA Annual Conference that was set to take place in Orlando, Florida. With the health and safety of its members, staff and the park and recreation community as NRPA's top priority, the conference would need to be reimagined to continue to support the professional growth and ongoing development of park and recreation professionals while ensuring everyone's safety. To meet both of these critical needs, the 2020 NRPA Annual Conference is going virtual.
"While the COVID-19 pandemic caused us to pivot from an in-person event to a virtual one, we are proud to deliver an experience that will be timely and relevant for park and recreation professionals and the vital role they continue to play in their communities' responses to the pandemic," says Kristine Stratton, president and CEO of NRPA. "Further, we are thrilled to bring top experts in race equity and social justice issues to this year's conference, as the field of parks and recreation looks to create more fair and just access to the essential infrastructure and services we provide."
On August 3, 2020, registration opened for the 2020 NRPA Annual Conference: A Virtual Experience (NRPA Virtual). This October 27–29, thousands of people who are passionate about parks, recreation and making communities great places to live will converge for inspirational education sessions, energetic networking activities and an inside look at the latest products for the field. Not only will the virtual conference bring park and recreation professionals and advocates together as a community, but it will also serve as a platform for networking and exchanging ideas in new and imaginative ways.
In addition to daily general sessions, there are 12 education tracks that attendees can choose from, including:
Advocacy
Aquatics
Conservation
Employee and Volunteer Management
Health and Wellness
Leadership and Management
Planning, Design and Maintenance
Professional Development
Public Relations and Marketing
Recreation and Sports Programming
Research and Evaluation
Revenue and Customer Service
NRPA Virtual will take the best of the in-person conference — including education sessions, keynote speakers and exhibitors — and put them in an innovative and interactive format to enhance the overall experience. Attendees will have the option to attend live education sessions, as well as be able to access the recordings of all 60-plus sessions. In addition to dynamic keynotes — like Glenn Harris, president of the new Race Forward and publisher of Colorlines — and education sessions, attendees can participate in unique networking opportunities, an exploration-worthy exhibit hall and more. Attendees also will have the option to sign up for a virtual 5K and receive a limited-edition medal for an additional cost. Most importantly, the virtual conference platform will provide a unique opportunity to foster collaboration and connection with park and recreation professionals around the country and potentially the world.
While the conference will not be occurring in Orlando, Florida, this year, NRPA remains committed to its annual Parks Build Community project, for which the association works with industry partners to refurbish or build a park in the conference host city. This year, NRPA is working with the generous donors to revitalize Orlando's Grand Avenue Park, and plans to unveil the project during NRPA Virtual.
To register for the 2020 NRPA Annual Conference: A Virtual Experience or view the schedule, visit the NRPA Annual Conference webpage.