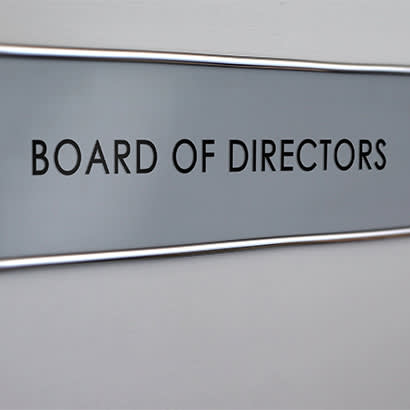 For an enhanced digital experience, read this story in the ezine.
Each year, during the NRPA Annual Conference, NRPA officially welcomes its incoming class of board members. NRPA's board members are representative of its membership, which includes professional and advocate leaders in the park and recreation movement; park and recreation agencies and organizations representing the public, private, voluntary, commercial and industrial sectors; firms supplying park and recreation products and services; and individuals and civic groups interested in the park, recreation, conservation, health and equity fields. This year, we are excited to welcome five new members to the 2020–2021 NRPA Board of Directors.
Kathy Abbott
Abbott is the first president and CEO of Boston Harbor Now, an organization that partners with public agencies, community leaders, businesses and other nonprofits to realize Boston Harbor's potential to benefit the city and region. Upon assuming this role, Abbott has come full circle since beginning her career in college on the Harbor Islands as a park ranger to currently leading Boston Harbor Now. She is responsible for working with the board and staff to create a welcoming and resilient harbor that benefits everyone in the Greater Boston region. Abbott has a history of leading change through public and nonprofit organizations, including advancing statewide park planning, management and land conservation, educating students and impacting resource-based economies in primarily developing countries through applied environmental studies, creating a new national park through a first-of-its-kind public-private partnership in Boston Harbor, creating and managing a statewide park system, increasing funding for public parks in Massachusetts, and growing the impact of the only year-round botanic garden in New England. She asserts that she has never done this work alone and credits great teams and collaborations for her success.
Abbott has worked locally and globally and volunteered nationally to advance the interests of urban parks as the co-chair of the City Parks Alliance. Her experience as an executive and entrepreneur in government and nonprofits uniquely qualifies her to build upon the successes of the current waterfront renaissance. Her proudest accomplishments have come as a volunteer working with kids throughout her career, as a former foster mother and now as a proud mom of a 30-year-old daughter. In 2016, she was named one of Boston's Power 50 by the Boston Business Journal, and in 2018, was named one of the 100 Most Influential People in Boston by Boston Magazine. She received her degrees from the Stockbridge School of Agriculture at University of Massachusetts Amherst and Harvard University.
Angelou Ezeilo
Ezeilo's love for the environment stretches far back to when she was a little girl who had the chance to escape the dense urban streets of Jersey City, New Jersey, to summer in upstate New York.
After a brief stint of practicing law, it was through her work as a legal specialist for the New Jersey State Agriculture and Development Committee that Ezeilo embarked upon a career as an environmentalist.
She further honed her skills as a project manager for The Trust for Public Land (TPL) in both its New Jersey and Georgia offices. In her position, Ezeilo acquired land for preservation and worked on the New York/New Jersey Highlands Program, Parks for People-Newark, the New York/New Jersey Harbor Program in New Jersey, the Atlanta BeltLine and the 20 County Regional Greenspace Initiative in Georgia. While at TPL, Ezeilo realized the disconnect between the land that was being preserved and the education of people about that preservation — particularly as it related to our next generation. This was the impetus for the Greening Youth Foundation. Under her leadership, the foundation has taken up the charge of providing environmental access to underserved children and young adults through its Public School Initiative and Youth Conservation Corps programs. Greening Youth Foundation provides its services throughout the country and in Ghana, West Africa.
Ezeilo is a graduate of Spelman College, Georgia. She received her Juris Doctorate in law from the University of Florida, College of Law. Ezeilo is a member of the National Center for Civil and Human Rights' Women's Solidarity Society and South Fork Conservancy boards; advisory board member for the Arabia Mountain National Heritage Area, The Million Mile Greenway, Inc., Keeping It Wild, Inc., and Outdoor Afro; and subcommittee member of the National Park Service's 21st Century Conservation Corps.
Monica Hobbs Vinluan
Vinluan joined the Robert Wood Johnson Foundation (RWJF) in 2015 as a senior program officer. She has been a passionate, professional advocate for health promotion and a distinguished government relations professional on a variety of health and well-being issues for two decades. Through her work at the foundation, Vinluan strives to ensure that all children in the United States have a healthy start. She views her role as "bringing new strategies and approaches to helping make sure all children get the nutritious foods and drinks they need to learn, grow and thrive."
Previously, Vinluan served as director of the Healthier Communities Initiatives for the YMCA of the USA, which catalyzed community- and state-level leadership teams to put in place strategies and policies that enabled people to make healthy choices. The Healthier Communities Initiatives — funded by the Centers for Disease Control and Prevention, RWJF and a host of other funders — created nearly 250 community teams and enacted 39,000 policy changes in advocating for physical activity, healthy eating and health equity policy strategies.
Vinluan's experience also includes serving as a senior policy associate with the National Recreation and Park Association. She has worked with the National Women's Law Center, the Institute for Women's Policy Research, the National Association of Child Advocates and in the office of former U.S. Senator Charles Robb of Virginia.
Vinluan earned her Juris Doctorate at the American University Washington College of Law and her Bachelor of Arts in political science from Virginia Polytechnic Institute and State University (Virginia Tech). She was the recipient of the Sandra P. Grasso Scholarship for her commitment to advancing social justice and feminism, and also was honored for her work in opening the Women's Center at Virginia Tech.
Born in Virginia, Vinluan currently resides there with her husband and two children. She enjoys "just about any out-of-doors activities," including hiking, camping and attending her children's numerous sports activities.
Susie Kuruvilla
Kuruvilla entered the park district world in 1997 as the superintendent of business services for Gurnee Park District in Illinois. In 2006, she was promoted as the executive director. Kuruvilla is a certified public accountant and has worked in the private sector and in a municipality previously.
In 2010, the district won the National Gold Medal Award under Kuruvilla's leadership. The district also achieved the Distinguished Accreditation Agency Award from the Illinois Association of Park Districts (IAPD) in 2010 and 2015. In 2013, Kuruvilla led the acquisition of a 75,000-square-foot Gold's Gym facility and converted it into a park district-owned fitness facility named FitNation. The facility was financially successful within the first year.
Kuruvilla spearheaded a movement in Gurnee, named "GO Gurnee," inspired by the message delivered by former U.S. Surgeon General, Dr. Vivek Murthy, at the 2015 NRPA Annual Conference. GO Gurnee encourages people to walk 30 minutes each day. The movement became so successful that it has been modeled in 25 other communities throughout Lake County in the past three years through a partnership with the Lake County Health Department.
Under Kuruvilla's leadership, the Gurnee Park District has thrived financially and has been part of seeing it grow from a small district with a $3.6 million budget to a much larger district with a budget of $17.6 million in the past 20 years.
Kuruvilla has served on various boards and committees and made many contributions to the field of parks and recreation over the past 20 years. She has served on the finance committees for IAPD, as well as the Park District Risk Management Agency (PDRMA). She currently serves as the chairperson for the PDRMA Health Benefits Committee and recently joined the board of directors for HR Source. Kuruvilla is an active member on the Joint Legislative Committee led by IAPD.
Kuruvilla is a member of the local Exchange Club and Healthy Community Healthy Youth (HCHY), a local organization focused on the health and well-being of young adults in the community.
Kuruvilla was born and lived in India until the age of 22. Growing up, she didn't have many of the recreational opportunities available to those who were born and brought up in the United States. Kuruvilla feels that her exposure and connection to the park and recreation field has changed her life in a positive way. And, she holds a strong desire to impact lives by expanding parks and recreational opportunities and improving quality of life for all.
Lakita Watson
Watson is a certified park and recreation professional (CPRP) with more than 20 years of experience in recreation program planning, staff development, capital project implementation and strategic planning. She comes from Suffolk, Virginia, where she served as the president of Virginia Recreation and Parks Society in 2010.
The Virginia native currently holds the chair seat for the National Recreation and Parks Ethnic Minority Society and is past chair of the National Recreation and Parks Association's Leadership Development Network. She also founded the Women in Parks and Recreation Facebook group, which boasts more than 7,000 members after less than a year of recruitment.
Watson attended Norfolk State University, where she earned her bachelor's degree in social work. She is finishing a master's degree in public administration from Liberty University. She lives in Richland County, South Carolina, with her three children.