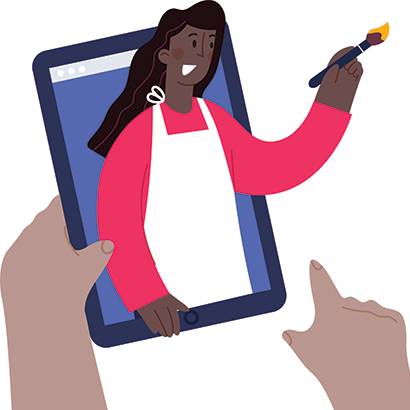 For an enhanced digital experience, read this story in the ezine.
In March of 2020, the world as we once knew it changed forever. In response to the coronavirus (COVID-19) pandemic, states across the country began issuing stay-at-home orders and strongly encouraged people to practice physical distancing to slow the spread of the disease and combat this global crisis. In the midst of this chaos and fear of the unknown, local park and recreation professionals quickly pivoted to establish virtual recreation centers, preventing significant disruptions to programs that communities across the country rely on every day to keep them healthy and happy. According to NRPA's most recent Parks Snapshot survey, 83 percent of senior centers, 64 percent of indoor gyms, 47 percent of recreation centers, 42 percent of outdoor pools/aquatic centers and 37 percent of playgrounds are currently closed. Still, local park and recreation staff have risen to the challenge to support communities to let them know that parks and recreation is still a go-to resource for staying healthy, happy and connected.
The Benefits and Challenges
Offering programs virtually (via email, phone, online platform/social media or a combination) is a great way to continue to engage community residents when you are unable to offer in-person classes or are offering limited capacity classes. Additionally, virtual programming allows for:
Expanded reach to a larger segment of the population by engaging participants from different remote locations in large or small groups
Engagement from community members in programs on their own time and at their own pace, especially if classes are recorded and distributed
Reduced transportation barriers for participants, particularly in rural communities
Reduced competition for facility space and minimal weather-related disruptions to programming
Flexibility to develop innovative offerings
Some barriers that may be experienced include:
Reliable access to internet, technology and comfort-level navigating online platforms
Ability to keep in regular contact with participants to maintain motivation and reduce attrition
Recruiting participants for programs and services and providing materials for programs that require use of specific equipment
It is important to remember that the highlight of virtual programming for many people is simply staying connected with friends and peers. Although the pandemic has had alarming impacts on individual and collective social and emotional health, virtual connections are helping to turn the tide.
Examples of Virtual Programming
Whitemarsh Township Parks and Recreation in Pennsylvania created a website featuring more than 100 resources for community members. The activities presented respect physical distancing policies and are in accordance with the Centers for Disease Control and Prevention's guidelines. These activities range from art to education to virtual field trips. Mental health resources — something that is critical in times of isolation and uncertainty — are available as well. Thanks to this invaluable body of resources, community members are still able to stay healthy, engaged and supported.
For residents in Baltimore, Maryland, Baltimore City Recreation and Parks' virtual recreation center provides opportunities to explore the city, as well as indoor and outdoor activities for youth, adults and older adults — the latter being a population that has experienced significant mental and social health challenges during the pandemic. "The main goal is to keep them connected to their peers because some of them feel invisible and isolated," says Leslie Yancey, city of Baltimore Recreation and Parks senior division program manager. "Participation in programming has decreased, but we have also been able to reach a new segment of older adults. We provide different options for joining our virtual offerings, offer descriptive instructions ahead of the classes for the activities we will do, and our classes are live versus recorded, so that participants are getting the connection they need and value."
Considerations for Virtual Programming
Here are a few questions to consider to ensure you are creating both engaging and sustainable virtual offerings:
It is important now more than ever that infrastructure and resources necessary for streamlining these new virtual offerings and services are in place. After all, it's all about helping communities stay healthy, happy and connected — whether in person or remote.
Lesha Spencer-Brown, MPH, CPH, is a Senior Program Manager at NRPA. Lauren Kiefert, MPH, is a Program Manager at NRPA.