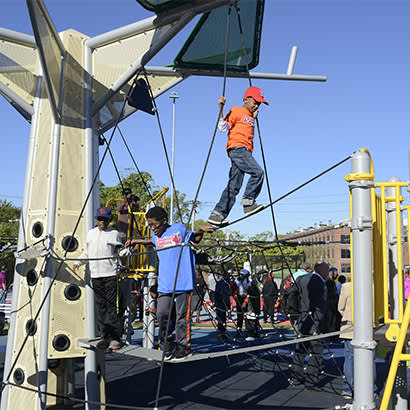 For an enhanced digital experience, read this story in the ezine.
Urban Land Institute has announced that Trojan Park in Wellston, Missouri, the 2016 NRPA Parks Build Community project, has been awarded its 2020 Urban Open Space Award. This honor acknowledges outstanding examples of vibrant public open spaces that have been instrumental in promoting healthy, sustainable and equitable outcomes in communities.
NRPA and Great Rivers Greenway worked in concert with the city of Wellston to develop Trojan Park back in 2016. NRPA's Parks Build Community is a national initiative aimed at demonstrating the transformative value of parks on the health and vitality of communities across America and has historically included building or refurbishing a park at the location of the NRPA Annual Conference, which, in 2016, was held in St. Louis.
"We are thrilled that such a deserving park is being recognized with this prestigious national award," says Kristine Stratton, NRPA president and CEO. "This year, we are celebrating the 10th anniversary of the Parks Build Community initiative, and this award is a prime example of how an investment in a local park makes a lasting impact on the community it serves. Building a beautiful, sustainable and culturally relevant park in a community — and seeing its transformative effect — illustrates the importance of healthy gathering places for everyone."