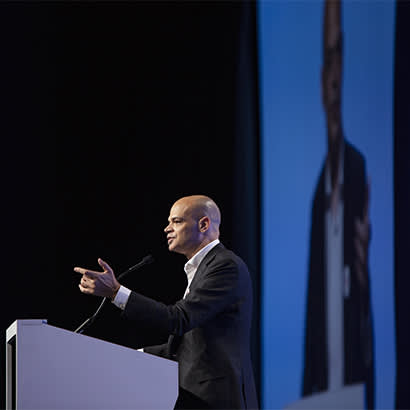 For an enhanced digital experience, read this story in the ezine.
The president of the new Race Forward and publisher of Colorlines addresses the opportunity for park and recreation professionals to advance equitable practices in their communities
Next year, Race Forward — a nonprofit racial justice organization — will celebrate its 40th anniversary. Although prominent on its own merits, Race Forward further elevated its profile when it joined with Center for Social Inclusion (CSI) to become the new Race Forward in 2017.
"We work to bring a systemic analysis and an innovative approach to complex race issues to help people take effective action toward racial justice," says Glenn Harris, president of the new Race Forward and publisher of Colorlines. Prior to his current role, Harris served as president of CSI beginning in 2014. He spent more than 25 years working on issues around race and social justice.
On October 27, Harris will speak during the Opening General Session at the 2020 NRPA Annual Conference: A Virtual Experience. Parks & Recreation magazine caught up with Harris, who shared his insights on racial justice, anti-racism and the role that parks and recreation plays in building racial equity across our nation.
Parks & Recreation: Tell us about Race Forward and its mission.
Glenn Harris: Race Forward is home to the Government Alliance on Race and Equity (GARE), a national network of local government working to achieve racial equity and advance opportunities for all. Race Forward publishes the daily news site Colorlines and presents Facing Race, the country's largest multiracial conference on racial justice.
[The organization] catalyzes movement building for racial justice. We work in partnership with communities, organizations and sectors to build strategies that advance racial justice in policies, institutions and culture.
P&R: How have current events, such as the murder of George Floyd and the Black Lives Matter protests, impacted your work?
Harris: In the days since four Minneapolis Police Department officers killed George Floyd, hundreds of demonstrations have broken out around the country. Race Forward stands in solidarity with the millions who have marched to demand justice for George Floyd, Breonna Taylor, Ahmaud Arbery, Jacob Blake and for Black lives that have been taken prematurely by police brutality. We join their condemnation of all forms of racist violence — whether state or state-sanctioned or from individuals and groups.
The uprising opens up opportunity, because it lays bare what too many people were reluctant to see and allows Race Forward to build on the foundation that we had been laying for years in working to eliminate systemic racism.
In this moment, we at Race Forward affirm with a renewed sense of purpose our work of catalyzing the racial justice movement. In media, advocacy, training, research, policy and narrative, we continue to center communities of color that are setting the course for a shared, equitable future. We continue to convene those working for racial justice to share best practices in the movement for equity and justice. We continue to tell the untold stories, advance the best ideas and lift up the leadership of communities of color. We continue to advance decriminalization, demilitarization and restorative justice. We continue to organize and lead governments to advance racial equity.
We stand with the Movement for Black Lives and communities of color across the country that are calling for divestment from police and investment in health, education, housing, arts and culture, and the environment. We support and lift up the work of local Black-led organizing on the ground.
P&R: When it comes to racial justice, do you believe the country has reached an inflection point?
Harris: Our democracy is at an inflection point. Americans face a trifecta of crises — state and vigilante violence against Black people, a pandemic and an economic depression. Political leadership — beginning with the White House — offers us only a toxic combination of malign neglect and counterproductive, divisive measures.
One in 1,625 Black Americans has died from COVID-19. One in 6 Black people is unemployed. Black people make up only 13 percent of the U.S. population, and yet 23 percent of those shot and killed by police are Black.
The structures of racism that leave Black, Indigenous people and people of color more vulnerable to death than whites are being laid bare. The social contract is broken. Communities of color are demanding a new one that centers [on] our health and well-being and pivots toward life. Now is the moment to go all in by supporting communities protesting and supporting the institutions that can meet and implement those demands.
P&R: Why is it difficult for people to talk about racism?
Harris: Race is a complex subject in American culture. We have [more than] 400 years of purposeful and systemic injustice. The challenge for many white Americans is recognizing how they benefit from a system that they did not create — but, nonetheless, benefit from. In addition, we don't always have a shared understanding of racism, with some focusing on individual acts of racism while others are thinking about how racism is manifest in systems and structures. Developing a shared understanding of racial equity makes it easier and more productive to talk about racism.
In this moment, we need to lean in and discuss the systemic realities of racism in America. That means finding truth in the uncomfortable discussions of our history of race and its current impact.
P&R: How does unconscious bias impede an organization's efforts to institute anti-racist practices?
Harris: Unconscious bias plays for all individuals and organizations. It is the manifestation of our culture in how we see the world, and it creates and maintains ways of operating that work better for people who are white, male, able, middle class and heteronormative.
We all have bias, and it is necessary and possible to interrupt our unconscious bias. Pairing implicit bias training with institutional action leads to better results. There are three approaches we use to interrupt unconscious bias organizationally: Re-priming, Removing the Opportunity, and Stop and Think.
Re-priming involves training, conversations and cultural shifts that organizations adopt to increase capacity in shifting away from racial bias in day-to-day operations.
Removing the Opportunity involves creating policies or protocols that limit the opportunities for individual subjective biases to come into play.
Stop and Think involves taking proactive action by designing policies or protocols where considerations of racial equity are built into the way decisions are made in the organization, most frequently by using a racial equity tool in decision-making processes.
P&R: How is racial diversity different from racial equity?
Harris: Diversity, equity and inclusion are frequently confused or conflated. Diversity is a measurement of representation. Inclusion is a measurement of the quality of experience of that representation. And, equity is a measurement of justice and power. The simplest example I've heard is that if you were to take a photo of everyone in your organization, how representative the group is of your community would be a measurement of diversity. How many people in the photo are smiling would be a measurement of your organization's inclusivity. And, who got to decide when and how to take the photo would be a measurement of equity. The distinctions matter because each requires different interventions and strategies for success.
P&R: What are the key concepts for building racial equity?
Harris: What is key is a deep and sustained commitment to racial equity. Racial equity is both a process and an outcome. How are we centering equity in our processes and decisions and how are we measuring if our processes and decisions are making a tangible difference in the lives of people of color?
We use an organizational framework for implementing racial equity. The four key components are visualize, normalize, organize and operationalize. Visualize focuses on identifying the shared values of the organization that support racial equity, along with a vision for a racially equitable future organization. Normalize focuses on education and discussion on the core terminology of racial equity and our historic understanding of race in America for all staff and community. Organize focuses on finding and supporting the core advocates in the organization for racial equity. And, operationalize focuses on implementing racial equity tools and measuring impact and success.
P&R: How can parks and recreation help build racial equity within their communities?
Harris: Parks and recreation can and does play a key role in building racial equity in communities. Green space and activity are central components to a healthy, thriving community. Key questions include: Who has access to parks? Who designs parks? Who decides what programs and services will be offered at parks? What dollars are allocated to which parks?
Parks are essential public spaces, and equitable use and design of parks are a powerful exemplar of multiracial democracy in practice. It's that kind of practice that offers hope to the nation.
P&R: What do you believe is the key to addressing racial and health inequities in underserved communities?
Harris: There is no silver bullet for addressing racial and health inequities. Systemic racism is baked into all of our institutions, policies and practices. But we can lean into changing what we have the most influence over, and we can play a catalytic role in moving other organizations and institutions in the same direction. And, we must remember that the answers lie within the communities that are most impacted by inequity. We must listen, take action and evaluate if our actions are having an impact for communities of color.
P&R: Are you optimistic that real change is on the horizon?
Harris: I am always optimistic for change. But as Martin Luther King Jr. said, "Change does not roll in on the wheels of inevitability, but comes through continuous struggle." I know that we at Race Forward are committed to taking action in the struggle for racial equity. We will not stop until we all live in the kind of just, vital, multiracial democratic society that we all deserve. Justice is our horizon line. We look forward to walking alongside you on this march to freedom.
Tune in to the October bonus episode of Open Space Radio to hear more from Glenn Harris.
Vitisia Paynich is Executive Editor, print and online content at NRPA.