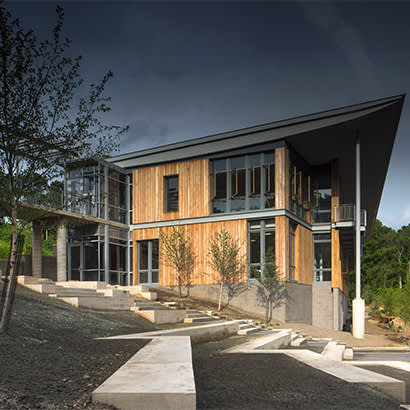 For an enhanced digital experience, read this story in the ezine.
On a mission to invest in nonprofits to advance sustainability, Green Mountain Energy Sun Club celebrates a special milestone in 2020 — reaching $10 million in grants for nonprofit organizations to implement sustainability projects, including the adoption of solar energy. Green Mountain Energy, one of the longest-serving renewable energy retailers, founded Sun Club in 2002 to help a growing number of nonprofits install solar panels and reduce their environmental footprint as a way to expand their focus from solely individual-level change to larger societal impacts.
Sun Club has provided funding for more than 120 projects from a variety of nonprofits, which often have limited resources to invest in solar energy. One such project is Pittsburgh, Pennsylvania's Frick Environmental Center.
The Frick Environmental Center Flips the Switch
A Sun Club sustainability grant provided to the Frick Environmental Center helped the center to reduce its environmental impact while promoting sustainability in the community. The center, owned by the City of Pittsburgh and operated by the Pittsburgh Parks Conservancy, opened in September 2016. The center is a cutting-edge facility that acts as a living laboratory, providing adults and children from all parts of the city with access to hands-on, experiential environmental education. It was designed to be a self-sufficient building for water and energy. Sun Club partnered with the Parks Conservancy and City of Pittsburgh to provide renewable, solar energy from the start of operations with a grant totaling $63,400.
In 2017, the Frick Environmental Center achieved Leadership in Energy and Environmental Design (LEED) Platinum status, a widely used green building rating system. The center is now the first and only municipally owned, free and open to the public building to earn "Living Building" certification through the Living Building Challenge, a stringent green building certification program.
In June 2020, the Pittsburgh Parks Conservancy announced an online dashboard to monitor and measure the center's sustainability efforts and to make this real-time information available to the public. This project was made possible through a partnership with Worldwide Environmental Services (WES) and MachineQ, a Comcast Company. This customized dashboard, developed with WES' Foreseer Monitoring System and MachineQ's sensors using long-range wide-area networking (LoRaWAN®) technology, provides data on energy use, carbon offset, solar energy generation, air quality, ambient light, water collection, resource use and other information about the Frick Environmental Center. The project is also facilitated via ethernet connections delivered by Comcast Business.
The dashboard has the potential to serve as a hub for sustainable resources. It has the capability to reach a global audience and create learning opportunities for everyone from school children to industry professionals.
Applying for a Sun Club Sustainability Grant
While helping nonprofits install rooftop solar has been the beacon of Sun Club over the past 18 years, the organization also supports other sustainability initiatives, including clean transportation, education and awareness, energy efficiency, renewable energy, resource conservation and sustainable agriculture.
Sun Club accepts applications from nonprofits in Texas and the Northeast with three years of current tax-exempt status under Section 501(c)(3), (4), (6) or (19). Recipients are chosen on a quarterly basis by Sun Club's board of directors and the donation amounts depend on several factors, including the environmental, social and financial impact of the donation. Past donations have ranged from $50,000 to $400,000.
Understanding that partnerships play a critical role in achieving long-term impact, Green Mountain Energy and Sun Club have combined the power of crowdsourcing, partnerships and a shared mission by connecting Green Mountain customers, its employees and nonprofits. While anyone can donate to Sun Club, its strongest supporters are Green Mountain customers and employees.
The world is in a large-scale transition to renewable energy, and leadership for social change is critical. As charities and civic organizations add panels to their roofs, awareness and adoptability of solar energy becomes top of mind for local businesses and homeowners. We believe that facilitating the increased adoption of solar by nonprofit organizations could be one of many tipping points in the greener energy movement. Not only are they promoting alternative energy with their eco-friendly facilities, but, more importantly, their actions remind all of us about the importance of preserving the place we call home.
Mark Parsons is Vice President and General Manager of Green Mountain Energy.