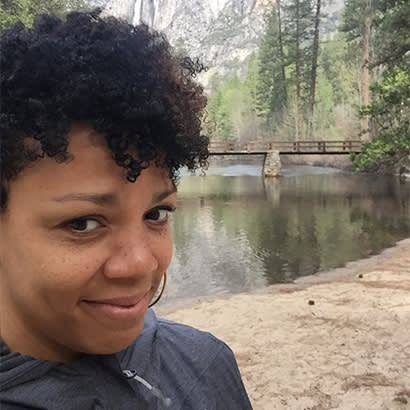 For an enhanced digital experience, read this story in the ezine.
Several years ago, Autumn Saxton-Ross fell in love with parks and recreation. Now all her passions and experiences are intersecting as she takes on the new role of NRPA vice president of education and chief equity officer.
Saxton-Ross began her career as a physical education teacher in the Washington, D.C., public school system, which is when she became aware of the field of parks and recreation. "I've always either been in the field of parks and recreation or adjacent," she says. Her involvement with parks and recreation as well as NRPA continued to develop as she went on to work for the D.C. Department of Parks and Recreation and then Montgomery County, Maryland, focusing on health education and programs. She also has worked at the D.C. Department of Health, Washington Parks & People, the National Collaborative for Health Equity and NatureBridge. She joins NRPA equipped with a master's degree in health education, as well as a Ph.D. in sociology, both from Howard University. Read more about her numerous other achievements in NRPA's press release announcing her appointment to the position.
"We have this infrastructure that is so integral to what we do, but people don't really see how useful it can be," Saxton-Ross says. She adds that parks and recreation offers numerous pieces of infrastructure and tools across the country that can build community. In the new role, Saxton-Ross explains that she wants to lift up the field, get everyone to see its importance and use its numerous assets to their full extent. "Across the country, you have parks and recreation departments, you have buildings, you have spaces, you have parks…[I recognize] how important it should be to building community," she says.
Parks and recreation has the power to be more than just a source for "fun" — it has the potential to improve health, decrease violence, provide jobs, boost economy, build community, shift perspectives and increase equity and inclusion. The dedication of those in the field has true power that can bring people together, Saxton-Ross says. "By helping folks see this is something that brings money back to the community by [creating] jobs and connecting young people to this as a profession…that's a big piece of what we should be doing, especially as we're supporting the field for the next century."
As Saxton-Ross takes on this new position at NRPA, she strives to shift not only how others see the field, but also how those in the field see their communities and incorporate equity into everything they do. "For so long, we've been a field where people have to come to us," she says. "Now we are demanding of people to think about: How do we bring people to us?" This will require a shift to intentionally thinking about building the spaces and programs that welcome everyone, everywhere.
The first step to building diversity, equity and inclusion (DEI) begins with listening. Saxton-Ross wants to learn and understand where those in the field are, what problems they face and what resources they need. The things needed will vary depending on many different factors, such as population served, demographics and location, just to name a few. The next step will be finding similarities between these needs, developing categories and creating strategies that provide resources for these different groups. All of these strategies need to be grounded in the idea of equity, which is not providing everyone the same thing, but is giving people what they need, she says.
"I feel like education is that first step to change," Saxton-Ross says. "It's this idea of if you know better, you do better." Education has to be a two-pronged approach, working on both an organization level and an individual level. Individuals need to internalize messages to fully advocate for these messages externally. "If we don't have that understanding internally, we can't advocate it for other people," she says. Then, processes on an organization level must back up these commitments to DEI. "That is operationalizing equity and inclusion."
While education is key, the "secret sauce" to DEI success is developing safe spaces for people to work through being uncomfortable with these new lessons, Saxton-Ross says. "What's going to be really key to…[bringing] equity and inclusion and diversity to the entire field is how…we create these spaces for people to work through those conflicting ideas and lived experiences."
As people learn and grow, they will be better able to understand the importance of sharing these lessons with others. "We have to be intentional about our approach," Saxton-Ross says. The policies that have created divisions in communities were intentional, so our work to fix these problems also has to be intentional. But the field offers a perfect place to implement change, because parks and recreation brings people together. Read more about Saxton-Ross' view on the professionals working in the field in NRPA's Open Space blog.
Jennifer Fulcher is Web Editor at NRPA.