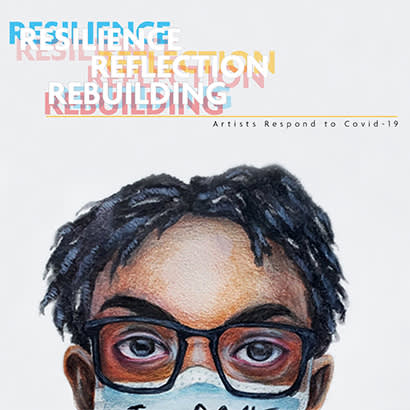 For an enhanced digital experience, read this story in the ezine.
The arts have the remarkable ability to create a sense of togetherness, belonging and community. They can help decrease stress, loneliness and anxiety. They can provide opportunities to reflect, process experiences and feelings, imagine what our future might look like, and connect us through our common humanity. These are all things echoed in parks and recreation.
The park and recreation field has the unique opportunity to create a bridge of access to arts and culture for the community by making it attainable.
The Johnson County Arts and Heritage Center, managed by the Johnson County Park and Recreation District (JCPRD) Culture Division in Kansas, is comprised of Fine and Performing Arts, Theatre in the Park, the Johnson County Museum and the Rentals Department. Through the Fine Arts division, this facility manages five art exhibitions each year centered around public engagement with a focus on local artists, many of whom are up-and-coming.
The mission of the JCPRD art exhibitions program is to celebrate the diversity and rich culture of our home. It is our goal to create thought-provoking exhibitions that encourage a new perspective of Johnson County's place within the global community.
The Johnson County Museum's remarkable team moved quickly to respond to present times by creating a historical exhibition on pandemics, called Rising to the Challenge: Suburban Strength in Difficult Times. They reached out to the Arts Council of Johnson County and the Fine Arts department staff within JCPRD to collaborate and discuss the power of the arts in coping with the mental strain of this pandemic.
Questions these three teams sought to answer were: What is happening in our world right now? How is our community coping with the ripple effects of the novel coronavirus (COVID-19) pandemic? How can we become a beacon of light for our community and a resource through these challenging times?
These notions planted the seed for what would eventually become Resilience, Reflection, Rebuilding: Artists Respond to COVID-19, an art exhibition that hosts 54 local artists with 64 works of art, including painting, photography, mixed media, sculpture, textiles and multi-media.
For the exhibition, the teams put out a Call for Entry (CFE) requesting local artists submit works along with an artist statement in direct response to the global pandemic. They received more than 90 submissions from the CFE, and after difficult deliberation and with help from professional artists within the greater Kansas City region, a curatorial team narrowed the submissions down to what is currently on display. The curatorial team was comprised of myself; Allison Bowman, administrative assistant for the Arts Council of Johnson County and painter; Kwanza Humphrey, painter; Jason Piggie, photographer and videographer; and Andrew Ordonez, program supervisor for Imagine That! KC and mixed media artist.
Artist Adrian Marsh states, "…I knew I had to make a piece to reflect this historical time period, something people could look at in the future and clearly see what was going on." And the art exhibit is just that. As artists, historians and art advocates for a better world, we felt compelled to provide a response to this pivotal period in our global history. In doing so, we were able to provide an outlet for our community during a time of great need as an essential resource.
Through the CFE, artists were asked to create a reflection of their experiences and feelings during the COVID-19 pandemic and to consider the pandemic as a catalyst toward change.
The response from the community has been overwhelmingly positive, which has prompted the JCPRD Culture Division and our partners, the Arts Council of Johnson County, to take further action by producing companion programming. These new programs will explore mental health and support through the arts, as well as artist and historical panels in response to COVID-19. Many of these programs will be virtual.
Engaging our community's voice in recording our present-day experience, the Johnson County Museum Foundation has underwritten a people's choice selection through digital voting. The artwork then will be approved by the Johnson County Museum Collections Committee to become part of the museum's permanent collection as part of its "Collecting COVID-19" initiative. The winning artist(s) will be awarded a financial prize.
Resilience, Reflection, Rebuilding: Artists Respond to COVID-19 will be on display and free for public viewing at the Johnson County Arts and Heritage Center, located in Overland Park, Kansas, until January 22, 2021. In addition, the exhibition catalog is available online.
Devin Graham is Fine Arts Coordinator for Johnson County Park and Recreation District.