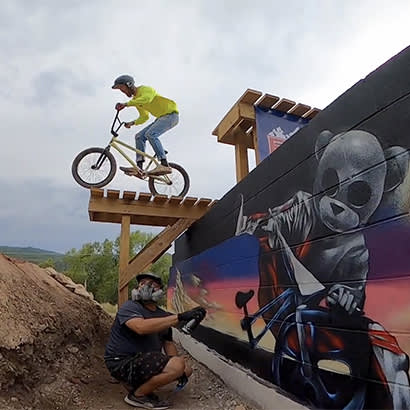 For an enhanced digital experience, read this story in the ezine.
"If you build it, they will come" has been the mantra for the staff of the all new Crown Mountain Bike Park, centrally located between Aspen and Glenwood Springs, Colorado. The build of the bike park follows the construction of the Aspen Snowmass/Roaring Fork Valley International Mountain Biking Association (IMBA) Ride Center, which was awarded IMBA's Gold designation for its world-class single-track mountain biking inside of a 50-mile radius, making the Aspen Snowmass/Roaring Fork Valley Ride Center one of seven locations in the world to receive this rating. In addition to the Gold-designated park in the Roaring Fork Valley of Colorado, there now lies a world-class biking training ground in the middle of the valley thanks to Crown Mountain Bike Park.
The new Crown Mountain Bike Park is anticipating 140,000 riders during 2021, and is planning to create a new bike school, as well as to form a local elite team of the valley's best riders. Popularity of the park has exploded due to its progressive design, which includes features that focus on every stage of a rider's development. The Crown Mountain Bike Park team has built a park that trains your kid for you. The park is a giant bike playground that has something for a two-year-old on a strider, a pro dropping in for a session and every rider in between. No matter people's level of riding, they have something to ride here.
The variety at Crown Mountain Bike Park is second to none. The park includes a kids strider track, BMX race track, asphalt pump track, intro to mountain biking zone, five lines of progressive dirt jumps, mulch jumps, a green cross-country loop with features for beginners, a blue/black cross-country loop with features for intermediate to advanced riders, a wooden drop progression allowing riders to practice airborne drops, wooden wall rides, elevated wooden riding sections called "skinnies," an expert back bowl with drops, jumps and wall rides, and a bike jump air bag.
Biking is not all that Crown Mountain Park has to offer. With your next visit to this gem, you will find 124 acres of open space that brings 67,000 visits by local athletes a year, and 120,000 annual dog visits and 400,000 total visits. Crown Mountain Bike Park is anticipating being open nine months of the year. The park is free to the public and open sunrise to sunset. The project to build the bike park was funded by Crown Mountain Park, sponsorships from companies and Great Outdoors Colorado, which awarded the park a $168,000 grant. The rest of the project was supported by in-kind donations from local companies.
Nate Grinzinger, Crown Mountain Park Bike Park Director