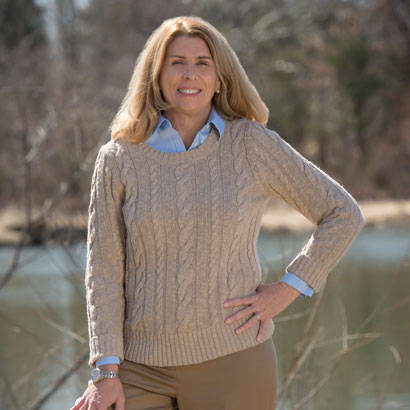 For an enhanced digital experience, read this story in the ezine.
COVID-19 has devastated communities across the nation and affected the lives of all, whether it be loss of work, constant exposure to a dismal news cycle, upheaval of routine due to 'stay-at-home' orders or direct association with the disease itself. Yet, research shows that some populations are more impacted than others, both by the disease itself and by the economic fallout. In addition to older adults and individuals with underlying health conditions, the people most at risk of being acutely affected include groups that face increased barriers in access to economic opportunities and healthcare — and preliminary data specific to COVID-19 shows that these people are disproportionately black and Latino.
This imbalance of burden-bearing remains true for many of the issues the world faces today and will face in the coming months and years. One such example is climate change, which is a global concern, but the effects of which are disproportionately experienced by disadvantaged groups. In response to these disparities, Julian Agyeman, author and professor of Urban and Environmental Policy and Planning at Tufts University in Massachusetts, developed a concept about the "intentional integration of social justice and environmental sustainability," called "just sustainabilities." According to Agyeman, "…just sustainabilities was about acknowledging that we could probably legislate for a green planet, but if that planet [weren't] also socially just, would it really be sustainable in the longer term?" In our cover feature beginning on page 36, titled "Julian Agyeman: A Visionary for Just Sustainabilities," NRPA President and CEO Kristine Stratton speaks with Agyeman to discuss the concept of just sustainabilities and its application for parks and recreation.
Then, in "Collaboration in the Time of Pandemic" on page 42, contributor Paul Gilbert tells how a group of park directors from Northern Virginia are turning to each other for ideas and support, and to develop a unified message for their park users during the pandemic. "As a profession of highly adaptive and creative public servants, the park and recreation field is uniquely positioned to help our communities in the days ahead," says Gilbert.
While COVID-19 has revealed some of the inequities our communities face, park and recreation professionals are working hard to provide lifesaving benefits to all people in all communities. Parks and recreation has always stood for inclusive spaces that provide health, wellness and quality of life for everyone. In these challenging times, the role of parks and recreation in promoting these values has been brought to the forefront, and professionals in the field are working in solidarity to address the current challenges. In future issues, we will explore further how park and recreation professionals are addressing this pandemic in their own community and agency.
Lastly, I would like to introduce our newest member of the NRPA team, Vitisia "Vi" Paynich as Parks & Recreation's executive editor. Vi has been freelance writing for the magazine since 2016, and has extensive experience in print and digital publishing.
We here at NRPA thank you for all you are doing to make our world a healthier, safer place, and will continue to provide the support you need. For a list of our COVID-19 resources, visit NRPA's COVID-19 resource page.
Gina Mullins-Cohen is Vice President of Communications and Chief Marketing Officer at NRPA.