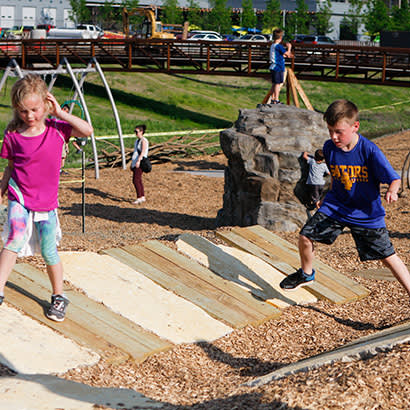 How active play can lead to positive health outcomes for children
Despite the increasing number of studies documenting the importance of play, many questions exist on how to design quality play spaces that can help communities in their quest to increase physical activity in youth. As sedentary behavior continues to rise, the urgency increases to provide outlets for children that promote physical fitness.
Play is a critical part of childhood development and park spaces are an essential component of that growth. Some benefits of play that influence development include: (1) boosting positive attitudes toward cultural diversity and reducing feelings of isolation, (2) providing intense skill learning with one hour of daily vigorous play, such as running and playing tag, and (3) optimizing vision for kids who play outside compared to those who play inside.
Research also has shown that people living in underinvested communities disproportionately experience poor outcomes, such as health disparities, crime and violence, economic opportunity and social cohesion. Park spaces can positively impact these outcomes.
Access to Play
More than 100 million people in the United States do not have a park or natural area within a 10-minute walk of their home. Many of those who do find that those parks or natural areas are in need of maintenance and updating.
So how can agencies ensure they are creating quality play spaces? Many communities build parks based on what they think the neighborhood wants rather than involve them as key decision-makers in the park design and development process. This can lead to unintended consequences, such as the park not fulfilling community expectations or providing the health, social and mental benefits it was tasked to deliver.
There are four key steps to consider when designing a quality play space:
1. Planning and site selection – Research has shown that people who live within a 10-minute walk of a park are most positively impacted by parks' health, environmental and economic benefits. Finding a site that maximizes the number of community members who live within this distance can help to close gaps in access. It is also important to prioritize sites in communities that have had a historical lack of investment and experience poor environmental, health and/or economic outcomes.
Connections and accessibility are also important considerations. The Safe Routes to Parks Guide provides information to implement environmental, policy and program strategies that create safe and equitable access to parks for all people.
2. Information gathering and community input – From the beginning of the process, ensure you have input and trust from the community to build the best park possible.
NRPA has developed a Community Engagement Resource Guide to provide park and recreation professionals with a roadmap to implement equitable and inclusive community engagement strategies around the planning, design, construction, maintenance and activation of park projects and park plans. Equitable and inclusive community engagement is fundamental to establishing quality parks and play spaces that meet the needs of all constituents.
3. Park design – Quality spaces not only include creative and playful items, but also are designed to be sustainable, resilient and easy to maintain. Design should incorporate environmentally responsible elements, such as green stormwater infrastructure and pollinator gardens, to ensure the area's long-term viability. Quality play areas also include inclusive features, such as zip tracks, sensory stations and music sets, allowing community members of all abilities to fully participate in activities.
4. Construction, park opening and activation – Host volunteer events, such as landscaping, painting and building, to help with phases of the project. Supply the community with needed tools to complete ongoing maintenance of the space to make it their own. Once the space is complete, continue to host events and activate the space.
Riverfront Crossings Park: A Case Study
In Iowa City, Iowa, Riverfront Crossings Park is located at the site of the city's decommissioned North Wastewater Treatment Plant, where several large floods along the Iowa River created extensive damage to the surrounding properties. In 2008, the city secured funding to decommission the plant and convert the area into a new riverfront park.
As the plans for the park developed, public input was gathered from the surrounding community. The public was vocal about the need to connect people to the restored land and natural habitat as well as a desire for spaces that promoted community gathering and engagement. By implementing the key design steps throughout the process, the needs of the community have been met and the park has become a centerpiece for regenerating the surrounding neighborhood.
References
Jennifer Stromberg is a Program Manager at NRPA.