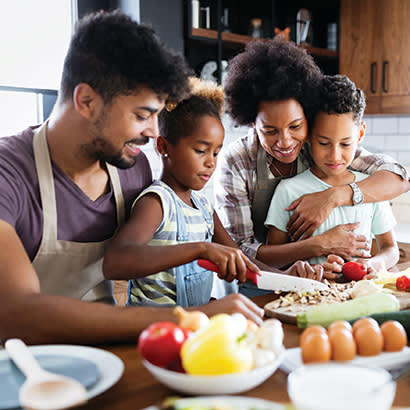 For an enhanced digital experience, read this story in the ezine.
What is SNAP? The Supplemental Nutrition Assistance Program (SNAP) is an elegibility-based benefit program designed to supplement the food budget of low-income families so they can purchase healthy food. SNAP is an integral part of reducing hunger, malnutrition and poverty, and improving family security, child and adult health, employment and other outcomes.
When someone applies and qualifies for SNAP benefits, they receive the benefit funds on an Electronic Benefits Transfer (EBT) card, which can be used like a debit card to purchase eligible food in authorized retail food stores, and in many communities, at farmers markets. Funds can only be used to purchase produce, meats, dairy, grains, and seeds and plants, which produce food for the household to eat.
SNAP is a federal benefits program, but applications are managed on the state level. Nationwide, about 36 million people currently receive SNAP benefits, but there are so many others who are eligible who haven't accessed the program for a multitude of reasons, including lack of awareness about eligibility, barriers to enrollment or stigma involved with receiving the benefits.
In light of the coronavirus (COVID-19) pandemic, emergency allotments of SNAP benefits became available as states issued emergency or disaster declarations, along with waivers allowing extended certification periods, waiving periodic reporting and making adjustments to interview requirements. These waivers and processes allowed for more people to access the available benefits, which could lead to an increased awareness and trust in the process following the end of this pandemic.
How Can Park Agencies Play a Role in Enrollment?
The work of parks and recreation is truly that of a community wellness hub — trusted gathering places that connect every member of the community to essential programs, services and spaces that advance health equity, improve health outcomes and enhance quality of life. SNAP enrollment support and retention assistance are the perfect fit!
As safe and welcoming spaces for all community members, P&R agencies are well suited to serve as SNAP application assistance centers, as well as helping recipients navigate their benefits and work toward routine renewal. While park and recreation agencies may not be suited to serve as official enrollment centers, they are equipped to assist — helping to guide community members through the process and make social service connections. Agencies offer support through a variety of strategies:
Provide information and resources about SNAP and the enrollment process. Park and recreation agencies can provide information on where to find the local SNAP office, eligibility requirements, and what verification documents need to be collected and submitted with the application.
Assist with prescreening. The prescreening process helps to determine which clients qualify for SNAP and at what estimated benefit level. The SNAP application process requires asking many questions and sharing information, so it's key to have a private place to complete the screening and to ensure community members this information stays confidential.
Offer space to complete the application. Park and recreation agencies can offer a private space with an internet-connected computer to complete the application, if online, or a paper copy of the application to mail.
Provide direct support to community members through the process. The waiting time to determine SNAP eligibility is 30 days, so support through that period is key. Park and recreation agency staff can call the applicant to make sure they have scheduled their interview with the SNAP local office, submitted all verification documents, and ask if they have received any correspondence in the mail that requires clarification. Following enrollment, P&R staff can also offer this same assistance during benefit renewal periods.
For more information on SNAP and the role your agency can play, visit the U.S. Department of Agriculture website.
Maureen Neumann is a Program Manager on the health and wellness team at NRPA.