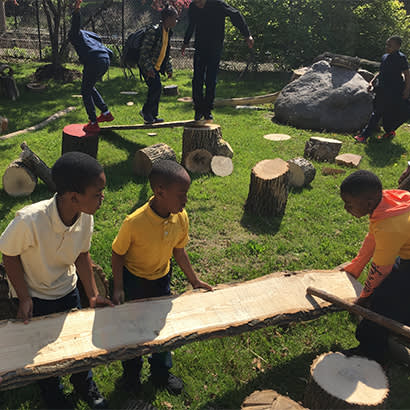 For an enhanced digital experience, read this story in the ezine.
More than ever, open spaces, trails and parks have been an outlet for our communities to exercise, connect with nature and reduce stress during uncertain times; they have become an essential element of daily life. But with people spending more time at home, there have been several reports that nature is re-emerging in our communities during the coronavirus (COVID-19) pandemic. While it's easy to assume that our new lifestyle is allowing wildlife to find new places to live, some researchers beg to differ — their behavior isn't changing drastically, ours is!
Our communities are reconnecting with nature; maybe this is one of the momentarily positive situations arising from the current crisis. But how can we seize this moment to ensure they continue to engage with open spaces while also learning the importance of our conservation efforts? We can create or revamp outdoor programming — by either implementing physical distancing measures or going virtual — to keep our communities coming back to parks. We also can refresh our key conservation-related messages and provide easy ways for others to learn on their own.
P&R Professionals Get Innovative
Park and recreation professionals with Chicago Park District are prioritizing natural play spaces to engage people in the joys and comfort of nature at an early age. For these professionals, providing the space isn't quite enough; they also train their park staff to feel comfortable providing nature play experiences. Ensuring all park staff can provide this experience broadens the environmental engagement in their communities.
Forest Preserves of Cook County in Illinois has a concentrated effort to engage diverse groups through their education and volunteer programming to ensure everyone feels comfortable and knows they belong in the outdoors. They hold events like "The Nature of Black Wellness — The Outdoors and Black Health, Past and Present," an interactive presentation that explores the pivotal role of nature in the lives of African Americans, past through present. These types of programs could be converted to virtual experiences and continued with physical distancing guidance in the future.
Other communities, like La Crosse, Wisconsin, are creating community gardens in their parks and public spaces for communities impacted by the current crisis that will help provide food and build resilience. What better way to connect the younger generation to nature than by creating gardens that also build resiliency in their food supply?
Huron-Clinton Metro Parks in Michigan has devoted an entire page to virtual nature-based programming for kids that even features a "Dear Kevin" column modeled after "Dear Abby." When the interpretive centers were closed, the agency's interpreters fielded questions about nature, science, agriculture and regional history that community members raised while sheltering at home. They posted the questions and answered daily via their Facebook and Instagram stories, which pulled others into the discussions.
In Louisiana, The Recreation and Park Commission for the Parish of East Baton Rouge (BREC) staff are converting their annual BioBlitz into a virtual event that has physical distancing considerations for the activities that require people to be out interacting with nature. This will allow their community members to get outside in select parks suitable for the activity and find what nature holds in a safe way. You can follow suit by joining NRPA for our second annual Parks for Pollinators BioBlitz this September. Visit the NPRA BioBlitz webpage for more information and to access a suite of helpful resources.
Lorain County Metro Parks in Ohio began a program to get children and their families involved with nature at home without the need for screens. Community members expressed concerns about children accruing increased screen time during the pandemic; they wanted something that helped provide structured time outdoors. Naturalists on staff created nature boxes with activities and information to support children's experiences in nature. The agency's first boxes in May, which focused on trees and clouds, sold out in hours. Their June box focused on the sun.
We all know that connecting people to nature is important. As park and recreation leaders, you understand the importance of building resilient communities to face climate change and other pressing conservation-related issues. To do this, we need to make sure our communities also celebrate the importance of nature and create the next generation of environmental stewards to help build those spaces and ensure a brighter future for everyone. Find out what your community members have been doing these past few months to gauge what they would like to do in the future. Now is our time to seize the day and strengthen your community's connection to your parks and open spaces!
Michele White is a Program Manager at NRPA.