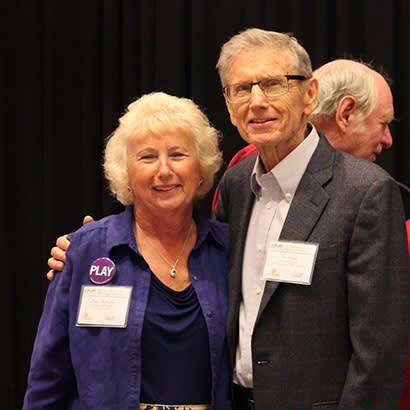 'Contemporary Father of Play Advocacy' devoted career to play and child development research
After committing nearly 50 years to researching and advocating for the importance of both play and safe play spaces, Dr. Joe Frost came to be known as the "Contemporary Father of Play Advocacy." Frost, who began his academic career studying child development at the University of Arkansas, the University of Michigan and the University of Maryland, went on to earn his doctorate from the University of Arkansas. Subsequently, he served as an assistant professor of child development at Iowa State University before taking a position at the University of Texas at Austin in 1966, where he retired after 34 years as the Parker Centennial Professor Emeritus.
During his tenure as professor at University of Texas at Austin, Frost directed a research project on play and play environments that spanned nearly four decades — the longest running research project in this realm to be conducted in the United States. The site of the research was the playground at Redeemer Lutheran, where Frost attended church.
Fran Mainella, former director of the National Park Service and past president of NRPA, recalls Frost's coining of the term "play deprivation crisis" as critically influential during a time when recreation was declining in the United States. "Since the '80s, play and its value had started to decrease," says Mainella. "That impacted visitation to the national parks, local parks, state parks — all the different areas that I had been working in through the years. In 2009, [there was] a summit on the value of play, and [Frost] was one of our speakers. He talked about how we had a play deprivation crisis underway, not only in the United States, but in the world. He talked about how this needed to not be overlooked, and so many people were overlooking it. That really hit home for me and inspired me to create the U.S. Play Coalition."
Throughout his career, Frost published 20 books and many more academic articles, as well as collected research and writings on play and childhood development. Many of Frost's works have been translated into numerous other languages. In 2004, Frost donated his collection of books, articles and research to the University of the Incarnate Word.
Frost's research also led to numerous other published books based on his work. Mary Ruth Moore, editor of Play in American Life: Essays in Honor of Joe L. Frost and Play in American Life, Vol. 2: Essays in Honor of Joe L. Frost, regards Frost both as a mentor and a friend. Recalling her time at University of Texas at Austin with Frost, she says, "I was just amazed…because he was not like many of the other professors I'd had. He wanted to know you. When you came into his office, there was a sense of 'Oh, I'm important here.' He valued you as a person and always saw the potential that you have."
Frost is remembered as a pioneer in his field, shaping the world of play and play environments while advocating for all children to have the right to play. "It's hard to divorce [Frost's] work from him, because he was an incredibly humble person who cared deeply about others, and it came through in every single thing he did," says Moore. "That was the kind of man he was. He just went out of his way to help others."
Lindsay Collins is Associate Editor for Parks & Recreation magazine.