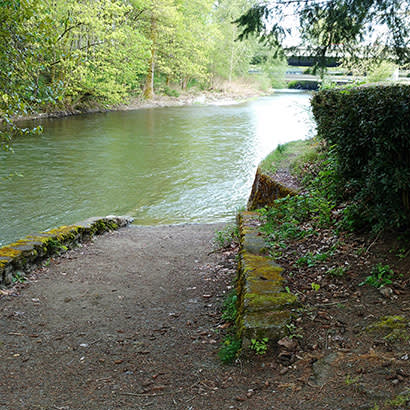 Under the pale blue gaze of Washington state's Mount Rainier and along the Cedar River to Lake Washington, city of Renton trails chiefly run along bodies of water. Located between the Olympic and Cascade Mountain Ranges, the oceanic climate averages 44 inches of rain annually for abundant vegetation. Blazing displays of color each spring bring eager trail users out from the gray of winter, while the browning tree leaves in the fall complement the picturesque views of the river as salmon travel upstream to spawn.
The Trails
Nine miles of regional trails in Renton lie on top of converted railroad beds, formerly commercial hauling routes for coal, bricks and lumber. Another four miles of both paved and soft-surface trails lie within park boundaries for easy strolls and nature watching. Trails are generally eight feet wide and paved with asphalt, with two-foot gravel shoulders. For multiuse recreation that is allowed on Renton trails, the Parks and Trails Division of the Community Services Department paints a stripe down the middle to help guide trail etiquette — pedestrians to the right as bicyclists pass to the left. A brick-lined lower walk next to the Cedar River is open during the summer months when the river level is usually at its lowest. At some of the newer neighborhood parks, design standards include pervious pavement on pathways, which require customized vacuum-type equipment to clear the surfacing and continue draining properly.
With the consistent rain year-round, drainage usually flows steadily into adjacent streams and rivers. Park maintenance staff will, sometimes, carve trailside punch-outs to direct water away from asphalt depressions and into the nearby watercourses. On soft-surface shoulders, moss will grow in shaded areas and is removed before cooler weather ices it over to make it slippery. Gravel on the same shoulders is replaced annually. Being close to water at most locations, spot treatments for weed control are preferred, and volunteers help curb the abundant vegetation growth that comes with warmer temperatures and long, sunny days in the summer.
Signage and Enforcement
In 2010, an unfortunate collision occurred in Renton between a pedestrian and bicyclist on the Cedar River Trail and resulted in the death of a park patron. With community engagement, discussions led to the implementation of new safety protocols. In addition to striping the trail, Renton City Council adopted a lower speed limit of 10 mph into the Municipal Code, park staff created a 'Share the Trail' educational brochure and organized a Volunteer Trail Patrol to educate trail users about trail etiquette and the reduced speed limit. Police officers on bikes assist by enforcing the speed limit and dismount zones.
Education and Kiosks
Where the Cedar River empties into Lake Washington, park maintenance staff installed a kiosk and free, informative brochures from the Kids in Parks program to make hiking both educational and fun. Once registered at the Kids in Parks website, children can receive prizes in the mail for their hiking adventures. Additionally, in fall each year, docents from the Seattle Aquarium and staff from the Environmental Science Center lead hikes along the Cedar River Trail to view salmon swimming upstream to their natal grounds.
Regional Trail Hub
Renton is a regional trails hub where trails converge from the south, west and north. One day, when these trail networks are connected and contiguous, they also will be valuable transportation and communication corridors for thousands of workers at Renton businesses. A number of agencies, companies and nonprofit groups are currently working together to plan and fund these solutions.
Cailín Hunsaker is Parks and Trails Director for City of Renton.