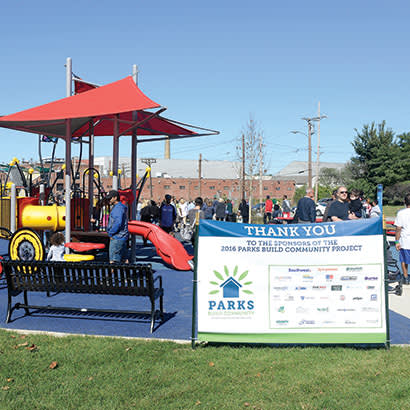 Each year, NRPA conducts a complete park makeover in partnership with park equipment manufacturers and community organizations within the city hosting the NRPA Annual Conference. Parks Build Community (PBC) is a national initiative demonstrating the transformative value of parks on the health and vitality of communities across America. Some previous projects included restoring existing parks, while others involved building new parks completely from scratch. The vision to build and revitalize parks as thriving gathering places for youth, families and adults is one shared by NRPA, its industry and nonprofit partners, and the thousands of park and recreation professionals who develop and maintain these treasured public places.
Construction is in full swing on the 2019 Parks Build Community (PBC) renovation of Catherine Street Park in Baltimore, Maryland. The revitalized park will become a new space for children and adults to gather, play and experience a safe and fun environment. This project would not be possible without the generous contributions of donors and an invested local park agency, such as Baltimore City Recreation and Parks (BCRP).
NRPA asked the 2019 PBC donors why they decided to participate in this year's PBC project and to describe their assessment of how parks benefit local communities. Some of the 2019 partners have been with NRPA since the PBC initiative began in 2008, others are new to the project this year. All share valuable viewpoints on how parks build communities.
Sam Mendelsohn, Greenfields Outdoor Fitness, Inc., President and CEO
"NRPA's Parks Build Community project dovetails perfectly with Greenfields' mission of 'Promoting Wellness and Fighting Obesity One Community at a Time.' This is not just our slogan and mission, but the path we have chosen to take every day. We take great pride in the fact that we can help improve tens of thousands of people's lives daily. We also take pride in our partnership with NRPA and love the opportunity to visit the sites designated for the PBC Project prior to planning. Visiting Catherine Street Park and interacting with the local community firsthand only emphasizes the importance of the joint effort and collaboration demonstrated by the teams that donate to this project. It is ever so clear to me that we have an obligation and responsibility to invest in our communities. Partnering in support of the PBC project is only a part of it, and we will continue to support this initiative for as long as we can."
Anne-Marie Spencer, PlayCore Corporate Vice President of Marketing
"PlayCore is intrinsically focused on our mission and values, and we understand the many ways that great play and recreation spaces can promote the overall health and wellness of families. We're excited to have the ability to help provide environments that act as a catalyst to make that happen. People need places to go to be together, to share community, to be active and to promote health and wellness. Parks are uniquely able to serve all these needs and build community capital and a sense of pride. CDC research has shown that creating, improving and promoting places to be physically active can improve individual and community health and result in a 25 percent increase of residents who exercise at least three times per week, which is so important in reversing the health issues that affect so many people."
Sarah Lisiecki, BCI Burke Marketing Communications and Education Specialist
"Play is an important part of development in all areas, from physical to social to emotional. Children need a space to play that fosters all these types of development and provides a comfortable place for rest, intergenerational engagement and community gathering. Providing these places is our passion and our mission. Participating in Parks Build Community allows us to leave a place we all travel to more playful and developmentally rich for years to come. It's the type of impact we strive to provide with every project. Parks and recreation spaces impact the health, happiness and engagement of communities by creating a space for everyone to gather, move, play and socialize. People seek to be outdoors in a place that connects them to each other and their community. As a society, we are becoming less healthy, more depressed and anxious, and less connected. While the fix is multifaceted, play and parks are certainly part of the solution. And, play is fun and helps children learn and develop the necessary skills that transcend the playground, while breaking down barriers that may exist in other areas of life. Parks create a place for everyone to thrive, grow and develop together."
Kara Oughton, GARED Holdings Marketing Manager
"GARED is an advocate for rebuilding communities and rejuvenating play for people of all ages. Our ongoing mission is to provide sports equipment solutions to renovate and restore community spaces, such as Catherine Street Park in Baltimore. On this project, GARED is pleased to partner, once again, with NRPA, which shares our passion for play and the importance of sports and recreation in communities across the country. We believe parks are crucial in several ways. They foster a sense of togetherness and inclusion for the community, and for individual families to gather and enjoy each other through recreational activities. Parks are also important for promoting physical well-being for people of all ages through hiking trails and paths, playgrounds, recreational facilities, water activities or sports leagues. In addition, parks are amazing places for wildlife habitat to flourish, allowing families to connect with and learn more about nature and animal species."
Bob Simonsen, R.J. Thomas Mfg./Pilot Rock Marketing Manager
"We have participated in three PBC programs and enjoy being part of a larger project to improve park facilities for areas in need. We appreciate having some of our Pilot Rock site amenities included. It's kind of a "real life" trade show exhibit with the other brands and equipment on display for people to use. All we have to do is look locally to see how important parks are to a community, and how enthusiastically people will support them. Our hometown of Cherokee, Iowa, has embarked on a project, led by volunteers, to greatly expand our trails system and parkland. In just a short time, they've raised the money with donations and grants to purchase land. There is much local participation that will design and furnish the new trails in the next year. The city has also suffered three floods in the last year that laid waste to two very popular park areas. City funds are limited, but local groups have stepped up to raise the money needed to relocate the disk golf course and other amenities. And, many people are involved in the discussion of how best to replace these two flooded areas with new park- lands. All these efforts began with the people of Cherokee wanting to improve their park facilities. Even small towns can accomplish great things."
Byron Carroll, Vice President of Product Management at ACTIVE Network
"ACTIVE has spent many years providing technology solutions, IT and digital marketing services to the parks and recreation industry. We've been fortunate to witness the selfless passion and commitment the people of parks have for building strong, equitable communities. Our team at ACTIVE is constantly inspired by this dedication to public service and its immeasurable impact. So, when we learned about this project, we jumped at the opportunity to enable those who already give so much to bettering other people's lives. ACTIVE has always supported organizations that share our mission of making the world a more active place, but this is our first year being involved in the Parks Build Community project. The NRPA pillars and ACTIVE's mission are so closely aligned that when we heard about this project, we knew it was a perfect fit. What parks and the people who dedicate their lives to the parks industry do for the community is incredible. Whether it's providing recreational activities to underprivileged kids or simply safe places for people to come together, the benefits of parks cannot be overstated."
Nick Toutoungi, Managing Director and Cinema Tech Expert for EPIC Outdoor Cinema
"Movies are an excellent way to bring communities together through a night of laughter, suspense and amazement. EPIC Outdoor Cinema understands the civic value and vital role neighborhood parks play as the nucleus of any neighborhood. We continuously participate in PBC to support our most vulnerable cities by creating a true community centerpiece with the goal of encouraging social, environmental and economic revitalization. Parks serve as a place where communities enjoy the great outdoors while engaging, celebrating and connecting in a safe space accessible to all. Our vision is to integrate technology as a versatile solution at parks — making a big impact with small staffing needs — creating EPIC experiences."
Bri Whitcraft, Director of Marketing & Product Development for Dero
"It's wonderful to be part of a community project to give back. Parks are so integral to our communities and everyone should be able to easily access a park in their community. And, we're grateful that you can help make sure that if you choose to bicycle to your park, that you'll have a safe place to lock it while your kids enjoy the playground, or you take a water break. Parks benefit communities greatly by saving green space for people to enjoy. Whether that's biking on trails or kids playing on the playground, these activities let people enjoy moving their bodies and being in nature."
NRPA, BCRP and PBC donors look forward to the grand reopening of Catherine Street Park this September to kick off the 2019 NRPA Annual Conference. Please join us for the dedication ceremony, Sunday, September 22, 2019, from 2 p.m. to 4 p.m. at 501 South Catherine Street, Baltimore, Maryland. To learn more about PBC projects or to become a donor, contact Gina Mullins-Cohen, NRPA's vice president of marketing, communications and publishing.
Suzanne Nathan is NRPA's Public Relations Manager.
Donors and organizations involved in the 2019 PBC project include:
Active Network

BCI Burke Playgrounds

California Sports Surfaces

Dero

DuMor

Epic Outdoor Cinema

GameTime

GARED

Greenfields Outdoor Fitness

Johns Hopkins University

Most Dependable Fountains, Inc.

NC State University

OpenSpace Radio

Parks & Recreation magazine

Physical Activity Research Center (PARC)

Pilot Rock

PlayCore

Playworld

Vortex