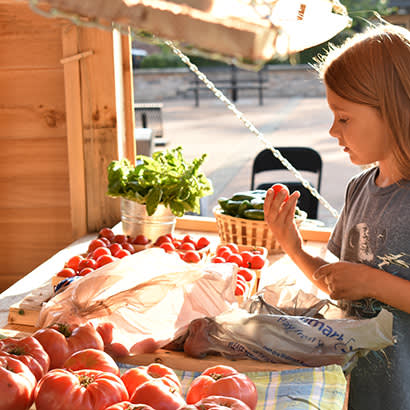 Park and recreation sites provide a unique opportunity to engage the community and educate residents about healthy foods. Hosting farmers markets and community supported agriculture (CSA) programs in these spaces not only increases the availability of healthy, fresh foods, but also supports local agriculture initiatives.
NRPA released the following resources to help park and rec agencies introduce and expand farmers markets and CSAs at their sites:
"Bringing a Farmers Market to Your Park and Recreation Sites" outlines the steps to take, from gathering information to choosing partners.
"Starting a Community Supported Agriculture Program at Your Park and Recreation Site" describes CSAs and outlines the steps to set one up.
"Farmers Market: Fun for Kids!" provides interactive activity sheets to get kids involved.
"Community Supported Agriculture: Fun for Kids!" educates about CSAs and offers activities for kids.
"Engaging Teens in Commit to Health Programming: Farmers Markets, CSAs and More!" explains the ways teens can contribute to nutrition literacy, as well as farmers market and CSA programs.
"Intergenerational Fun! Older Adults and Kids Join in Nutrition and Wellness Activities at Park and Recreation Sites" shares ideas for hosting intergenerational activities that promote knowledge transfer.
Access these and other Commit to Health resources supporting nutritional education.