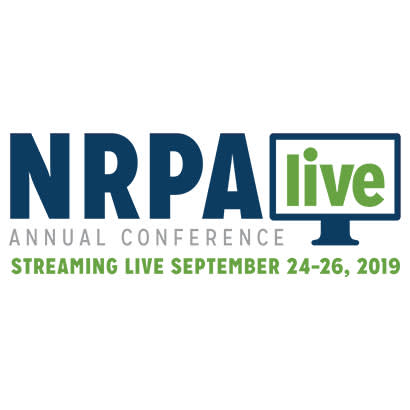 NRPA is dedicated to providing learning opportunities to advance the development of best practices and resources that make parks and recreation indispensable elements of American communities.
Live Stream the Top Sessions from Baltimore
Can't make it to Baltimore for the 2019 NRPA Annual Conference? NRPA Live is the virtual version of the conference that allows you to stream and participate in some of the top conference education sessions from the comfort of your own home or office. This September 24–26, we are live streaming nine full education sessions and five speed sessions from the NRPA Annual Conference. Each NRPA Live session allows for real-time interaction with the speakers, continued access to the session archives and other conference-related content, and the opportunity to earn CEUs. Virtual attendees will also be able to access exclusive live content between sessions. Following the conference, 18 recorded sessions and 10 speed sessions from the conference will be available for streaming.
September
11-13 Saratoga Springs, New York
16-18 Griffin, Georgia
17-19 West Hollywood, California
18-20 Dublin, Ohio
18-20 Leesburg, Virginia
21-23 Baltimore, Maryland
October
1-3 Sacramento, California
2-4 Bloomington-Normal, Illinois
16-18 Hamburg, New York
16-18 Lexington, South Carolina
22-24 Clark, New Jersey
22-24 Phoenix, Arizona
23-25 Statesville, North Carolina
28-20 New City, New York
September
11-12 Reston, Virginia
12-13 Naples, Florida
18-19 West Bend, Wisconsin
19-20 Escondido, California
22-23 Baltimore, Maryland
23-24 Berwyn, Pennsylvania
26-27 Jupiter, Florida
October
1-2 Stone Mountain, Georgia
3-4 Ceres, California
3-4 North Miami, Florida
3-4 Orange, California
7-8 Whitestown, Indiana
8-9 Jefferson City, Missouri
21-22 Folsom, California
September
12 Show Low, Arizona
16 Leesburg, Virginia
17 Town of Florence, Arizona
17 Leesburg, Virginia
23 Baltimore, Maryland
October
2 Phoenix, Arizona
24 Mission, Kansas
2019 NRPA Annual Conference
September 24–26, 2019
Baltimore, Maryland
Supervisors' Management School
November 3–7, 2019
Wheeling, West Virginia
Event Management School
January 12–17, 2020
Wheeling, WV
Maintenance Management School
January 26–31, 2020
Wheeling, WV
Revenue Development & Management School
March 15–20, 2020
Wheeling, WV
Visit www.nrpa.org/education for more information.