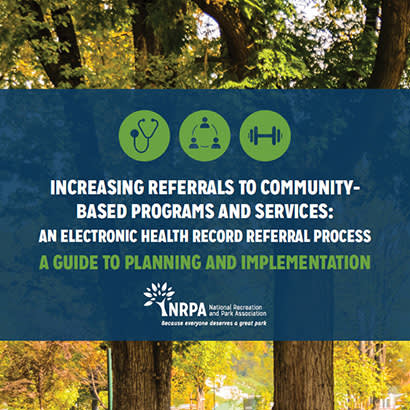 Healthcare and park and recreation agencies share a common goal: improving the health of the communities they serve. To support collaboration between these two community-health stakeholders, NRPA developed a guide, titled Increasing Referrals to Community-Based Programs and Services: An Electronic Health Record Referral Process.
The guide is based on the pilot implementation of an electronic health record (EHR) referral process. During the pilot, healthcare providers identified individuals with arthritis and referred them to evidence-based interventions offered at local park and recreation sites. Implementing the four-step referral process led 26 percent of those referred to enroll in a program at a park and recreation site.
Healthcare providers and community-based organizations can use the guide to identify and refer individuals with any type of chronic disease to a variety of programs and services. It provides the following:
An overview of the importance and use of partnerships between healthcare entities and community-based organizations
Instructions on how to replicate the EHR referral process
Sample communication materials
Tips and lessons learned from the piloting organizations
Resources for developing and maintaining healthcare partnerships
By collaborating, these organizations can develop community-
integrated health strategies to enhance access to the programs and services that improve health and quality of life.