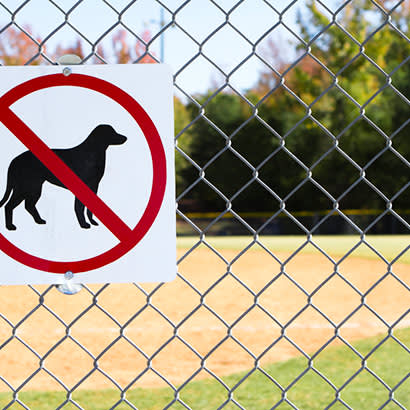 NRPA Connect is an online network with more than 62,000 professionals, who are willing to answer your questions, share your challenges and discuss trending topics in the field. Check out one of the topics being discussed this month:
Dogs on Ball Fields: Pro or Con?
Have you had to implement policies and/or codes about not allowing dogs on ball fields? Do you have different rules for natural vs. artificial turf fields? Individuals taking their dogs onto ball fields is increasingly resulting in staff doing additional "pickups" prior to sport leagues playing on those fields.
Following are some suggestions offered by NRPA members:
"We added additional 'Clean Up Pet Waste' signs and removed the gates where the zero turns [mowers] enter and exit the fields. This causes dog owners to have to watch their pets, reducing the number of dogs that are present. Then, our animal control officer talked to the dog owners. We would take a pic of the license plate and the ACO would contact the owner."
"We have instituted a park rule that dogs are not allowed on athletic fields (natural turf or synthetic). We have a few parks that consist only of athletic fields that people love to have their dogs use off-leash. Picking up after the dogs is always a problem, but our rule is based more on dog bites to the users and park staff."
"Many dog owners are responsible, but those who aren't are ruining our fields, with dogs digging holes, defecating and ruining the field's grass. We have yet to set parameters but realize this will probably need to change as the cost for maintenance increases for this unintended use of the facilities."
Have a policy or suggestion? Log in to NRPA Connect today to share! And, download the NRPA Connect App for continual access on the go.