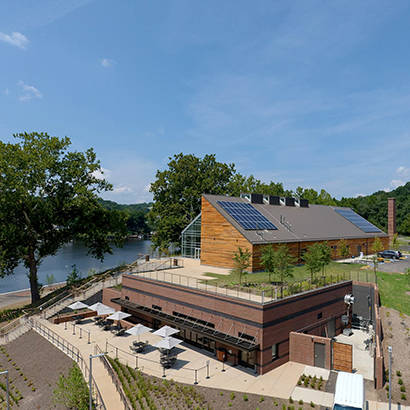 Those who work in the field of parks and recreation often hear some version of the same comment when talking with others about their career. Just under the surface is the thought that such a job must be easy, usually based on people's experiences with parks. When they are in a park, people typically are relaxed and having fun, and it may be difficult for them to understand the wide range of skills and effort that go into creating such an environment.
NOVA Parks rededicated a completely rebuilt Occoquan Regional Park, which began with a 350-acre property that it leased in the late 1970s and opened in 1982. Fast forward 40 years, and this well-built park was ready to be totally reimagined. Since its rededication in June 2018, it has performed better than anticipated: a River View event venue and Brickmaker's Café (housed in the Jean R. Packard Occoquan Center) were enough to cover the debt payment and turn a modest profit for the park. Reflecting on the years of effort that went into creating this space and the planning and execution of the grand opening day prompted me to think about all the elements that went into this park.
Every park has a unique origin, but they all have a story that involves smart, hardworking park professionals, civic and political leaders, community groups and more. An understanding of what goes into creating these spaces provides a better appreciation not only for the park, but also for the dedicated individuals involved.
Land Acquisition
NOVA Parks owns more than 90 percent of its parkland but leases the Occoquan Regional Park property from Virginia's Fairfax County. In 2012, the county and NOVA Parks entered a new 99-year lease, which opened the door to planning and developing a new park on the old property.
Master Planning
NOVA Parks brought in meeting facilitators from George Mason University's Center for Conflict Resolution to conduct community meetings to plan the future. Their inclusion meant that during the meetings, all ideas were heard and valued. NOVA Parks identified all the stakeholder groups it could think of and invited them all to participate. Its board worked with stakeholders to prioritize the many ideas, and from multiple meetings over a six-month period emerged a vision for the park that was very different from the original park.
In addition to the River View event venue and Brickmaker's Café, elements to the new vision included a rebuilt sea wall and plaza area by the water, an enhanced trail system internal to the park that connects it to larger trail networks, a large group shelter area, preservation of historic structures, creation of a Suffragist Memorial with a local nonprofit dedicated to that cause and demonstration of environmental design. A boat ramp and kayak rentals were the only intentionally retained old-use features.
The park was transitioning from one focused on athletic fields to one focused on being the center of the community, with multiple places and ways to facilitate gatherings, and to highlight the unique history and culture of the area. Elements that reinforced the theme of the master plan include:
The 1608 Room, a stunning space that interprets the first Native American/European contact in this area, which occurred near this site the year after the Jamestown Colony was established
A 5K loop trail that allows groups using any of the five shelters to host a 5K or 10K walk/run, all within a park, without the need to use any public roads
A new connection at the trailhead of the 40-mile Gerry Connolly Cross County Trail
The "re-visioning" of this park with all the new elements took countless hours of work, creativity and problem-solving skills by park staff. Unlike a standard commercial development, this project was creating a space with several unique facets for which there was no model, requiring extremely diverse skill sets to research and create them.
Major Development Project
Creating a new place is something that any real estate developer would know. Building architects and landscape architects were selected, and civil engineering firms, general contractors and numerous other specialists were hired and managed. Permits were applied for and hoops were jumped through! Extensive construction management and problem solving took place.
With a focus on coming up with a model of environmentally sustainable design, the building, named after environmental leader Jean R. Packard, was designed with solar panels on the roof and incorporated local and recycled materials, earning a LEED Gold rating for a green building.
Financing
While most capital development projects in parks are funded by taxpayer-supported General Obligation Bonds, this project had no such funding. Numerous competitive grants were applied for and won. Fairfax County funded $300,000 to help create the 1608 room of the Jean R. Packard Center. But even with these contributions, an additional $15+ million had to be financed. Working with state officials, NOVA Parks staff members were able to arrange revenue bonds (essentially a business loan, paid for with park-generated revenues) at municipal bond rates. Financing in this way meant that a very strong business plan for the operation was necessary. The large event space, called "The River View," was the main economic engine focused on wedding receptions.
Sales
Hiring a sales team to ensure the success of the business plan was critical to long-term success of the entire park. There are a wide range of professions that work for park agencies, and this is just one example of a skill set that is not commonly associated with parks. The new team hit the ground running and by the time the park was dedicated it had already secured 50 reception bookings for the coming year — many of them also using NOVA Parks' in-house "Great Blue Heron Catering" service.
Grand Opening
Planning for the big event involved a cross-functional team of NOVA Parks staff meeting regularly for months to plan out the many details. A dozen or so community groups agreed to exhibit in the park on grand opening day. Each of these groups represents years of partnership development by park staff. Living history interpreters were brought in to entertain and educate the public about various pivotal times in the history of this site. A popular local band was hired to help create an appealing event.
A dozen elected officials from federal, state and local levels attended and participated in the grand opening — all of them critical partners in building communities and supporting public lands and parks. Most members of the NOVA Parks Board were on hand to help dedicate a park they had worked on and supported for years. These appointed community leaders contribute greatly with their time and knowledge in helping to guide major policy decisions, like the acquisition and development of new or renewed parks.
Operations staff members are experts at managing large crowds, complex events and planning for contingencies. And, experienced park staffers were on-site managing traffic and parking, helping our community partners and informing the public of events and timelines. Storms on the day of the event required quick thinking and good backup planning. The visiting public saw a smooth operation and was not aware of the numerous issues that were expertly dealt with behind the scenes. Nearly 500 people chose to have a meal at the new "Brickmakers Café" on its first day of operation. The café, run by NOVA Parks, is named after the historic brick kilns that were used on the site during the early 20th century.
Skills employed by park staff to open a rebuilt park:
Real estate transactions
Community planning and work with multiple stakeholders
Grant writing
Contracting
Design
Permitting
Construction
Low-impact development
Historic research and interpretation
Historic preservation
Production of multiple interpretive videos
Development of many community partnerships
Social media and print marketing
Finance
Business planning
Hiring
Training
Sales and marketing
Innovation
Restaurant management
Event planning and execution
Contingency planning
Coordination with elected officials
So, when people say, "That must be a fun job," it all depends on what they mean by "fun." If they mean easy, they are wrong. If they mean challenging and rewarding, they are spot on! While there are so many skill sets that good parks staff have mastered, in the end, it is not just about making and running sites, but also about making those sites transformative for their communities. Our public lands and parks are our shared spaces. If done right, they have the potential to make our world and our community a better place!
Paul Gilbert is the Executive Director for Northern Virginia Regional Park Authority.