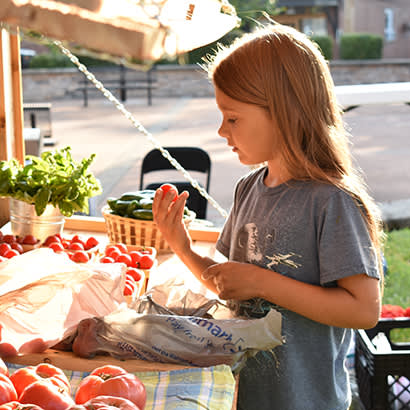 NRPA, with support from the Walmart Foundation, awarded $1.5 million to 27 park and recreation agencies in 2019 — 17 in an innovation cohort and 10 in a rural cohort — through the Increasing Access to Healthy Meals at Parks grant. Funding for the innovation cohort supports innovative strategies to:
Address transportation barriers by leveraging local assets and piloting innovative models
Start or expand farmers markets or community-supported agriculture programs at park and recreation sites
Start or expand intergenerational meal programs at park and recreation sites
Support child nutrition meal programs
During the summer, NRPA staff visited three agencies that received innovation cohort funding to see these strategies in action.
Transportation Assistance Saves the Day
It's 7:50 a.m. on a July weekday in North Little Rock, Arkansas, when Nystaucia Lane and her three children, Alyssa, Jaiden and Nolan, head for the bus stop. This is the first leg of their new summer morning commute using Rock Region METRO summer passes. From start to finish, their journey takes nearly an hour, but it's an hour Lane is grateful for and that wouldn't be possible without the Be Mighty METRO program.
This citywide transportation initiative, launched through a cross-sector partnership between the Central Arkansas Library System (CALS) and Rock Region METRO, with support from the Little Rock Parks and Recreation Department, fills the summertime gap in private or public transportation. This can mean the difference between kids having access to enough food, staying active and continuing to stay engaged with each other and their mentors.
Youth Learn the Importance of Healthy Foods
In July, pint-sized guests gathered for a Teddy Bear Tea Party at the Glades Community Garden in Berea, Kentucky. Here, youth in the Berea Kids Eat summer program, an offshoot of Grow Appalachia, snack on fresh berries and zucchini bread, while drinking tea made from herbs picked from the garden. The garden offers a safe sanctuary for kids not only to enjoy their summer mornings, but also to learn about where food comes from, how pollinators contribute and how to use what they harvest.
Each month, a special junior market, held during the weekly Saturday Berea Farmers Market, provides the kids with a space to sell the fruits, veggies and flowers harvested from Glades and the nearby Berea Urban Farm. And thanks to the Increasing Access to Healthy Foods grant, the junior market now has a mobile cart to display the fresh produce for sale, local summer meal sites have increased and community wellness goals have been exceeded.
Generations Connect Through Healthy Foods
Even in the picturesque city of Burlington, Vermont, residents experience ongoing challenges with food insecurity and social isolation. But, the Burlington Department of Parks, Recreation and Waterfront (BPRW) has been working to change this narrative by providing healthy meals to school-aged children and older adults year-round.
By collaborating with organizations such as the Burlington School Food Project, Burlington Housing Authority and Age Well VT, BPRW has expanded its recreation and nutrition drop-in program. The Increasing Access to Healthy Foods funding has enabled the city to expand the summer meal program in three of Burlington's subsidized family developments and to open a meal site at the Andy A DOG Williams Skatepark and a dinner site at Roosevelt Park.
BPRW also provides opportunities for children and older adults to connect and engage in mutually beneficial activities. Throughout the summer, these intergenerational activities included berry-picking, field trips to community gardens, smoothie making using local produce and cooking/baking demonstrations.
Learn more about these Increasing Access to Healthy Meals at Parks grant projects:
Jennifer Fulcher-Nguyen is NRPA's Communications Manager.