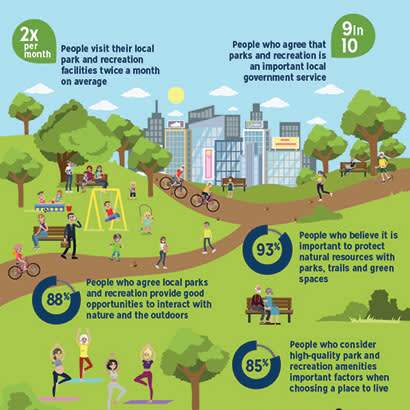 Each year, the NRPA Research team surveys 1,000 U.S. adults to better understand the frequency and ways that they interact with parks and recreation. We take the results from that survey to create the Engagement with Parks Report, providing park and recreation professionals, policymakers and other key stakeholders with insights on the importance of local park and recreation facilities in the lives of every resident of our nation.
The 2019 edition of the study highlights continued strong, unwavering support for the mission of parks and recreation, as defined by NRPA's Three Pillars. Nearly equal shares of survey respondents view each pillar as "extremely" or "very" important guiding principles for their local park and recreation agency:
Health & Wellness (75 percent)
Social Equity (74 percent)
Conservation (73 percent)
This support holds firm across nearly every segment of the U.S. population, including by age, gender, race and ethnicity, income and political affiliation.
Key Factors
People recognize and appreciate the positive impact of parks and recreation on their communities. Nine in 10 survey respondents agree that parks and recreation is an important local government service. The value people place on parks and recreation closely mirrors that for many other local government services, nearly matching that for public safety, utilities, transportation and education.
The nearby access to high-quality park and recreation amenities and programming plays a central role in finding a home. Eighty-five percent of survey respondents indicate that having a nearby park, playground, open space or recreation center is an important factor in deciding where they want to live. This includes nearly 3 in 5 who report that nearby high-quality park and recreation choices play a "very important" or "extremely important" role in where they choose to reside. Easy access to high-quality park and recreation opportunities is an important factor for all segments of the U.S. population, but is particularly influential for millennials, Gen Xers, people who identify as Hispanic and parents.
Each year, we include questions to the Engagement with Parks Survey tied to a specific theme. This year's questions focused on people's enjoyment of the outdoors. Parks, trails and other natural amenities connect people to nature and provide a much-needed respite from our ever-connected lifestyles. Each also improves the physical and mental health of their visitors. Local park and recreation agencies manage millions of acres of open space across the United States — from parks and sprawling trail networks, to beaches and other waterways.
Outdoor Recreation Preferences
Survey participants identified a number of desired outdoor recreation options for their community, including:
Access to a secluded, outdoor, quiet place where they can relax and reflect (87 percent)
Places that provide a scenic view of the nature around them (85 percent)
Nearby access to lakes, ponds, rivers and other water bodies to take a swim, go fishing or for boating (85 percent)
Nearby trail networks for walking, running, hiking and biking (82 percent)
Local amenities that provide the opportunity to observe wildlife (e.g., birdwatching) (81 percent)
Nearby campsites and campgrounds (70 percent)
People largely agree that their local park and recreation agency does a good job providing their community with many opportunities to interact with nature and the outdoors. However, many also seek more nearby outdoor recreation options. Nearly 9 in 10 U.S. residents indicate that their "local park and recreation agency does a good job providing outdoor recreation opportunities," including 57 percent of survey respondents either agreeing "completely" or "very much" with this sentiment. However, 31 percent of survey respondents only "somewhat" agree that their local park and recreation agency is doing a good job. Further, 11 percent of survey respondents disagree with this sentiment.
The survey also finds widespread agreement among the general public for their local government to prioritize protecting natural resources — including fresh air, clean water and unpolluted green spaces. Specifically, 93 percent of survey respondents indicate it is critical that their local government develops local parks, trails and green spaces near bodies of water for the purpose of protecting natural resources in their community.
The support for ongoing investment in public open spaces spans virtually every demographic group of U.S. residents. Perhaps most notably, the robust support for such investment also crosses the political spectrum, with 95 percent of Democrats and 94 percent of Republicans agreeing with this view.
Additional Analysis
This column merely scratches the surface by highlighting the many takeaways from the 2019 Engagement with Parks Report. The report also notes how frequently the public visits their local park and recreation amenities (on average twice a month), the top reasons for visiting a park (to be with friends/family, to be physically active and to be closer to nature) and the percentage of the public that says at least one park or recreation amenity is walkable from their home (7 in 10).
The 2019 Engagement with Parks Report makes clear this point: People highly value the work that park and recreation agencies deliver to their local communities every day and strongly support their mission. The public's strong and broad-based support for parks and recreation solidifies any case being made to local political leaders, stakeholders and the media for greater, more stable funding. I encourage you to combine the insights from this report and those from our monthly NRPA Park Pulse polls with information about your agency to tell the full park and recreation story to your community.
Kevin Roth, Ph.D., is NRPA's Vice President of Professional Development, Research and Technology.