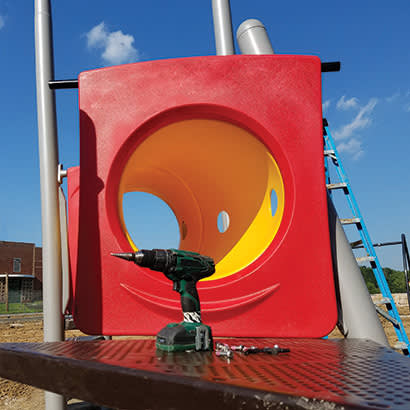 NRPA is dedicated to providing learning opportunities to advance the development of best practices and resources that make parks and recreation indispensable elements of American communities.
Become a Playground Maintenance Course Instructor
To become a Playground Maintenance Course Instructor, you must first apply to attend the one-day instructor workshop, where attendees receive an in-depth review of the Playground Maintenance Course materials and the technical knowledge and presentation skills necessary to teach the course. Qualifications include six years of full-time experience in playground maintenance, playground safety, park operations and management or related fields; experience teaching adult education; current CPSI Certification, maintained for a minimum of six years; current member of NRPA.
The next instructor workshop will take place December 5, 2019, at the NRPA headquarters in Ashburn, Virginia. Be sure to complete the online application at by November 5, 2019.
November
4-6 Wisconsin Dells, Wisconsin
4-6 Greenwood, Indiana
5-7 North Kansas City, Missouri
6-8 Kearns, Utah
20-22 Altamonte Springs, Florida
December
4-6 Burlington, Kentucky
9-11 Hoover, Alabama
November
4-5 Wisconsin Dells, Wisconsin
7-8 Clearwater, Florida
12-13 Little Rock, Arkansas
14-15 North Port, Florida
20-21 Alexandria, Virginia
December
3-4 Bessemer, Alabama
4-5 St. Louis Park, Minnesota
4-5 Okinawa, Japan
10-11 Concord, North Carolina
17-18 Harrison, Tennessee
November
5 Mocksville, North Carolina
6 Yuma, Arizona
6 Smithfield, North Carolina
Schools and Conferences
Supervisors' Management School
November 3–7, 2019
Wheeling, West Virginia
Event Management School
January 12–17, 2020
Wheeling, West Virginia
Maintenance Management School
January 26–31, 2020
Wheeling, West Virginia
Revenue Development & Management School
March 15–20, 2020
Wheeling, West Virginia