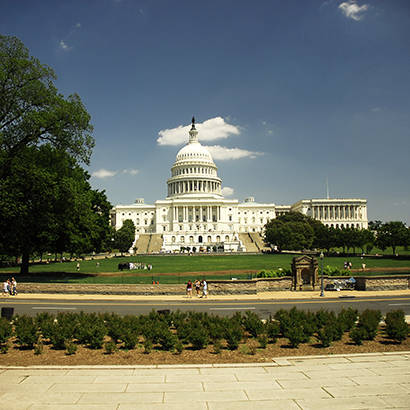 Advocacy rounds out the 2019 NRPA Annual Conference
Following the 2019 NRPA Annual Conference in Baltimore, NRPA's Public Policy team and some 50 conference attendees stormed the halls of the Capitol Building in Washington, D.C., on Friday, September 27, to advocate on behalf of park and recreation priorities. It proved to be a timely event given that Congress was in the throes of final appropriations decisions for Fiscal Year 2020 with a September 30 deadline looming. A few of our members were lucky enough to get some facetime with their members of Congress, but everyone met with the staff of their senators and representative. Together, we accomplished approximately 50 meetings in just three hours, and our ask was clear — protect and strengthen the conservation, health and social equity efforts of park and recreation agencies.
Specifically, we asked Congress to preserve our nation's public spaces and ensure access to health and wellness opportunities for all by:
Nutrition
Sponsoring the Summer Meals Act (S. 1908/ H.R. 2818) in order to strengthen summer meal sites, encourage new ones to open, and increase meals and children served. If included in the Child Nutrition Act Reauthorization, this bill would provide an investment in transportation, streamline administrative paperwork, allow sites to serve an additional meal and align site-location eligibility to match that of several federal educational grants.
Land and Water Conservation Fund
Supporting the Land and Water Conservation Fund Permanent Funding Act (S. 1081/H.R. 3195). This legislation will ensure that the Land and Water Conservation Fund is fully funded. If passed, this bill will provide for more state assistance program projects that benefit every congressional district in the country.
Active Transportation
Increasing funding for the Transportation Alternatives Set-Aside as Congress begins consideration of the surface transportation reauthorization. This program funds bicycle and pedestrian infrastructure, which benefits and provides access to parks and open space.
Appropriations
Supporting the following funding levels for fiscal year 2020:
Fund the Land and Water Conservation Fund state assistance program at $140 million.
Fund the 21st Century Community Learning Center Program (21st CCLC) at $1.322 billion, the only federal funding stream to support summer and afterschool learning programs.
Fund the Youth Mentoring Grant managed by the Office of Juvenile Justice and Delinquency Prevention (OJJDP) at the Department of Justice at $100 million.
Fund the CDC's Arthritis Program at $12 million to begin rebuilding the lost funding from the past three years and to begin expanding the reach of the program.
From everyone at NRPA and on behalf of all our members, we want to thank those who participated in our day on Capitol Hill. We are truly grateful for your advocacy. Without the frontline people and stories from back home, members of Congress and their staff would not be able to truly appreciate all the work that is done every day by your agencies and how critical federal programs and funding are to those efforts. Thank you.
Disappointed to have missed NRPA's Capitol Hill Day? Become a Park Champion and learn how you can advocate for park and recreation policy priorities. Email our advocacy team to learn more!
Kate Clabaugh, MSW, is NRPA's Director of Government Affairs.