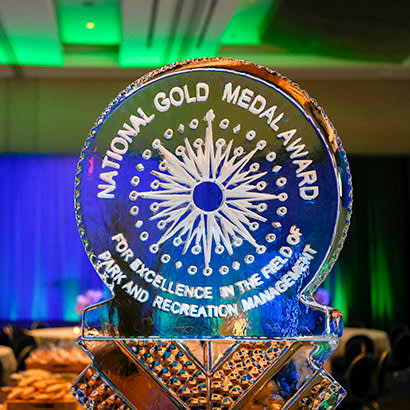 During the Opening General Session at this year's NRPA Annual Conference in Baltimore, Maryland, Carolyn McKnight, president of the American Academy for Park and Recreation Administration (AAPRA), took to the stage to announce the 2019 Gold Medal Award winners. Along with head judge Susie Kuruvilla and Mike Shindler, marketing relations manager with Gold Medal sponsor Musco Lighting, McKnight presented the Gold Medal Award Grand Plaque to the following agencies for demonstrating excellence in parks and recreation through long-range planning, resource management, volunteerism, environmental stewardship, programming and professional development, and innovation:
Class I (population 400,001 and over)
Fairfax County Park Authority – Virginia
Class II (population 150,001 – 400,000)
Metro Parks Tacoma – Washington
Class III (population 75,001 – 150,000)
The Woodlands Township – Texas
Class IV (population 30,001 – 75,000)
City of Westerville Parks and Recreation – Ohio
Class V (population less than 30,000)
Glencoe Park District – Illinois
State Parks
Department of Environmental Protection, Florida State Parks
Armed Forces Recreation Award
Marine Corps Base Camp Smedley D. Butler – Okinawa, Japan
A hearty congratulations to this year's winners!
And, remember, it's never too early to start gathering the information needed to apply for consideration for the 2020 Gold Medal Awards. All the resources and information you need can be found on our website or by contacting us.