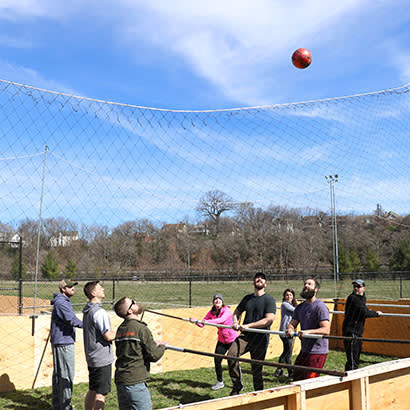 Roanoke (Virginia) Parks and Recreation provided community members with the chance to participate in its first-ever live, life-sized version of foosball in a tournament it held on May 4. "This idea was brought to us by a local citizen, who built the court and was using it as part of a field day he and his friends hosted," says Greg Thompson, athletics programming supervisor for Roanoke Parks and Recreation. "Combining his knowledge of how the game is played and the actual construction of the court with our ability to reach a larger audience and the logistics of running a tournament brought this program to life."
Teams consisted of six individuals who were both the controllers and the players. The "table" is a wooden and metal structure equipped with steel poles, which require team coordination to slide back and forth across the field. With a buy-in price of $10 per person, the tournament was available and accessible to any adult willing to take on the challenge.
"One of the big barriers to offering a program like this is the structure itself," explains Thompson. "An inflatable doesn't have the lifespan of a hard structure, and there isn't a lot of free space to put up a permanent structure. Thus, you have to develop a court that can be put together and taken down in a day, but also has the structural integrity for the wear and tear of the game."
Despite the challenges, original programs, such as the human foosball tournament, are a great way to involve individuals who would like to take part in local park and recreation activities but are not able to make long-term time or financial commitments to leagues, such as softball or soccer. Unique programing can also help to bring new faces to the table by appealing to various individuals or groups within the community who typically are not interested in traditional recreation programming. And, of course, the excitement and joy these programs generate bring incalculable benefits to everyone involved.
For more information on Roanoke's human foosball tournament, contact marketing coordinator Stephanie Long.
Lindsay Collins is the Associate Editor for Parks & Recreation magazine.