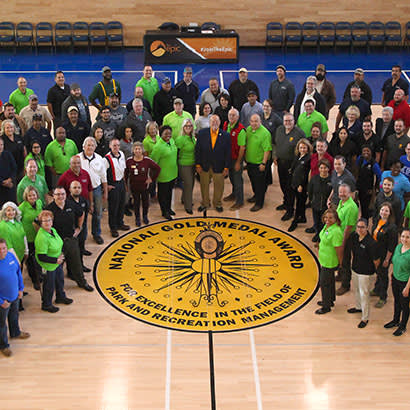 What comes to mind when you think about team building? Usually it's an exercise, like a trust fall, or an activity, like going bowling or to an escape room or engaging in some other activity outside the confines of the office that allows you to see your colleagues in a different setting and from a different perspective. I'd be surprised if you said applying for an award was one of the team building activities that came to mind, but that's how Rick Herold, a former director of the Grand Prairie Parks, Arts & Recreation Department in Texas approached it when he initiated the department's application for the National Gold Medal Award Program, presented by the American Academy for Park and Recreation Administration in partnership with NRPA.
"Our initial thought was 'this is an overwhelming task,'" recalls Duane Strawn, PLA, ASLA, CPRP, the department's assistant director – operations, going into the process. "But as we developed our system and broke up into teams, we began to see the results of all that we do and provide for the community. Our preparation included talking with our colleagues who were already Gold Medal winners to get some pointers and suggestions. We also gathered all our information about our programs, venues and events that we knew we would need to write our story."
Grand Prairie applied for the National Gold Medal Award and were finalists in 2006, 2007, 2016 and 2017 and won the Grand Plaque in 2008 and 2017. For the department, winning the National Gold Medal was an acknowledgement of years of planning, passion, sleepless weekends and holidays, and executing its plan to provide its community with a world-class, award-winning park and recreation department. "It is also a recognition of the priority that is placed on parks and recreation by our mayor and city council, board members, and city management," adds Strawn. "For our city, it was the best way to show our citizens how hard we work for them, and that we are good stewards of the resources they have entrusted us with. They have trusted us with their hard-earned money, and we invested that money and created a quality of life that is worthy of winning a national award."
Sharing the News
The time and energy invested in telling Grand Prairie's story was time well spent when it came to communicating the department's National Gold Medal Award-winning status to the community and local officials. "The true value of the Gold Medal Award is that it represents a quality of life that our citizens can be proud of," Strawn explains. "When our 'Award-winning Parks Department' is a successful tool used to bring in new businesses and homeowners to Grand Prairie, we know we have communicated the value of parks and recreation."
Strawn continues: "In all our communications to our citizens, visitors and prospective citizens/employers, we present ourselves as a National Gold Medal-winning park and recreation department that provides an award-winning quality of life for our citizens and visitors of Grand Prairie. A recent example is at The Epic, our new 120,000-square-foot fitness, arts and entertainment center that features the National Gold Medal [logo] on the multipurpose gym floor."
The department also includes the Gold Medal logo on advertisements, websites, vehicle wraps, staff apparel, building signage, business cards, email signatures and many other places to help inform the community and visitors of the high standards to which the department holds itself. In addition, during various presentations from their mayor, city council, parks board or even the school district, the speakers will use the phrase "Gold Medal Parks System" to emphasize their point or argument. "We feel our education campaign is on a successful trajectory when other people outside our department show their community pride by referencing the Gold Medal award," says Strawn.
To those contemplating embarking on this team building experience, Strawn offers the following advice: "The key part of the application process is getting your whole team invested and involved in producing the document. This is not just a one-person application, it is a team building experience. With every application you learn something new and different about formatting, how to word something or how best to communicate your information. We will have more of our colleagues review our next application to help make sure we submit the best application possible."
Several resources to help walk applicants through this award process, including the application and "Marketing the Gold," are available here. The National Gold Medal Award Program, proudly sponsored by Musco Lighting, includes seven classes: five classes based on population, one class for armed forces recreation and one class, which is offered in odd numbered years, for state park systems. Finalists are announced at the end of April, and the Grand Award recipients are announced at the NRPA Annual Conference in the fall. The application deadline is March 29, so there's still time to apply. If you have questions or need additional information, contact goldmedal@nrpa.org.
Preparing to Apply:
Some things to consider when preparing to apply for the National Gold Medal Award:
Population Categories:
Class I: 400,001 and over
Class II: 150,001 – 400,000
Class III: 75,001 – 150,000
Class IV: 30,001 – 75,000
Class V: less than 30,000
Armed Forces
State Parks (in odd-numbered years)
Support Materials:
Applicants will be asked to provide the following:
A three-page Executive Summary of their most current Comprehensive Plan for the agency.
Links to their website, program brochure and master plan. Please ensure links work. If not available electronically, hard copies will be accepted. Please mail six copies of the program brochure and one copy of the master plan to:
NRPA Headquarters
Attn: Gold Medal Award Program
22377 Belmont Ridge Road
Ashburn, VA 20148
Other Notes:
Keep a copy of your application for your records. If your application is successfully submitted, you will receive a confirmation email. If you do not receive a confirmation receipt within 24 hours after submitting your application, contact the NRPA office at goldmedal@nrpa.org.
Video Requirement: Gold Medal Finalists are being asked to post to their webpage a short (social media type) video, a MAX of 5 minutes by June 4. Judges will view this short video that helps support information provided in the application. Video should tell the story how your agency is unique and outstanding, while capturing images that support application responses; and serves as a media communication piece to your community! Any video approach may be used but will only be considered in round 2 judging discussions if 5 minutes or less and posted by June 4.
Sonia Myrick is NRPA's Executive Editor of Parks & Recreation magazine.