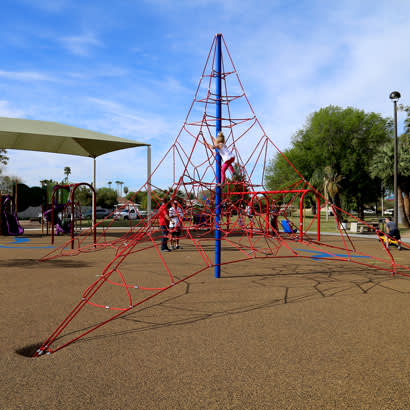 City dedicates more than $60 million to park renovations and upgrades
On June 18, 2018, 800–1,000 Tempe residents gathered at Kiwanis Park for the grand opening of The Cloud, a new 5,000-square-foot splash playground designed especially for kids 0–12 years old. And, for anyone who has ever visited this Arizona city in the summer, where average temperatures can soar well above 100 degrees, a bit of water play and plenty of shaded areas are always a welcomed relief.
The Cloud, however, represents just one of 30 park renovation projects completed by the city of Tempe to date, with several more projects undergoing various stages of planning, public input, design or construction.
In this next installment of our parks transforming cities, towns and communities series, Parks & Recreation highlights a few noteworthy park projects in Tempe, Arizona.
The Initial Plan
Tempe is a landlocked city that stretches about 40 square miles and features 40 neighborhood parks, multiple community parks, sports complexes, two preserves, two golf courses and a spring training facility.
About two years ago, the Tempe City Council approved the Parks Capital Improvements Plan, which allocated $32 million over a five-year period toward renovating its city parks. What's more, project funding was prioritized based on four elements: (1) public health, (2) existing assets, (3) customer enhancements and (4) system expansion and new amenities.
"We have been very fortunate that our mayor and city council have made improving parks a priority — and even just addressing the infrastructure that exists within our park system," says Craig Hayton, parks manager for the city of Tempe. "They've always been supportive."
Broadening Its Focus
Although the city had initially earmarked $32 million toward revitalizing existing parks, the mayor and city council were thinking bigger. Hayton says those funds were more focused on bringing Tempe's neighborhood parks up to date. However, when the city broadened its Parks Capital Improvements Plan budget to include community services and public works — areas that serve the city's park system — it discovered it had a much wider funding balance totaling a little more than $60 million.
He explains that city officials understood that Tempe's park system as a whole needed some updating, because some of the infrastructure had exceeded its useful lifespan. "We're now looking at the entire park system, not just some of the deficiencies that we've identified within the neighborhood parks, which is where that $32 million [figure] came from," notes Hayton.
Thus, the city retooled its approach by embracing a strategy that emphasizes asset-management-based improvements within parks. Hayton says, "Rather than taking our different 40-plus neighborhood parks and saying, 'We're going to [concentrate on] two or three projects a year,' and just go in and redo an entire park, we actually are looking now at the systems that exist within our park system."
To help direct the decision-making process on park projects not associated with health and safety or related to the maintenance of existing amenities, city staff established a points system that identifies a park's base amenities by park size. Each park is ranked by the number of points it receives — parks with fewer base amenities will take precedence over parks that are better equipped. This system is meant to create equity among all parks throughout Tempe, ensuring that park amenities remain consistent across the board. Base amenities include:
25 trees per acre
Playgrounds: central play structure, individual components, shade, inclusive play equipment and ADA surfacing
Ramadas: covered picnic areas
Furnishings: picnic tables, benches, drinking fountains, trash/recycling containers and pet-bag dispensers
In addition to increasing the tree canopy (25 trees per acre), Hayton says the city looks at sustainability from multiple perspectives: social, financial and environmental. "Specific to the environmental perspective, Tempe produces its own compost from green waste collections and uses it to build the soil structure in many city parks," he adds. "We are implementing a formal integrated pest management program, which has a goal of reducing chemical use in the city. We are also testing floating islands in one of our parks to gauge its effectiveness as a natural water filter in the city's ponds to positively influence water quality" [see the March 2019 Park Bench story].
Aside from strong summer monsoon storms, Tempe has fairly mild weather throughout the year, and, according to Hayton, the emphasis for renovations has been on ensuring safety, accessibility and durability.
The Cloud Makes a Splash!
As one of Tempe's largest parks, Kiwanis Park boasts 125 acres featuring a 13-acre lake ideal for fishing enthusiasts, two picnic areas, four softball fields, a recreation center, gymnasium, indoor wave pool, fitness center, batting range and a 15-court tennis facility. Many nearby residents enjoy the park on a daily basis to bicycle, jog and walk, as well as partake in a variety of health and fitness programs offered through the city.
A few years ago, the city was searching for a large area to host a new splash play area for its youth. The previous splash playground at Tempe Beach Park, located downtown, needed costly repairs to its main infrastructure and equipment, causing a major dilemma for city officials. "One option was to relocate," says Keith Burke, Tempe's community services director. The mayor and city council believed the splash playground would be better suited somewhere else in the city and away from the busy downtown area. "And so, there was a push to find the best location," Burke recalls.
"Kiwanis Park is centrally located within Tempe, so it provides a really great opportunity and plenty of parking for those who want to travel here," says Shawn Wagner, Tempe's community services manager. Thus, Kiwanis Park was chosen as the site for the new-build.
The next step was soliciting community input. The parks and rec team began hosting community meetings at the local library to discuss what residents wanted for the splash playground design and to encourage residents to complete online survey forms. "We also visited local elementary schools and that was where a lot of our inspiration came from," explains Wagner, "talking with the youth who were going to be using the [splash playground]."
Work crews broke ground in January 2018 on the project, which took six months to complete. The $1.7 million design, named The Cloud, features myriad water sprays and jets — including swizzle sticks and jelly sticks — along with multicolor loops and misting pillars perfect for cooling off during hot summer days. "The Cloud itself has a rain ring, where water will fall and then spray on the kids," notes Wagner. "It's also ADA accessible, so we've ensured there's plenty of room for folks to move around and have that clearance not only on the inside, but on the outside, we have a water-free zone" that enables a person in an electric wheelchair or scooter to move around the area with ease.
Other design features include shaded-canopy seating areas. "For parents, having that available is a big plus," says Wagner, because they appreciate that they can keep an eye on their kids away from the water, while being able to socialize with their neighbors and friends.
The highlight of The Cloud is, undoubtedly, the "storm sequence," whereby water pours down from the middle of the splash pad's canopy while sound effects of a thunderstorm and chirping birds play overhead. Wagner says the storm sequence is even more impressive at night with the addition of multicolored lights. The Cloud is open from 8 a.m. to 10 p.m., April through October.
"Another great feature about this is that we designed the playground so that we could have the out-of-season use as well," Wagner points out. "Those above-ground elements that we have are detachable. We can store them, put a cover plate on [the area] and then it becomes a community plaza — where we could do different things, like yoga, spoken word and concerts in the park. We have a speaker system there, so we can actually wire that in and folks could have ample sound for their city programs."
What do community members think about their new splash playground? "We opened on June 18, and it was packed on a daily basis after that opening," says Wagner.
Kiwanis Tennis Center
Located in Kiwanis Park, the Kiwanis Tennis Center has been serving the Tempe community for the past 43 years. The facility boasts 15 courts, two practice courts and offers instructional tennis classes along with competitive league play.
However, Wagner says he and his team began noticing the years of wear and tear on the foundation, such as cracks in the asphalt sub-base beneath the cushioned surface that forced the closure of some tennis courts. This prompted them to submit the necessary paperwork with the city to make improvements to the tennis center.
"We were fortunate enough to be able to secure that funding to completely renovate our tennis center here," Wagner says.
Work on this $3.4 million revitalization project began in spring 2018, which required demolishing the existing tennis courts and building new ones with post-tension concrete surfaces. "These should last another 40–50 years with proper maintenance and care," he contends. "It's the same surface that they use at the Australian Open, so it's a slightly cushioned concrete surface but still provides excellent grip and play inbound."
The lighting also required a facelift. "We were actually able to replace our old lights with LED lighting," Wagner says. "We also increased the height just a little bit of our tennis lighting and were able to reduce the amount of light poles that we have." Previously, there were 39 light poles measuring 30 feet high; today, there are 17 poles that are 50 feet high. Crews also installed new nets, bleachers and court seating, as well as an internet dish to offer patrons free Wi-Fi.
One of the most unique characteristics of the project is the addition of Playsite. This digital technology features two high-definition cameras installed on all 15 courts. One camera placed on the north end of the court and another one placed on the south end. Both cameras record players' serves, volleys and strokes. The system also offers analytics on ball speed and whether a ball is hit inside or outside the line. What's more, the system's live-streaming feature allows players' family and friends to watch their matches in real time from anywhere in the world.
In January 2019, the Kiwanis Tennis Center welcomed about 300 people to its grand re-opening to introduce the community to its newly upgraded facility. "Since re-opening, we've seen a lot of youths, and we're excited to see where we go from here," says Wagner.
Selleh Park
In April 1972, the city of Tempe named 6.3 acres of parkland in honor of Joe Selleh, a beloved proprietor and pillar of the community who came to the city in 1928. Now more than 43 years later, Selleh Park has a new lease on life.
Following a public process that included community input, the city finalized a design for improvements to the park. The project, which totaled $450,000, was among the first playground renovations through the city's new asset-management approach. Work didn't begin, however, until late 2016.
The project features a full playground structure, swings and other park equipment — such as picnic tables and benches. According to Hayton, Selleh Park was also the first playground project to receive full rubber surfacing.
Additional design amenities include walkway paths leading to and through the playground area, installation of LED lighting in the playground and along walkways, replacement of lights in two basketball courts with LED and replacement of the asphalt path around the pond with concrete.
In March 2017, the city held a grand re-opening to commemorate the new playground and completed renovation of Selleh Park.
Svob Park
Svob Park is named after community leader Robert M. Svob. Built in 1984, this 7.8-acre park features a baseball diamond, basketball courts and a soccer field. In 2017, the city began renovations on the park.
The improvements planned for this project also included a complete renovation of its playground, which also called for full rubber surfacing. "The playground was really in the middle of the park," notes Hayton. "We added some sidewalks that went from the basketball court, over and through the playground, and even connected to the north side of the park."
The work crew also replaced the old lighting with LED lighting in the park. Other improvements include the addition of trash and recyclable containers, benches and tables.
During that time, additional trees were planted in Svob Park as a separate project. "This was one of the first parks where we had 25 trees per acre, which is one of our targets," Hayton explains.
The Svob Park renovation project was completed in December 2017 and totaled $400,000.
Reaping the Rewards
To gauge the success of the city's Capital Improvements Plan, Tempe goes through a public process prior to each project to get feedback from the neighborhood on the design, equipment and other features that are being added to their parks. "We view the completion of each project as a success," Hayton asserts. "Each is a reflection of the community — a space where neighbors can gather and take their families to play for years to come. We also pay close attention to managing budgets, keeping projects on schedule, and keeping neighbors informed of the work being done."
In terms of setting aside money for any future maintenance of these parks, Hayton says maintenance of city parks is funded by the city as part of the budget process and there are no plans for that to change. "Some park improvements actually help reduce maintenance costs — since the equipment is newer, less costly to repair or lasts longer, like LED lighting," he explains. "We are also cognizant that maintenance can increase through [extended] use or additional amenities. Fortunately, our Capital Improvements Plan budget process allows us to identify any increased operational impacts, which would require additional funding, to ensure ongoing maintenance needs are also identified and requested."
With 30 park projects under their belt, Tempe's park and recreation staffers are seeing firsthand how these improvements are enhancing patrons' overall park experience. "I think the main way is that these improvements provide both active and passive experiences within a park," says Hayton.
Burke adds, "I think park and recreation programs and the parks themselves play a big part in creating and shaping your neighborhood, as well as working with families as they grow up together."
"Ultimately, we want parks to be places where people can enjoy a healthy lifestyle through physical activity or can simply find rest," says Hayton. "I think both of those things are necessary for our community."
Vitisia Paynich is a Southern California-based Freelance Writer for Parks and Recreation magazine.