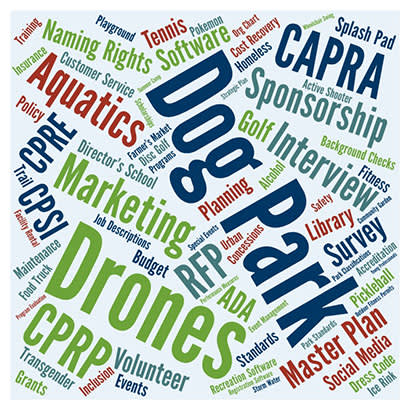 NRPA Connect is turning five this month, and because of NRPA members, we have several reasons to celebrate. NRPA Connect launched March 2014 as an online networking platform for park and recreation professionals. Since then, it has turned into a hub for NRPA members to learn, network and gain leadership experience. If you are not participating in Connect, you are missing out on all the benefits it has to offer, but it's never too late to get involved! Here are three reasons to visit Connect today:
Daily Microlearning
If you are looking for ideas for your job or facing a challenge, NRPA Connect is the place to ask more than 62,000 fellow professionals for a fresh perspective. Browsing your daily digest email in your inbox is a great way to gain inspiration. Since it launched in 2014, there have been more than 20,000+ discussions and 6,000+ resources, which mean there is a lot of information just waiting to be seen. Use the search function next time you have a question, and browse through the thousands of discussions, ranging from information on dog parks, restroom regulations and job descriptions!
Networking
You can learn and make professional connections and life-long friendships on NRPA Connect. You can connect with fellow NRPA members through daily discussions or join one of NRPA's six networks and participate in monthly conference calls and meet in person annually at conference. Many members have met mentors or gotten new jobs because of the professionals they've met through Connect.
Leadership Experience
Are you looking to gain leadership experience to help you move up in your career? NRPA Connect offers numerous opportunities, which can be found under the "Volunteer" section. The NRPA Networks — Armed Forces Recreation, Aquatics, Education, Conservation, Leadership Development and Young Professionals — are member-run communities, with diverse leadership opportunities to help you gain experience. There are always opportunities to get involved and to boost your résumé…all while having fun!
Since NRPA Connect launched five years ago, there has been a 549 percent increase in discussions and a 282 percent increase in available resources. Take advantage of this great benefit today! Don't forget to log in to Connect this month to help us celebrate a wonderful five years. There will be celebrations and festivities. To learn more about Connect check out this video or visit https://connect.nrpa.org.