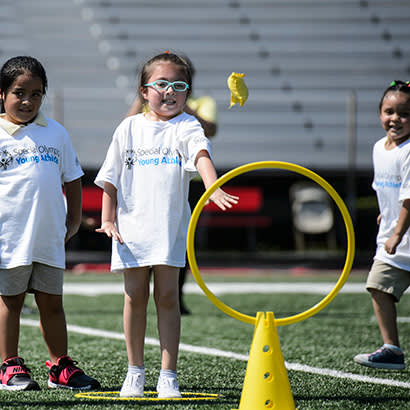 The founder of Special Olympics, Eunice Kennedy Shriver, had a vision where people with intellectual disabilities (ID) would be empowered to come out of the shadows and be included in society. Special Olympics has helped that vision become a reality. For the past 50 years, the organization has provided quality sports training and competitions for individuals with ID. Currently, Special Olympics supports more than 6 million athletes and 1 million coaches and volunteers and holds more than 100,000 competitions per year, offering 32 Olympic-type sports in more than 190 countries.
At the first International Special Olympics Summer Games, held in 1968 at Chicago's Soldier Field, Mrs. Shriver's, in her Opening Ceremony speech, stated: "The inaugural event proves a very fundamental fact" — that children with intellectual disabilities can be exceptional athletes and that "through sports they can realize their potential for growth." She pledged this new organization would offer people everywhere with ID "the chance to play, the chance to compete and the chance to grow."
Special Olympics Unified Sports®
As the Special Olympics movement grew, so did the understanding and acceptance of people with ID. In the mid-1980s, a new way for Special Olympics athletes to participate in sports emerged through Unified Sports, an inclusive program that brings together athletes of all abilities to play on the same teams. They train, compete and socialize as equals in a variety of sports, ranging from basketball to golf, bocce and softball. Unified Sports was inspired by a simple principle: training and playing together is a quick path to friendship and understanding.
In Unified Sports, teams consist of people of similar age and ability, which makes practices fun and games challenging and exciting for all. Having sports in common is one of the ways to help sweep away preconceptions and false ideas about people with ID. The participants on Unified Sports teams do what all athletes do — improve physical fitness, sharpen skills, challenge competing teams and have fun.
Hosting Unified Sports in Your Community
Unified Sports can be implemented in a variety of ways, but one of the strongest is by forming leagues through partnerships in local communities. Park and recreation agencies and departments have long been supporters and hosts of Unified Sports leagues. It is not uncommon for them to offer Unified Sports leagues as part of their seasonal offerings.
As Unified Sports continues to grow, Special Olympics is seeking to strengthen its partnership with NRPA and its members. This partnership begins with sharing the Unified Sports message with local agencies and departments, as well as the commitment both organizations have to health and wellness and social equality. The hope is that through information and resource sharing, park and recreation agencies across the country can work with their state Special Olympics Program to implement Unified Sports as part of their day-to-day, community-based programming for people of all abilities.
Benefits of Collaborating with Special Olympics
NRPA has made a commitment to support individuals with physical and cognitive disabilities through its Parks for Inclusion initiative. Special Olympics also supports the initiative by providing curriculum, training and resources to local agencies and departments to help them contribute to the success of Parks for Inclusion. It has been found that by participating in a sports-related, social-inclusion program, athletes with ID are able to grow athletically, connect with their community, increase their self-confidence and social skills, build trust, decrease problematic behaviors and develop friendships with extended social networks. What better way to highlight these athletes' abilities than to work with them in their local community?
Connecting with the Future of Special Olympics
Special Olympics sports activities, including Unified Sports, are offered for athletes starting at 8 years old. Building on the concept of Unified Sports, the Special Olympics Young Athletes program emerged. Young Athletes engages families by highlighting the power of play through a series of structured physical activities, songs and games that teach basic motor development skills to children, ages 2 to 7 years old, with and without ID. Through these play activities, children grow and develop valuable motor skills, like walking and running, while also enhancing social and cognitive skills through interaction with their peers.
Young Athletes opens the door to support families that are learning about and adjusting to their child's intellectual disability. Often, the time immediately after a child is diagnosed is a tumultuous one for families. There are many feelings, including fear, disappointment, confusion, isolation and anger, which are often mixed with protectiveness, hope, pride and love. In this time of uncertainty, families strive to find a community that can understand and accept their child, while also supporting them to be successful in the future.
How Can You Host Young Athletes?
Special Olympics provides all the resources required for anyone to implement Young Athletes in schools, communities and even at home. The state Special Olympics Programs provide curriculum, training, equipment and ongoing support for Young Athletes programming free of charge! All that is needed is a location, space and time to host the participating families. What better way to create Parks for Inclusion for the youngest members of your community than by connecting with children, starting at 2 years old, and their families?
Positive and powerful experiences with people with ID lead to opportunities for inclusion in education, in the workforce, in healthcare and more. Inclusion is key to ensuring people with ID are successfully integrated into the fabric of society and Young Athletes is helping to change perceptions and attitudes in the community toward these individuals.
Giving children with ID a chance to learn, grow and have fun is not just nice to do — it is critical! During the early years, we have the opportunity to impact lifelong success for our athletes — both on and off the playing field. In turn, Special Olympics athletes make our communities better by sharing their gifts.
Whether your community has an interest in Unified Sports or Young Athletes, getting started is incredibly easy! For more information on Unified Sports, contact Scott Weaver, Special Olympics senior manager, unified sports and sport education, and for more information on Young Athletes, contact Jennifer Hansen, Special Olympics young athletes manager.
Jennifer Hansen is the Young Athletes Manager for the Special Olympics. Scott Weaver is the Senior Manager, Unified Sports and Sport Education for the Special Olympics.