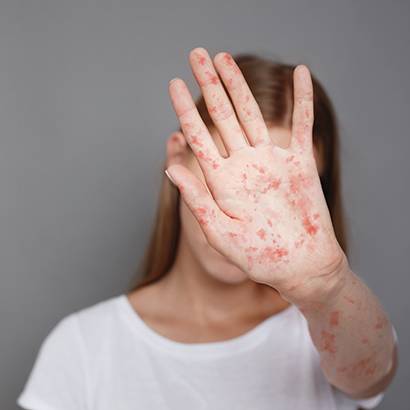 Of all the infectious and communicable diseases that park and recreation program leaders must be aware of, it is likely no one expected that in 2019 they would have to be worried about preventing measles exposure. In fact, in 2000, a group of experts, including physicians, epidemiologists and public health experts, declared the disease had been "eliminated" in the United States, a proclamation that marked a milestone in the fight against this highly persistent and recurring disease.
Although there have been sporadic and highly localized cases of measles since 2000, they have mostly been traced to international travelers who were exposed while they were on travel and who then returned to the United States to infect others. The measles outbreaks that are now occurring widely across the nation have been an unpleasant reminder to the medical community and public health agencies that measles has not been eliminated. The primary causes of today's new cases are from international origin by unvaccinated travelers coming into the U.S. and then from individuals in the U.S., mostly children, who are passing the disease to others. In late May, Pennsylvania reported its first case of measles, raising to 26 the number of states reporting confirmed measles cases.
Measles is a highly infectious viral disease that is most common in children, However, it is not a benign childhood illness lasting for a few days and leaving no more than a memory of a fever and blotchy red spots on the face and body. It continues to infect large numbers of people worldwide, affecting up to 10 million people annually causing serious health effects, including infections, pneumonia, and encephalitis. It is especially dangerous to very young children and those with compromised immune systems.
According to the Centers for Disease Control and Prevention (CDC), more than 100,000 of the more than 10 million people worldwide who do get measles, mostly children, die from it. Up to 90 percent of those who are exposed to someone with the virus is likely to become infected. Before widespread measles vaccination began in 1963 in the United States, up to 4 million people a year were estimated to have contracted measles, close to 50,000 people per year were hospitalized and up to 500 people per year died from measles.
After a decades-long nationwide education and public health campaign, measles vaccination rates in the United States now exceed 92 percent for very young children. The measles vaccine is often combined with those for mumps and rubella (MMR) and sometimes with a vaccine for varicella (MMRV) and administered during early childhood, usually between 1 year and 3 years old. National medical associations and advisory committees that recommended universal, early childhood vaccinations expanded their recommendation to add a second dose of MMR vaccine in later childhood years. But measles has reared its ugly head again in the U.S. in multiple locations and is expanding its range rather than retreating.
CDC Declared Measles Would Be Eradicated by 1982
In 1978, the CDC proclaimed the ambitious goal that measles in the United States would be eliminated by 1982. This goal would not be met until 2000 when measles was declared eliminated based on the finding that there was no continuous transmission of the disease for longer than 12 months throughout the country. With widespread medical adoption of the goal and public acceptance of the need for vaccination, the incidence of measles declined substantially, and continued to decline year after year until a brief outbreak in 1989.
The reduction in measles has been lauded as a health victory and a tangible example of how certain diseases can be eradicated with strong public health policies and determined action. Key to prevention has been maintaining a very high vaccination rate of the public, preferably approaching 95 percent or above, but despite steady progress, vaccination rates in 11 states in 2017 were still below 90 percent.
One of the reasons a high vaccination rate is very desirable is that it is believed to enable a phenomenon known as "herd immunity" or "community immunity" to occur. The theory is that when vaccination rates exceed a certain percentage of the population, usually well above 90 percent, transmission of the disease to the most vulnerable individuals, such as to those very young children and those with low or weakened immune systems, is much less likely because there are far fewer pathways for the disease to pass from person to person. So, while highly infectious agents, like the measles virus or pneumococcus bacteria, might be carried by many people, there is less chance they will be transmitted to highly vulnerable people if there are very high rates of vaccination in the population.
Refusing to Have Children Vaccinated
There are many reasons some parents resist having their children vaccinated, including non-medical exemptions that are permitted by law in most states. The reasons may be religious in nature, but more often are classified as philosophical. Much of the opposition, sometimes called "vaccine hesitancy," is centered on the belief that the Measles-Mumps-Rubella vaccine suite (MMR) may cause autism in children. Yet, despite a 50-year history of a high degree of proven safety, there is a growing movement of so-called "anti-vaxxers," who have persistently refused to have their children vaccinated.
Whether because of fear of autism that is linked to the vaccine or for personal, philosophical or religious reasons, opponents have been passionate about refusing to allow their children to be vaccinated. Fueled by internet memes, their resistance has continued, if not grown stronger, even in the face of growing local measles outbreaks.
Public health officials are deeply concerned. The Food and Drug Administration (FDA) recently issued a statement by Peter Marks, M.D., Ph.D., director of the FDA's Center for Biologics Evaluation and Research, supporting the safety of the MMR vaccine. It says, in part: "Large well-designed studies have confirmed the safety and effectiveness of the MMR vaccine and have demonstrated that administration of the vaccine is not associated with the development of autism…. We cannot state strongly enough — the overwhelming scientific evidence shows that vaccines are among the most effective and safest interventions to both prevent individual illness and protect public health."
Faced with the prospect of rapidly expanding measles outbreaks, many states are moving to curtail or eliminate such non-medical exemptions, and to tighten record-keeping about who holds such exemptions. After an outbreak of measles in 2015, which was traced to Disneyland, the state of California eliminated non-medical exemptions. Bills in several other states, including Washington, Arizona, Maine, Minnesota and New York, are making their way through their respective legislatures to end non-medical exemptions for the MMR vaccine.
Although bills to eliminate non-medical exemptions are gaining traction, they are facing strong political headwinds, especially from those who oppose vaccinations on religious or philosophical grounds. According to AP News, the Maine CDC reported data that showed that philosophical reasons were listed by parents of the overwhelming majority of the 2,000 Maine students who had exemptions. Some state legislators appear to loathe being seen voting to deny personal and parental freedoms. However, measles outbreaks are continuing to expand, and the number of cases is still rising.
As of this writing, the CDC now confirms 26 states with active measles cases, and the greatest number of cases since measles was declared eradicated in 2000. Not surprisingly, those states and localities with the highest rates of non-medical exemptions, such as New York and the Pacific Northwest, correlate with higher rates of measles infections and outbreaks. For those states that find it very difficult to eliminate non-medical exemptions because of political pushback, parents of children who remain unvaccinated run the risk of being required to quarantine their children for 21 days if an outbreak occurs in their community, even if their children have not been exposed to the measles virus.
The Washington Post recently reported that airlines are considering invoking a rarely used "do not board" provision to ban people from flying who have been confirmed to be infected or believed to have a high risk of not being immune. Public health departments are insistent that all such measures may be required to prevent the potential spread of measles to unvaccinated children and adults.
What Measles Mean for Parks and Recreation
Park and recreation agencies are rightfully concerned about the impacts the growing measles outbreaks in the United States may have on their programs, summer day camps, afterschool programs and other park and rec-sponsored activities where the potential for exposure to measles could be high. And no place is closer to ground zero of the measles outbreak than Westchester County just outside New York City.
Dana Mayclim is the superintendent of parks and recreation for the town of Lewisboro, one of 42 towns and villages in Westchester County. She is one of three liaisons from the Westchester Park and Recreation Association (WRAPS), the local county park and recreation association, to the county health department. "The county health department regulates and inspects all day camps in the county," explains Mayclim. "Our 300 day camps are run by a variety of providers — private, religious and, the largest provider, public municipal agencies. Every camp provider must attend their [the county health department] workshop to get permits. And when it comes to measles information, they have been incredibly helpful in getting us information. It's a great partnership. They are the gurus of public health knowledge, which they share with us, and our local park and rec association then shares with all our members."
Mayclim relays that they are expected to collect, verify and keep immunization records for every camper who registers for their day camps. She adds: "We used to accept a hand-written assertion from parents on the registration form, but now, we must have official documentation of immunization for every child. We then keep these as confidential records on file at every camp for review by the health department, if needed, if there is an outbreak."
Unlike private day camps and summer programs that may refuse to admit a child to a camp, public agency-run camps in New York cannot deny any child registration. "We can't just pick and choose who comes to camp," says Mayclim. "We are not turning kids away and our township has not refused any kids. However, we are requiring rigorous documentation. Every child must be accounted for, and we must show diligence in seeking their immunization record. If they are foreign-born and they have no immunization history, we must document that, too. So, we don't turn anyone away. However, if there is suspected or confirmed exposure, the health department will require quarantine of any un-vaxxed kid for 21 days!"
It is important to note, Mayclim says, that they must provide the same documentation for staff as they do for campers, something that has not always been easy to do for older staff. Right now, they have been focusing on the campers and have not yet dealt with the issue of volunteers.
Mayclim says that the best part of a good working relationship with their county health department is that they are able to maintain a real-time information check for their questions and implementation of any countywide policies. She says the health department maintains a 24/7 contact line and has been incredibly quick to respond to potential outbreaks.
"Families are really supportive of what we are doing, and parents are glad to provide immunization histories to us. They want to protect their children. Parents are glad we are doing this to keep their children safe," Mayclim says. Responding to the measles outbreak in their locality has required them to be nimble and flexible and to be able to respond to changing conditions. "Be proactive, be prepared!" Mayclim says, "It just takes one kid…."
Richard J. Dolesh is NRPA's Vice President of Strategic Initiatives.

Things Your Agency Can Do Now to Be Prepared for Measles
Be Prepared, be proactive – Measles may not break out in your community, but don't take the chance that it will pass by. There are commonsense steps you should take now to be prepared. The most important tasks are to determine your policy for unvaccinated program participants in accordance with your state/municipal laws, to develop awareness among staff about what to look for and what to do if there is suspected exposure and to plan how you will collect immunization records for staff and program participants if there is a measles outbreak.
Contact your health department and create a path for communication – Do you have a working relationship with your local health department regarding communicable diseases? If not, now is the time to begin one. Consider having a designated point of contact for your department and ask your health department for any information it presently has or is developing regarding measles.
Consider whether you will want to require immunization records from day camp, afterschool or other program participants – Even if your locality or state has not yet had a measles outbreak, ask your health department if it will require you to verify immunization status. Decide where you would keep confidential records and who will be responsible for collecting and keeping this information, including verified requests for non-medical exemptions. Remember, you must document missing or incomplete immunization records as well.
Prepare to obtain staff immunization records – Remember that your staff, as well as program participants, will be required to prove immunization if you have an outbreak. For staff older than 25 years of age, records may be more difficult to come by. Plan to allow sufficient time for staff to verify their immunization record. Pediatricians may no longer be practicing and elementary, high school and college records may be more difficult to obtain.
Resources:
CDC Measles webpage
Mayo Clinic Measles webpage
Note: the following policy notification letter is an example provided by Dana Mayclim, Superintendent of Parks and Recreation for the Town of Lewisboro, Westchester County, NY, based on the Department of Health's recommendation.
IMPORTANT: New Day Camp Immunization Requirement – Immediate Action Required!
Dear Day Camp Parents,
In response to the escalating Measles outbreak, the Westchester County Department of Health (DOH) has changed the requirement for camp operators regarding how we collect proof of immunizations for our campers and staff members. The DOH wants an official documentation of immunizations and as such all campers and staff must now provide documented proof of immunizations from a physician.
In order to comply with this new requirement, we must ask you to obtain this information from your physician and return it to our office as soon as possible. A print out from your last physical examination that also includes a complete immunization history with dates is acceptable. Another option, if you have a patient portal, is to print out the immunization information yourself. The immunization record must show your name, date of birth, the list of immunizations and dates administered. As always, your records will remain private and confidential....