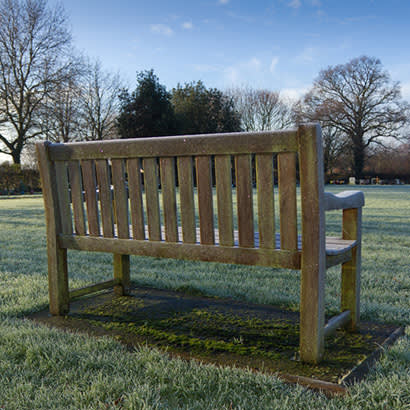 NRPA Connect is the only online professional networking platform for park and recreation professionals. With more than 62,000 members in Connect, someone is sure to have an answer or a suggestion for whatever situation you're facing. Check out one of the topics being discussed this month:
Memorial Park Bench Program – If your agency runs a memorial park bench program, how do you decide certain factors, such as price, location, longevity and installation of the bench?
Several NRPA members offered the following suggestions:
We charge $2,000 for a DuMor memorial bench, install, with the understanding that we choose its location, and guarantee maintenance for 20 years.
Our pricing ranges from $1,100 for a standard bench to $2,500 for a wooden bench. We take recommendations from the donor and determine if the area they want is viable. If it is not, we recommend potential sites within a park.
Donors can meet with our park staff to discuss a location, but we have final say. We purchase, install and provide plastic engraved plaques; if requested, we purchase brass plaques and charge the extra fee. We estimate a 10-year life span, and when the bench needs to be replaced, if we can contact the donors, they can opt to purchase a new one.
We charge $2,100 for a new bench or $350 to dedicate an existing bench, and donors can pick a location from a pre-determined list we set. We do the install, provide a 10-year guarantee and have a local company do the engraving. If something needs to be removed, we retain the engraved plaque at a nearby location.
Log in to NRPA Connect today to see resources mentioned in the discussion, which include examples of the program policies.