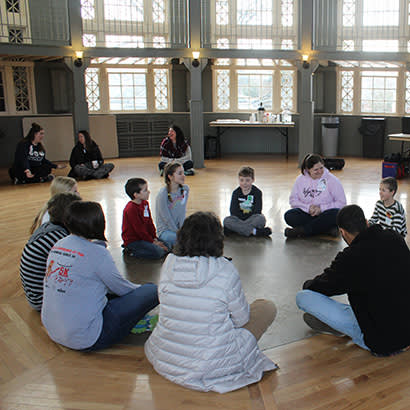 Lynchburg (Virginia) Parks & Recreation unveils a new Sibshop program that provides support for siblings of special needs children
Rebekah Meadows was sorting through her mail one day when she came across the Lynchburg (Virginia) Parks & Recreation community resource guide. She flipped through the publication, scanning the various activities and program offerings when one listing piqued her interest: Sibshop training.
"It really caught me off guard, but it was exciting because I'd been following that particular group for about 10 years," says Meadows, an LPC outpatient therapist at Impact Living Services. "I've read their books and just kept up with [Sibshops] on social media."
Sarah Viar, a mother of three and wife of an active duty military service member, learned about the facilitator training via social media. She says a friend shared the Lynchburg Parks & Rec post announcing its Sibshop event. After clicking the registration link, Viar signed up herself and her 9-year-old son, Caleb. "I think the timing was just right," she admits. "I was sort of looking for something to be a part of that I could contribute to in a positive way."
Sibshops are recreational gatherings that offer siblings of special needs children the opportunity to meet and connect with other sibs like them. These events encourage participants to have fun, laugh, as well as openly discuss the good and not­-so­good aspects of having a sibling with special needs. What's more, Sibshops enable these typically developing children to learn firsthand about the services their brothers and sisters receive while offering a positive and stress-free experience.
In early March 2019, Lynchburg Parks & Recreation hosted a two-day Sibshop training for park and rec staff, healthcare professionals, parents and community members interested in becoming certified Sibshop facilitators. Families and typically developing siblings were invited to partake in a demonstration on the second day.
Sibshops' Origins
In the United States, 56.7 million people have disabilities, while approximately 4.5 million include people diagnosed with intellectual or developmental disabilities. The Sibshops concept came about in 1982 when Don Meyer, then a University of Washington special education graduate student, and his colleagues began studying how disability or any kind of mental health or developmental concerns impact not only the person with the diagnosis or the caregiver taking that individual to and from therapy and doctor appointments, but also the entire family unit. Meyer established the Sibshop model because he wanted to create a support program for school-age brothers and sisters in a highly recreational setting with a huge emphasis on fun.
Meyer's early work led to the founding of the Sibling Support Project in 1990, a national program dedicated to brothers and sisters of individuals with special needs. Headquartered in Bellevue, Washington, the Sibling Support Project is now part of the Kindering Program, an organization that provides education and therapies to special needs children.
Emily Holl, director of Sibling Support Project, says, "Traditionally, there haven't been a lot of support services for siblings the same way that there are for parents." She adds that research shows sibling experiences parallel parent experiences, "and brothers and sisters have many, if not most, of the same concerns as parents of children with special needs." However, fewer opportunities exist for typically developing brothers and sisters to connect. To date, there are nearly 500 Sibshops throughout the United States and in eight other countries.
Observing the Program
Kelsey Laubach, community recreation programmer for Lynchburg Parks & Recreation, first discovered Sibshops when she was in college working on her master's degree in therapeutic recreation. One of her professors had completed the Sibshop training, and a friend, also trained as a second-generation facilitator, was now running Sibshops in Oshkosh and Appleton, Wisconsin.
Laubach decided to visit her friend and check out her Sibshops. "Just seeing my first one, I was hooked right away," she recalls. "They were amazing! They gave the children an opportunity to discuss what was going on in their family, how they were feeling, and it was with other kids who knew exactly what they were going through."
She says the second Sibshop featured a "Date with My Dad" theme. The children then had a chance to talk directly to their parent and share their feelings. Some talked about having their needs met second or constantly having to adjust because their sibling needed something else, while others discussed how they felt having to always go to the hospital instead of hanging out with friends. As for the dads, Laubach says, "It was really hard for them to hear, but at the same time, it was really important [that they did] and just take that afternoon and spend time with their child."
Laubach's experience in Wisconsin inspired her to visit the Sibling Support Project website to look up the nearest Virginia-based Sibshop. "I discovered that the closest one following this program was more than two hours away, which is a lot to ask of a family…," she notes.
Recognizing a need for a Sibshop in her community, Laubach contacted Holl at Sibling Support Project during fall of 2018 to learn how she could launch a program in Lynchburg. Holl recalled her conversation with Laubach, who, she says, "was just waiting to find the right opportunity in her own professional journey to be able to offer Sibshops, because she was so impressed by the model and really thought it would be a great service to families."
Sibshop Comes to Lynchburg
Holl led the first day of Sibshop training in Lynchburg by providing an overview of the program and its origins. Those in attendance included Laubach and Rachel Smith, Lynchburg's community recreation programmer — both first-generation facilitator trainees — and 18 other participants, including Rebekah Meadows and Sarah Viar who were also training as facilitators.
Taunya Bryant, another special needs mom, also signed up for the training. She is an ID case manager/support coordinator for Horizon Behavioral Health, a healthcare services organization that provides case and medication management, psychiatric services and crisis stabilization. Although her son has since passed away, Bryant says, "I've always been interested in programs for special needs children and siblings as well."
One of the highlights was the afternoon sibs panel. "It's adults who have a sibling with special needs," Laubach explains.
"It's really powerful to be able to hear from siblings about their experiences and to be able to ask them questions," Holl contends.
In fact, Laubach says one of the Lynchburg Parks & Rec staff members volunteered to sit on the panel. "He was in our marketing department and working on my stuff [when] he said to me: 'Well, I think this kind of relates to me.' But, he had never really talked about it before," she recalls.
"The second day was a hands-on training, which was super fun," Bryant says. "We had children come in who helped us assist with [presenting] an actual Sibshop, so that we could see firsthand how a Sibshop is run and learn the different types of games and activities you do and get that feedback."
The demonstration Sibshop on day two encouraged parents to bring in the siblings. Among those who participated was Viar's son, Caleb, who is big brother to his special-needs sister, Adley, age 5. "He had a great time," says Viar, "and he got to talk about things I don't think we bring up on a daily basis. They definitely [allowed] him to express himself and he enjoyed that. He [also] enjoyed having other kids in the group who were able to express their own experiences." Viar said that the only downside to the Sibshop, according to her son, was that she was present. "I think that it's definitely a setting where if I was a facilitator, he would not be a part of [it]. I would want him to have his own experience," she explains. Thus, Viar would make sure that she would either find a different Sibshop, or if they had to go to the same one, they would just go on different days.
Holl notes that during the demonstration Sibshops, in most cases, the kids in attendance have never met before. "We rarely have kids who know one another," she says. "They come in very uncertain and maybe a little timid, and it's such a quick transformation. Usually by lunch, the kids are sitting together, talking and having a great time. With the trainees and the adults who participate, we do a debrief after the Sibshop, and time and time again, people comment on how quickly the kids open up. I think it's really nice that it's a mix of discussion and recreational activities."
Meadows had an opportunity to speak to one of the parents whose son attended the demo Sibshop. "This particular mother just did a beautiful job of recognizing the importance of needing to do a little extra something for the siblings as well," she says. "What I loved about it was her sense of trust in the process, because I think when you have a child with a disability, sometimes, you're just tired [from] your kids, you're worn out and for this specific group of people, I would imagine it would be very challenging to trust a group of people with another one of your babies. But, she was able to vocalize how much she appreciated it and really understood what Sibshop was and what it wasn't. It was just a wonderful conversation."
Creating Partnerships
During the two-day training, Laubach managed to forge partnerships with Bryant and Horizon Behavioral Health, and with Meadows, who is an outpatient therapist. "While we were doing the training, we all just got together and discussed having them [cofacilitate] the Sibshop," says Laubach. "And the nice thing about that is it doesn't all fall on one person."
Since the training, Lynchburg Parks & Recreation has rolled out its Sibshops Summer Series. The first one, "Sibshop in the Kitchen," took place June 5 at Miller Center, while the second, "Explore Ivy Creek," will be held July 2 at Ivy Creek Park. Rounding out the summer, the third Sibshop, "Family Picnic and Pool Party," will take place August 8 at Miller Park.
Although a typical Sibshop is designed for siblings ages 8 to 13, Laubach believes in looking more at the entire family. "My goal is to run a Sibshop or [a] family event at least once a month," she says. However, she admits that Sibling Support Project's Holl has cautioned against offering too many, whereby kids begin thinking they "have to" attend another workshop and "talk about things." She says her intent is to keep the program moving and make sure that sibs are having fun, but they'll still have an opportunity to discuss those kinds of heavier topics related to having a sibling with special needs.
Final Thoughts
Why is parks and recreation a good fit for Sibshops? "I truly believe that park and recreation departments are really the heart and soul of their community," contends Holl. "And, I love that more park and rec departments are thinking about inclusion and ways that they can create opportunities for families of kids with disabilities and other diagnoses to really be part of that community and to enjoy the same kinds of activities that everyone in the community has access to. I also love the idea of Sibshops being offered through parks and rec, because it's just a go-to place for families looking for activities for their kids that are going to nurture and help them grow, and Sibshops are certainly an opportunity for young brothers and sisters to do that."
If you're interested in starting your own Sibshop at your park agency or to learn more about the program, visit www.siblingsupport.org.
Sibshop Resources
"20/20" Report on an autistic boy
Vitisia Paynich is a Southern California-based Freelance Writer for Parks & Recreation magazine.