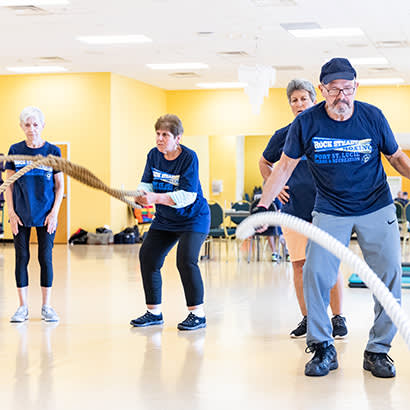 With nearly 200 applications submitted for the 2019 NRPA National Awards, the Awards Committee had a demanding task set before it this spring. Committee members spent hours reviewing applications, before a call at the end of May to discuss, debate and determine the 2019 winners. NRPA would like to thank all applicants and the Awards Committee for their substantial contributions to determine this year's winners. Awards will be presented at the 2019 NRPA Annual Conference, September 24–26, 2019, in Baltimore, Maryland.
Congratulations to the following 2019 NRPA National Award Winners!
The NRPA Innovation Awards recognize and honor the latest advancements in the field of parks and recreation. These awards showcase the inspiring park and recreation agencies that have improved and strengthened their communities through innovative practices in conservation, health and wellness, social equity and park design.
"NRPA is proud to recognize innovation in parks and recreation with these awards," says Kristine Stratton, NRPA president and CEO. "Congratulations to this year's winners who have demonstrated their commitment to building communities through innovative park and recreation practices."
Innovation in Conservation Award
Metroparks Toledo for Howard Marsh Metropark – Phase 1 Construction, Toledo, Ohio
Metroparks Toledo worked with state and federal agencies to restore a wetland area, known as Howard Marsh Metropark – Phase 1 Construction, to provide high-quality habitat, water-quality improvement and public access. The three-unit wetland design, with two bidirectional water pump stations and two one-way agri-drains, takes advantage of site topography to give managers the ability to independently control water levels of each unit to maximize wildlife habitat diversity and visitor experiences. The park's unique design immerses visitors in a total wetland experience with a spectacular 360-degree view of three interconnected marshland units interspersed with nine restored upland habitat islands. There are nearly 4 miles of accessible trail throughout the park.
Innovation in Health Award
City of Port St. Lucie Parks and Recreation for Rock Steady Boxing, Port St. Lucie, Florida
The City of Port St. Lucie Parks and Recreation Department researched and, after identifying a non-contact, boxing-based fitness program for individuals diagnosed with Parkinson's disease, brought the Rock Steady Boxing Program to the city's fitness centers. Rock Steady Boxing is based on the concept of intense "forced" exercise, which suggests that certain types of exercise may be neuro-protective; that is, slowing progression of Parkinson's disease. The program empowers people afflicted with this disease to fight back and gives them hope by improving their quality of life. Once it was established that the program is a proven, effective and proactive aid for those with Parkinson's disease, the city worked to offer it at an affordable rate across all socioeconomic demographics.
Innovation in Social Equity Award
City of Santa Clarita for Jakes Way Neighborhood Program, Santa Clarita, California
City of Santa Clarita staff converted a vacant apartment in a densely populated apartment complex into a mini community center to serve residents with limited access to parks and facilities because of transportation, language, financial and cultural barriers. City employees and neighborhood committee members work alongside volunteers, school representatives and nonprofit staff members to create ongoing recreational and educational opportunities, including an afterschool program, summer camp, English classes, workshops, family events and more. Additional supportive services are woven into recreation by bringing in local school staff, sheriff's deputies, nurses and other service providers. This novel approach makes it much more likely that children will participate in recreation activities and avoid negative pressures and enhances the overall quality of life in the neighborhood.
Innovation in Park Design Award
Three Rivers Park District for Nine Mile Creek Regional Trail, Minneapolis/St. Paul Metropolitan Area, Minnesota
Designing and constructing a nature-based, 15-mile regional trail through five fully developed cities required complex planning efforts, multiple partnerships and creative engineering on the part of the Three Rivers Park District. The outcome, Nine Mile Creek Regional Trail, was purposefully routed to access transit and major employment nodes whenever possible and is part of Three Rivers' 160-mile regional trail network. The trail is also one of the most scenic in the Three Rivers system, with nearly 2 miles of boardwalks traversing long stretches of wetlands and its namesake creek. It is open year-round to bicyclists, walkers, runners and dog walkers.
Between June 1 and June 7, the four winning innovation award projects were put to a public vote, and NRPA members and the public were encouraged to vote for the project that would receive the overall Best in Innovation Award. That winner will be announced on September 24 at the Opening General Session of the 2019 NRPA Annual Conference.
The NRPA Spotlight Awards are presented to individuals to honor their efforts — both professional and personal — in the field of parks and recreation. NRPA is proud to recognize these individuals with the following awards:
Robert M. Artz Advocate Award
Chris Riley, park board commissioner, Decatur Park District, Decatur, Illinois
Robert W. Crawford Young Professional Award
Gerry Logan, executive director, Starkville Parks & Recreation, Starkville, Mississippi
RWJF-NRPA Award for Health Equity
Tina Fleming, community services director, and Lindsey Jorstad, outreach manager, Gwinnett County Government, Lawrenceville, Georgia
National Distinguished Professional Award
Dirk Richwine, CPRE, Parker, Colorado
The scholarships and fellowships provide recipients with the opportunity to attend and explore the operation of the field at the NRPA Annual Conference. A primary focus is to inspire future participation and leadership in NRPA and to develop professional contacts with leadership and members from around the nation. Recipients receive complimentary NRPA Annual Conference registration, a travel stipend and their hotel expenses are reimbursed. NRPA is proud to recognize the following individuals with scholarships and fellowships:
Young Professional Fellowships
Jeremy Bajdaun, Town of Miami Lakes Parks and Open Spaces
Luke Bolinger, Town of Erie Parks and Recreation
Sarah Hansen, City of Golden Valley Parks and Recreation
Elissa Malone, City of Frisco Parks and Recreation
Student Scholarships
Kandice Newton, University of Wisconsin-La Crosse
Kristen Sikorsky, Kansas State University
Diversity Scholarships
Attiyya Atkins, Broward County Parks and Recreation
LaCleveia Morley, City of Miami Department of Parks and Recreation
"The NRPA National Awards and Scholarship Committee is pleased to honor the 2019 NRPA Awards, Scholarships and Fellowships recipients," says Dan Olson, chair of NRPA's national awards and scholarship committee and director of operations for Champaign Park District in Champaign, Illinois. "The committee was honored to review all the applications of qualified individuals and agencies that have made significant contributions to their communities through the field of parks and recreation."
Award recipients will be recognized and celebrated during conference at the Best of the Best Ceremony, Wednesday, September 25 from 6:30 p.m. to 7:30 p.m. Applications for the 2020 National Awards will open in January. To learn more about the NRPA Awards, visit www.nrpa.org/awards.